If you are considering dermal fillers or have heard them mentioned and want to know more, in this blog post you will find all the information you need about this popular treatment.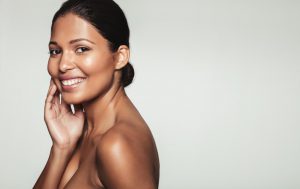 What are Dermal Fillers?
Dermal fillers can improve the appearance of fine lines, wrinkles and other visible signs of ageing as well as add volume and contour the face.
Dermal Fillers are made from Hyaluronic Acid a substance that is naturally found in the body. Hyaluronic Acid can create a plumping effect ideal to restore the areas of the face that experience loss of volume. There are different types of filler designed to be used in different areas of the face and depending on your desired outcome.
How do Dermal fillers work?
Our highly specialised aesthetic doctors or nurse prescribers will inject small amounts of dermal filler using an ultrafine needle to minimise bruising. Hyaluronic acid injected will plump up the skin and smooth out lines and wrinkles. If the treatment area is the lips after the treatment they will be more voluminous with a more defined shape and a fuller appearance.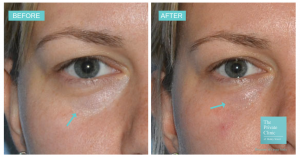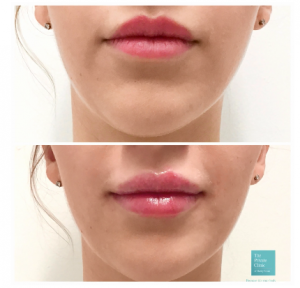 See more dermal filler before and after images.
What areas of the face can be treated with dermal fillers?
Dermal fillers can help improve the appearance of several areas of the face including: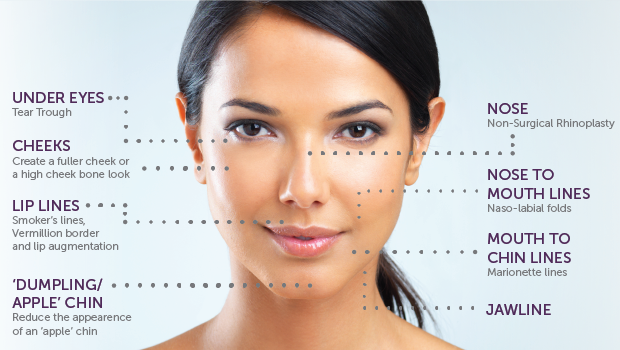 How long do dermal fillers last?
The results of dermal filler can last between 4-6 and 13 months; it will vary depending on the area treated and the type of filler applied. Dermal filler fades overtime as the gel injected get reabsorbed naturally by the body. The effects of filler will fade gradually over time and your doctor, nurse or surgeon will be able to give you an idea of when to visit again for additional treatment to help maintain your results. If you decide not to continue with dermal filler injections then the gel will naturally be absorbed by your body.
Does the treatment hurt?
The pain during dermal filler treatment is minimal as most dermal fillers include an added anaesthetic. Our practitioners will be able to apply topical anaesthetic prior to treatment to make it more comfortable.
What's the difference between Botox and dermal filler?
Botox or wrinkle injections are an injectable treatment able to relax the muscle responsible for causing fine lines and wrinkles. It subtly reduces excessive facial movements providing a rejuvenated appearance.
Dermal fillers on the other hand, is a treatment that uses Hyaluronic Acid to add volume and reduce the appearance of lines, wrinkles and sunken areas of the face.
Why should you choose The Private Clinic for Dermal fillers?
At the Private Clinic, all cosmetic Dermal Filler procedures are performed by our highly experienced and reputable Nurse Prescribers and Cosmetic Doctors.
Aesthetic Doctors
Aesthetic Nurses
We pride ourselves on only using the highest quality temporary fillers form Juvederm® renowned for their superior standards.
Where can I have Dermal Filler treatment?
Dermal Filler treatment is available at our clinics located in:
To book a consultation with our aesthetic doctors or nurses call us on 0333 920 2471 or use our dermal filler online contact form.