Should you invest in treating your varicose veins even if they're not painful? Well varicose veins are not just a cosmetic issue, they can develop into a serious medical issue. While you may be unfazed by their appearance, you will need to monitor them.
If you can, we always recommend treating varicose veins early to save on complications, discomfort and the less than ideal appearance – even before and between pregnancies in some cases.  While prevention is always the best option, there's not a whole lot you can do to get rid of varicose veins aside from medical treatments like EVLA, VenaSeal, Foam Sclereotherapy and Phlebectomy treatment.
Top reasons to treat your varicose veins
They are medical treatments first and foremost, aesthetic treatments second
Cost-effective in the long-term for your appearance and your overall health
Safer and easier to treat than ever before with very high success rates
Consultations provide expert diagnosis and advice
Prevention
We always urge our patients to consider any possible lifestyle changes that may help the prevention and treatment of varicose veins. There's a fair amount you can do to reduce the risk of developing varicose veins. Unfortunately, genetics determines many people's varicose veins but there's still a lot you can do to help your body. Regular exercise is one of the easiest and best ways to radically improve your body.
Pregnancy
Many of our patients have had children. Unfortunately, pregnancy presents big challenges for the body. Amazingly women cope very well but while some expectant mothers pass through unscathed, others encounter a host of issues, including varicose veins in the leg, pelvis and vagina (or scrotum in their partner or sperm donor – potentially affecting the chance of pregnancy in the first place). Some are painless but this is no guarantee. Pain can frequently develop as the varicose veins typically worsen over time. It might make more sense for you to wait until you've stopped having children but we recommend consultations in order to assess the best course of treatment.
There's no time like the present?
In the UK we're experiencing a shift in priorities with significant waiting times for varicose vein treatments. While not ideal, it's time for people to start investing in their health. It might not be an option to wait for NHS treatments.
A quick google search can reveal a lot of advice out there when it comes to preventing and treating varicose veins but it can be quite a challenge to work out who actually said it and what research supports it so seeking advice from a medical professional is always going to best.
Generally varicose veins worsen over time. As damaged veins, there is little you can do to repair them. Still some people don't quite understand the value of getting them treated. Importantly we do recommend you research and explore your options. We realise this takes time. We believe the best patient is an informed patient.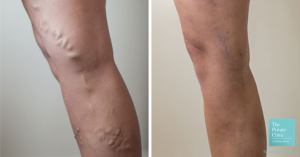 Why Choose The Private Clinic for Varicose Vein Treatment?
We are able to offer non-surgical varicose vein removal treatments to 99% of patients that come to see us. Our range of non-surgical varicose vein treatments including EVLA (Endovenous Laser Ablation) or Endovenous laser treatment, Sclerotherapy (Foam & Liquid), VenaSeal and Phlebectomy. We also treat smaller Spider or Thread Veins and offer advanced Sclerotherapy, Intense Pulsed Light (IPL) and Cutera CoolGlide thread veins removal treatments.
The least invasive method for varicose veins and thread veins removal treatment for your legs, body and face.
Our Consultant vascular surgeons are pioneers in EVLA(Endovenous Laser Ablation) and have treated thousands of patients.
No lengthy downtime or recovery required.
The NICE (National Institute for Clinical Excellence) Gold Standard for treatment of Varicose Veins findings show that the success rate after five years for EVLA is 95.4%.
A consultation with one of our Consultant Vascular Surgeons costs £150, including a free ultrasound scan of your legs (usually priced between £350 and £450 at most clinics and private hospitals).
We focus on the underlying cause of your veins and you will only see a Consultant Vascular surgeon for varicose veins.
We have treated thousands of patients who have regained their confidence whilst avoiding health issues.
Treatment takes one hour, you can go home shortly after being treated.
Owing to our success, we have been featured on Channel 4's Embarrassing Bodies , TLC's My Naked Secret and featured in Harper's Bazaar's Cosmetic Tweakment Trends for 2019.
We have carried out over 7,000 procedures in treating Veins.
View our varicose vein before and after photos.
Read our extensive varicose vein FAQs.
Take a look at our varicose vein patient stories.
Find out more information in our varicose vein blogs.
Download our varicose veins brochure.
We offer Varicose Veins treatments and consultations in London, Bristol, Birmingham, Manchester, Leeds, Bournemouth, Bexhill and Northampton with our expert surgeons.
Expert Vascular Surgeons
To find out more, or to book a consultation please call us on, 0333 920 2471 or use our Varicose Vein online contact form.