It is important to carefully select your hair transplant surgeon, considering several criteria, in order to have a smooth experience with high quality care and service and attain successful, natural-looking results. FUE is a delicate and significant procedure to undertake, so it's important that you feel comfortable in your surgeon's ability to perform the procedure. We are here to provide helpful advice on the criteria you should consider in your search.
Best Hair Transplant Surgeon
Please see below a number of important factors to look for when selecting a surgeon for your hair transplant procedure: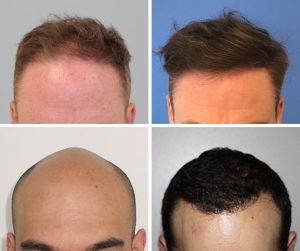 Arguably, the best way to find the best hair transplant surgeon is by viewing surgeons before and after hair transplant photos. See what has been achieved for previous clients and in particular, clients with hair loss resembling your own. Are results natural-looking and dense?
Find out how many years of experience the surgeon has in the procedure and do they specialise in the treatment. Look for relevant qualifications and board memberships.
Check what types of hair transplants are offered by the clinic… FUE and FUT are the two core hair transplant types. FUE is a minimally invasive technique with quicker recovery and no linear scar, while FUT is more invasive with a linear scar and longer healing time. At The Private Clinic, for example, we offer the more advanced, modern FUE method for the most effective results.
Reviews and testimonials provide a more reliable indication of what you can expect with a clinic in terms of service, care and results. Check sources such as Trustpilot and Google Reviews.
Find out the clinics or surgeons approach and techniques. Is the clinic focused on natural-looking results? What are the techniques and equipment used? At The Private Clinic, our surgeons have perfected their techniques, and implant them in the same direction your hair grows to deliver natural looking- densely packed hair.
Learn about the clinics attention to patient care and aftercare, and what is included in the aftercare provided.
World-Class Hair Transplant Surgeons at The Private Clinic
At The Private Clinic, we believe in providing you with exceptional, best possible hair transplant results and are dedicated to achieving excellence in all aspects of your journey with us.
This is why we only provide hair transplant specialists with years of experience and exceptional reputations in the industry.
Our surgeons offer the modern advanced FUE hair transplant type, which they have perfected for highly natural-looking results and a finish of densely packed hair.
Let us introduce you to our surgeons below:
Mr Michael Mouzakis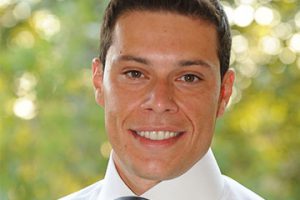 Consultant Plastic Surgeon with extensive experience in FUE
1 of only 2 plastic surgeons performing Hair Transplant procedures in the UK
Advanced knowledge of treatments for both the head and face
Can do 4000HF in 5-6 hours
Specialises in a range of FUE procedures
Committed to understanding clients individual requirements and dedicated to achieving the most precise results possible.
Dr Ismail Ughratdar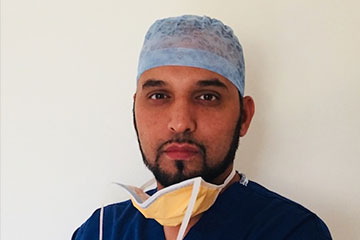 Leading UK neurosurgeon
Highly regarded hair restoration surgeon
His experience with the human scalp makes him very comfortable in performing hair transplant surgery
One of the most qualified doctors in the UK to offer hair transplant procedures.
Dr Furqan Raja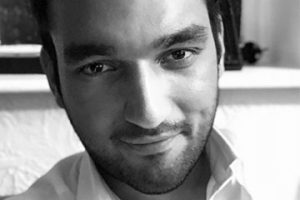 Hair transplant surgeon based in Yorkshire.
Passionate in delivering quality care for his patients and has treated a number of celebrities.
Maintains a special interest in restorative hair transplant surgery for burns victims and those with scarring.
Dr Luca De Fazio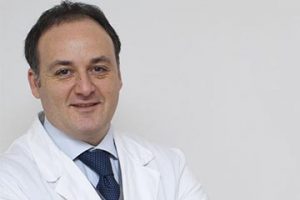 Established hair transplant surgeon.
Developed his own surgical technique that allows the transplant of single hair follicles with incredible results.
Appeared on both regional and national television channels as an expert in Trichological Surgery.
Member of the Italian Society of Hair Restoration.
Has performed over 6000 hair transplant procedures.
FUE Hair Transplant Surgery at The Private Clinic
The Private Clinic prides itself on ensuring you have the best quality and most comprehensive care:
24 hour patient helpline to ensure you are always in the best of hands.
As many post-operative care and appointments with your Hair Transplant surgeon and nursing team as required.
Highly experienced Hair Transplant Surgeons who have many years of experience.
Comprehensive patient information, every step of the way.
Outstanding clinic facilities.
Our excellent reputation for patient safety and satisfaction, honest advice and outstanding care means your journey with The Private Clinic will be an exciting experience to a newfound head of hair.
View our before and after results gallery
Find out more information in our blogs
Read our extensive FAQs
Hear from previous Hair Transplant patients in our patient stories and videos
We have clinics nationwide in London Harley Street, Birmingham, Leeds, Manchester and Northampton.
To find out more or arrange an FUE hair transplant consultation with a patient advisor or hair transplant surgeon, please get in touch on 0333 920 2471 or use our Hair Transplant contact form on our website.