What age do Varicose Veins appear?
VARICOSE VEINS
Home » What age do Varicose Veins appear?
Whilst varicose veins are more known for appearing in older adults, but many younger people are still at risk of developing them too before they reach the age of 40.
Why does older age make us more at risk of varicose veins?
When we talk about varicose veins and what causes them, age does come up frequently. This is because as we get older reaching our 50s, 60s and 70s, our valves start to weaken, loose their elasticity and strength which increases the risk of developing varicose veins.
Risk Factors for Varicose Veins
As well as age, there are lots of other reasons that can put us more at risk of varicose veins including:
Pregnancy – Many women develop varicose veins during their pregnancy. This is a lot to do with hormonal changes as increased progesterone widens veins. The volume of blood in the body also increases during pregnancy and that can increase the pressure that is being put on the pelvis and legs.
Overweight – Being overweight can increase your risk of developing varicose veins as the additional weight adds to the stress put on the veins in your legs and abdomen.
Standing/Sitting for prolonged periods – If you find yourselves sitting or standing for long periods of time then this could be affecting your blood circulation which can put pressure on the veins in the legs causing them to stretch.
Hereditary – Varicose veins are prone to running in the family, so if close family members suffer from them, then you are more at risk of them too.
Hormone Medication – Birth control pills or hormone replacement medications often have the hormone estrogen which can cause thickened and less flexible vein walls.
Causes of Varicose Veins in Younger People
There are a variety of reasons why younger people may be developing varicose veins. It is not uncommon to see varicose veins begin to form in the 20s and progress throughout their 30s and 40s. In the majority of cases, the early development of varicose veins is a result of them being hereditary. Leg trauma can also be a cause of varicose veins.
Varicose veins in pregnancy are another common reason but, in these cases, the varicose veins are usually temporary and may disappear shortly after they have given birth.
How to prevent Varicose Veins?
If you come into one of the above risk categories, then you may be wanting to know how you can reduce your risk and put yourself in the best position possible to avoid varicose veins. In most cases, if you are prone to varicose veins, it can be difficult to avoid them, but certain things can help:
Regular exercise
Maintaining a healthy weight
Wearing compression stockings
Elevating the legs daily
Avoid tight-fitting clothes
Avoid sitting/standing for lengthy periods of time
How to treat Varicose Veins
Thankfully, there is a range of treatment options for those who may already have varicose veins.
Endovenous Laser Ablation (EVLA)
Most of our varicose vein patients are treated with Endovenous Laser Ablation (EVLA) which is known as the gold standard treatment for vein removal by NICE.
EVLA uses an ultrasound-guided laser fibre which then locates damaged veins and faulty vein valves and uses laser heat energy to collapse and destroy the problem vein. Blood then redirects itself through healthier veins with no valve damage. EVLA varicose vein treatment is carried out in-clinic using local anaesthetic and most patients are able to resume normal activities immediately after.
Results can be seen after 4-6 weeks of recovery, and it has excellent long-term effectiveness with a 95% proven success rate.
Click here to find out more about our Varicose Vein EVLA treatment.
VenaSeal
We also offer VenaSeal which offers patients the ability to treat their veins quickly and effectively with minimal bruising and fast recovery. VenaSeal uses medical-grade glue to seal damaged varicose veins. The treated veins shrink and break down over time before the body disposes of them through natural processes. The simple treatment performed in the clinic takes less than 30 minutes to complete using a local anaesthetic and requires just one single injection.
Click here to find out more about VenaSeal treatment for Varicose Veins.
Foam Sclerotherapy
If you have small varicose veins, then Foam Sclerotherapy may be the best treatment for you. Similar to microsclerotherapy, which is used to treat thread veins, foam sclerotherapy instead uses a foam solution to break down the cells that line a damaged vein's walls. Over time, this causes the vein channels to close up before the vein itself will shrivel away and dissolve.
Click here to find out more about Varicose Vein Foam Sclerotherapy treatment.
Phlebectomy
Phlebectomy is a microsurgery procedure that is best for very large varicose veins that are sitting close to the surface of the skin. Micro incisions are made before a phlebectomy hook is inserted to pull the varicose vein out. This procedure does not require stitches and is performed under local anaesthetic and offers instant results. This treatment is often performed in combination with EVLA to help minimise the bulging appearance whilst also treating deeper varicose veins.
Click here to find out more about Varicose Vein Phlebectomy procedure.
Varicose Vein Treatment Results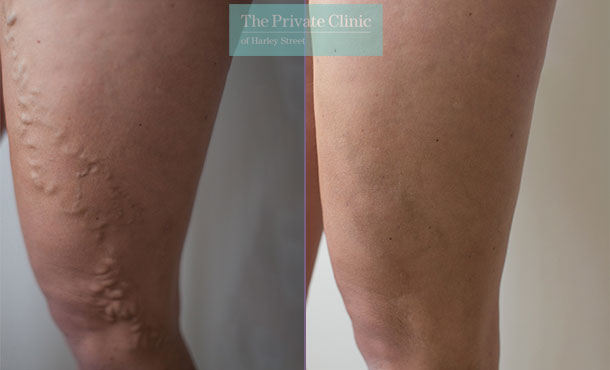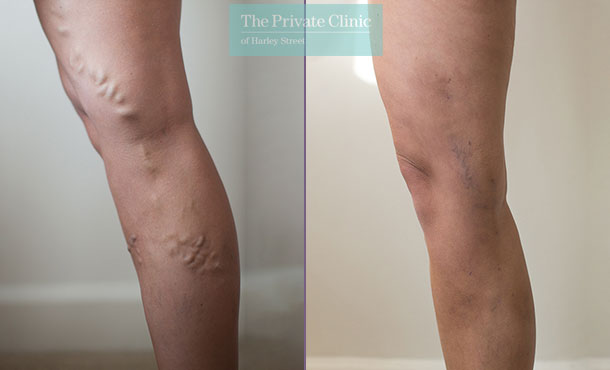 Click here to see more Varicose Vein treatment results in our before and after photo gallery.
Why choose The Private Clinic for Varicose Vein Removal?
At the Private Clinic, we have over 35 years of experience providing the best and latest vein removal treatments and have treated over 7,000 patients concerned about their veins. We work with highly qualified consultant vascular surgeons who have extensive experience in their field.
At The Private Clinic we provide:
We are able to offer some of the least invasive methods for varicose veins and thread veins for your legs, body, and face.
No lengthy downtime or recovery required.
Our Consultant vascular surgeons are pioneers in EVLA (Endovenous Laser Ablation) and have treated thousands of patients.
We focus on the underlying cause of your veins, and you will only see a Consultant Vascular surgeon for varicose veins.
The NICE (National Institute for Clinical Excellence) Gold Standard for treatment of Varicose Veins findings shows that the success rate after five years for EVLA is 95.4%.
A consultation with one of our Consultant Vascular Surgeons costs £200, including a free ultrasound scan of your legs (usually priced between £350 and £450 at most clinics and private hospitals).
Treatment takes on average 30-60 minutes; you can go home shortly after being treated.
We have been featured in several TV shows and press including Channel 4's Embarrassing Bodies, TLC's My Naked Secret and have been recently featured in Harper's Bazaar's Cosmetic Tweakment Trends for 2019.
We have been able to restore the confidence in many of our patients by avoiding health issues and achieving remarkable results.
We are able to offer finance solutions with manageable payments to suit a variety of budgets.
View our extensive varicose vein FAQs
View our varicose veins blogs for more information
Download our varicose vein treatment brochure
Consultant Vascular Surgeons at The Private Clinic
The Private Clinic offers varicose vein removal consultations at our clinics in: London, Birmingham, Manchester, Northampton and Leeds.
To find out more about varicose vein treatments or to book an veins appointment, please call 0333 920 2471 or use our online varicose vein contact form.