Professor Rajiv Kumar Vohra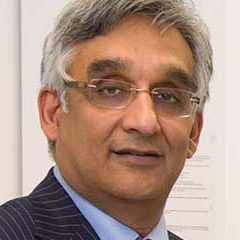 About Professor Rajiv Kumar Vohra
Professor Rajiv Vohra is a Vascular Surgeon at Selly Oak Hospital, University Hospital Birmingham NHS Foundation Trust in Birmingham. 
Professor Rajiv Vohra has been providing care and management of venous disorders specifically modern & non-invasive treatment of varicose veins, at 'The Private Clinic' in Birmingham since 2009. He retired as Professor of Vascular Surgery and Clinical Service Lead at the Queen Elizabeth Hospital Birmingham, UHB NHS Trust in July 2017.
He provides a one stop varicose vein clinic at The Private Clinic, Hagley Road, Birmingham. He has carried out almost 3000 endo-venous laser ablations and has extensive experience of performing foam sclero-therapy as well as micro sclero-therapy. The success rate with these treatments in his hands is 98% with a low complication rate, less than 0.5%. He has advised NICE on the management of varicose veins in the past.
He has had the honour of serving on the councils of The Vascular Society of Great Britain & Ireland and The Society of Academic & Research Surgery in the past. He is ex-examiner for MRCS and FRCS at The Royal College of Surgeons of Edinburgh and has also served on the court of examiners at The Royal College of Surgeons of England.
Professor Vohra has excelled in teaching and research. He has taught and trained surgeons in the UK through the educational courses designed and run by him. His bibliography includes 170 publications in the peer reviewed scientific journals and book chapters. He also holds the distinction of being one of the founding members of the Speciality Advisory Committee for Vascular Surgery. He has been honoured with the honorary fellowships of the vascular societies of India, Egypt and South Africa.

Treatments performed by Professor Rajiv Kumar Vohra
Research Led by Professor Vohra