Professor Rajiv Kumar Vohra
Consultant Vascular Surgeon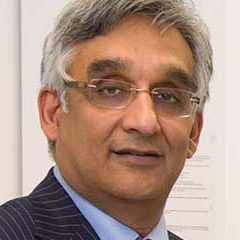 About Professor Rajiv Kumar Vohra
Professor Rajiv Vohra is a Consultant Vascular Surgeon at Selly Oak Hospital, University Hospital Birmingham NHS Foundation Trust in Birmingham. 
His academic involvement and areas of responsibility are endless; to name a few Professor Vohra is a Specialist Advisor to NICE (National Institute of Clinical Excellence) on behalf of The Vascular Society of Great Britain and Ireland, College Assessor for the Royal College of Surgeons of England and Examiner for European Board of Vascular Surgery. Mr Rajiv Vohra has been a professor of Vascular Surgery at the  University of Birmingham since 2015.
Mr Vhora is highly experienced in all areas of vascular surgery and Endovenous Laser Treatment for varicose veins which he practices at The Private Clinic in Birmingham.
Treatments performed by Professor Rajiv Kumar Vohra
Research Led by Professor Vohra