Are you looking for varicose vein removal treatments? This time of the year is probably the most ideal time to undergo any of the varicose vein treatments so you will be ready to show off you vein-free legs in spring.
In this blog post, we will be covering all the different treatments available to treat varicose veins so you are informed before attending your consultation.
What are the varicose vein treatments available?
There are several treatments available to treat varicose veins and it is useful to understand the difference between them, however, the best treatment for each case will be advised by your vascular surgeon.
A scan of the area of concern should be performed to decide which treatment is the best option for you. At The Private Clinic, we provide a complimentary ultrasound scan at every consultation (the price per consultation is £150).
EVLA stands for Endovenous Laser Ablation. EVLA is a minimally –invasive treatment that is recognised as a Gold Standard of treatment for varicose veins by the National Institute for Clinical Excellence (NICE). This treatment uses ultrasound technology to locate the damaged veins to then run a laser to remove the vein by breaking down the vein lining. This treatment has outstanding results achieving a 95.4% success rate.
VenaSeal is a vein closure treatment which uses a medical grade glue to seal the veins. This treatment is ideal for patients who are afraid or concerned about needles as it only requires one injection per affected vein and is completely painless as the area is previously numbed. What's more, the recovery time is shorter compared to other procedures and the patient does not need to wear compression stockings.
Sclerotherapy is a vein removal treatment which involves the injection of a liquid or foam solution known as a sclerosing agent. Foam sclerotherapy is used for larger veins such as varicose veins whilst liquid sclerotherapy is used for thread veins. The foam is injected into the affected areas realising the blood retained in those veins to then proceed to its closure and disappearance.
Phlebectomy is a procedure performed under local anaesthetic again and consists in performing a series of small incisions where the varicose veins are located to hook the varicose vein and are then removed. The procedure does not require any stitches and provides instant results and relief from bulging varicose veins.
Varicose Vein before and after result photos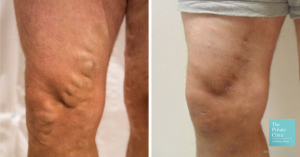 Before and after EVLA treatment.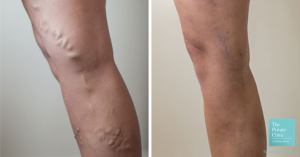 When would I be able to see results from the treatments?
For all of the varicose removal treatments you should be able to see the results right after the procedure; however, some treatments will require you to wear compression stockings for a few days.
There will be some visible bruising but this will disappear within 1-2 weeks. You can expect to see your final results around 6 weeks after the treatment.
When will I be able to return to work after my procedure?
When it comes to the VenaSeal, EVLA or foam sclerotherapy treatments, many patients are able to return to work the day after their treatment.  If you have had phlebectomy we recommend waiting 2-3 days before going back to work.
The Private Clinic in Harley Street, London for Vein Treatments
At the Private Clinic, we have treated over 7000 patients who have been concerned about their varicose or thread veins. We have highly qualified vascular surgeons Mr Constantinos Kyriakides and Mr Dynesh Rittoo who both have years of experience in this field and provide our patients with the most effective minimally invasive treatments to give the best results.
Our London clinic is located in the prestigious Harley street were all the treatments listed above are performed. We are ideally located for patients travelling from surrounding areas including; Bayswater, Hyde Park, Green Park, Soho, Notting hill, Kings Road, Kensington, South Kensington, Chelsea, Fulham, Battersea, Regents Park, St Johns Wood, Primrose Hill, Victoria, West End, Marylebone, Knightsbridge, Belgravia, Mayfair, Holland Park, Earls court and Fitzrovia.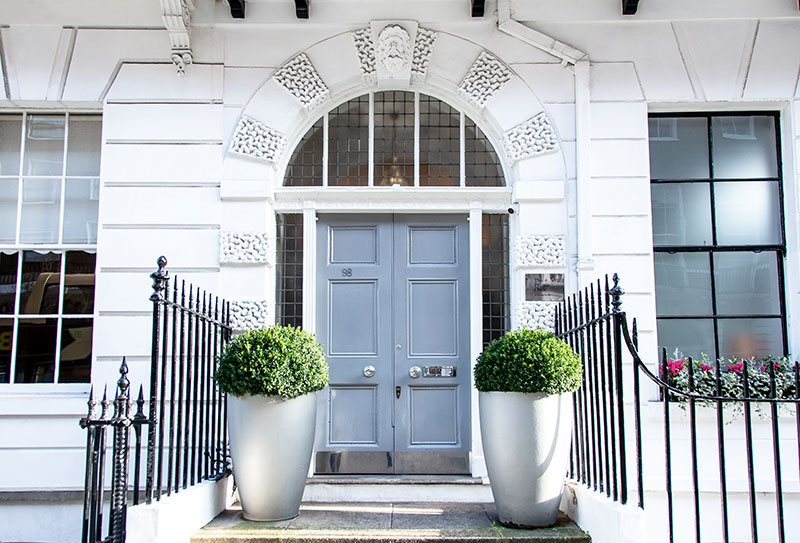 At The Private Clinic we provide:
A selection of minimally-invasive varicose and thread vein removal treatments.
We aim to achieve the least downtime or recovery possible.
We have highly successful treatments available such as EVLA which has obtained a 95.4% success rate.
Our vascular surgeons have treated thousands of patients and are specialised in the EVLA treatment.
We offer complimentary ultrasound with our appointments with our highly acclaimed vascular surgeons (consultation costs £150). The ultrasounds externally are typically priced between £350 and £450.
We have been able to restore the confidence in many of our patients by avoiding health issues and achieving great results.
Most of our treatments only take between 30 to 60 minutes and you are able to return home shortly after the procedure.
Due to our success, we have been featured in several TV shows and press including Channel 4's Embarrassing Bodies, TLC's My Naked Secret and have been recently featured in Harper's Bazaar's Cosmetic Tweakment Trends for 2019.
Read our extensive varicose vein FAQs
Hear from previous varicose vein patients in our patient stories
Find out more information in our varicose veins blogs
Download our varicose vein treatment brochure
To book veins london clinic appointment with any of our vascular surgeons call us on 0333 920 2471 or use our varicose veins online contact form.