Varicose Vein Removal London Harley Street
VARICOSE VEINS
Home » Varicose Vein Removal London Harley Street
Varicose veins most commonly appear on the legs and can be painful and cause swelling in the ankles. Varicose veins are caused by the walls of the vein becoming stretched and losing their elasticity properties. This then results in the valves within your veins malfunctioning causing blood to flow backwards and collect within the vein. They often present themselves as bulging or lumpy veins that are often blue or purple in colour.
In severe cases, varicose veins can cause patients to experience cramping, aches, itching, pain, swelling or marking of the skin. Patients often comment on their varicose veins appearing worse after standing for long periods of time or extended activity like walking.
Varicose Vein Treatments London
At our dedicated varicose vein clinic in London Harley Street we have a range of varicose vein removal treatments to help patients suffering from large or small varicose veins.
What happens during varicose vein treatment?
Every patient's varicose vein treatment will be slightly different as there is always more than one way of treating them. Our surgeons will be able to discuss with you in detail the different treatment options available and work out the best course of treatment for you.
Varicose Vein Treatment Review
"I met with Mr Rittoo who immediately made me feel at ease. He explained the procedure and that it's a fairly simple and quick – It's walk-in, walk-out so minimal drama around it.  I am really delighted when I look at my leg and no longer see the varicose vein there that made me feel so insecure. I can't wait until next summer when the small incision marks that remain will hopefully be all healed and I can wear shorts without feeling like an awkward turtle.  I would 100% return to The Private Clinic for the same treatment again and would trust them to take good care of me for that second leg."
Varicose Vein Removal Clinic London Harley Street
Our specialist vein clinic in London Harley Street is in an ideal location for travelling from surrounding areas such as Fitzrovia, Hyde Park, Chelsea, Bayswater, Marylebone, Knightsbridge, Green Park, St Johns Wood, Notting Hill, Soho, Regents Park, Primrose Hill, Victoria, Mayfair, Holland Park, Kensington, Fulham, Battersea, South Kensington, West End, Holland Park, Earls Court, West End and Belgravia. We also have patients coming from much further afield such as Richmond, Wimbledon, Chiswick, Putney. Patients travelling from overseas are also most welcome.

Expert Varicose Vein Surgeons London
All varicose vein consultations at our London Harley street clinic will be with a consultant vascular surgeon and include a free ultrasound scan. Our expert vascular surgeons include;
Thread Vein Removal in London
It is not just varicose veins that we treat at our Harley Street varicose vein clinic, we also treat thread veins. Thread veins are similar to varicose veins but are usually smaller and located closer to the surface of the skin. Thread veins are usually found on the thighs and ankles and  start of red in colour but as they become bigger they may change to purple or green. Facial thread veins are also common and can occur appear the under the eyes, nose and cheeks.
Treatments for thread veins at The Private Clinic include:
To find out more about Thread Veins treatments click here.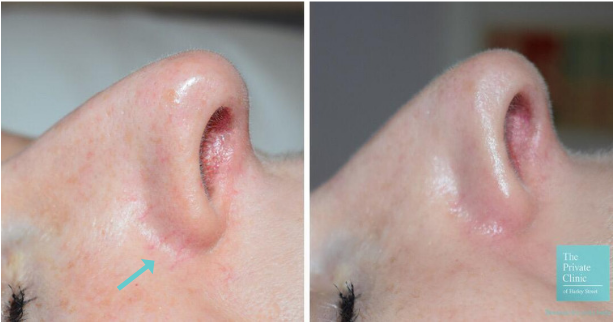 Why choose The Private Clinic of Harley Street?
To find out more about varicose vein treatments or to book a varicose vein consultation at our London Harley Street Clinic please get in touch on 0333 920 2471 or use our online varicose vein contact form.