Hair loss is a daunting topic for many people and can often be the cause of deteriorating self-confidence. Genetic male hair loss, also known as Androgenic Alopecia, or male pattern baldness is one of the most common conditions treated by our Hair Transplant surgeons at The Private Clinic. After all, 1 in 3 experience male pattern baldness by the time they're 30.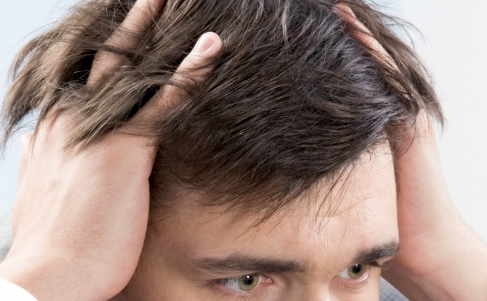 We offer suitable patients a course of medication, complementing FUE hair transplant surgical treatments, to 'hold' the thinning of hair and reduce the rate of future hair loss. The FUE method is far superior to the traditional strip technique, in terms of results, downtime and scarring (FUE leaves absolutely no scarring whatsoever). This has proven to be the optimal 'offensive & defensive' combat plan to cure male hair loss and balding. Most men come into the clinic after they've started balding, at which point it is impossible for medication to restore lost hair.
There are currently only 2 FDA approved hair loss prevention or stabilisation medications available for suitable hair loss and balding patients: Finasteride – an oral medication, commercially known as Propecia; and Minoxidil – a topical medication, commercially known as Regaine.
When used together, Finasteride and Minoxidil are known to have a complementary effect on a balding scalp. However, each drug has a different method of action, as well as different side effects. Before choosing a medication, it is always necessary to fully understand their differences, and how they will affect you.
Minoxidil is a topical medication, available over the counter in various forms (spray, drops, lotion, foam), and is used for treating hair loss for both men and women – 5% concentration mainly recommended for men, while the 2% concentration mainly for women. The exact mechanism by which Minoxidil treats hair loss is still unclear, but the drug is proven to increase the duration of the hair follicle growth cycle (Anagen) when applied directly to the scalp of the thinning areas. It improves the length and thickness of shrinking follicles and helps retain hair and slow the thinning process, but cannot be used on areas that are totally bald.
For Minoxidil to work efficiently, it must be used regularly and continuously. It is common to start shedding within the first 3-6 months of using Minoxidil, and stopping the medication will result in losing all of its benefits, although the treated areas will not be worse off than when treatment started.
Propecia, on the other hand, is a prescription medication which acts as a DHT hormone inhibitor and is only used for treating male pattern baldness at its early stages. Its mechanism works by inhibiting the conversion of testosterone into dihydrotestosterone (DHT) – read more about DHT here. Within a few months of using Propecia, DHT levels will have constantly stayed low enough for hair loss to cease.
It has been seen that Propecia is a much more effective medication than Minoxidil alone, but does have a 1-3% chance of side effects, some of which include sexual performance abnormalities, decreased sex drive, anxiety and depression. Always consult with your doctor if you begin to experience anything out of the ordinary.
Because each of the drugs works differently and separately, the best results are achieved by combining use of the two medications, commonly known as the 'dynamic duo', and are far more effective when used as part of a hair loss treatment plan that includes hair transplant surgery. The medical treatments work to prevent further hair loss, while the surgery is used to regain the hair that has already been lost. A hair transplant is the only hair loss treatment that can permanently restore hair in a completely bald area.


FUE Hair Transplants at The Private Clinic 
The Private Clinic of Harley Street offers the latest and most advanced FUE Hair Transplant procedures available, including hair transplants to the face and eyebrows. Hair Transplants are the only permanent hair loss solution.
The Private Clinic prides itself on ensuring you have the best quality and most comprehensive care:
24-hour patient helpline to ensure you are always in the best of hands.
As many post-operative care and appointments with your Hair Transplant surgeon and nursing team as required.
Highly experienced Hair Transplant Surgeons who have many years of experience.
Comprehensive patient information, every step of the way.
Outstanding hospital facilities.
Our excellent reputation for patient safety and satisfaction, honest advice and outstanding care means your journey with The Private Clinic will be an exciting experience to a newfound head of hair.
Extensive videos of past patients click here
Extensive Hair Transplant FAQs click here
Extensive before and after results gallery click here 
Expert Hair Transplant Surgeons at The Private Clinic
To find out more about FUE Hair Transplants or to book a consultation please call 0333 920 2471 or use our hair transplant online contact form.
At The Private Clinic, we offer full treatments for hair loss, using both hair transplant surgery and medication. During your consultation, one of our hair loss expert doctors will advise you on the most appropriate treatment for your stage of hair loss.