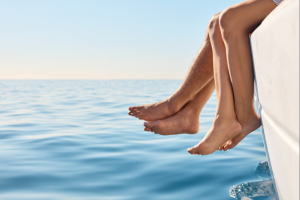 The Best Varicose Vein Removal Treatments in London
VARICOSE VEINS
Home » The Best Varicose Vein Removal Treatments in London
The Private Clinic specialises in vein removal procedures. We offer the latest and most efficient treatments to target all types of veins. At The Private Clinic, we aim to always provide the best, safest and most efficient procedures so you can get back to your normal routine as soon as possible. In this blog post, we will be covering all the vein removal treatments available.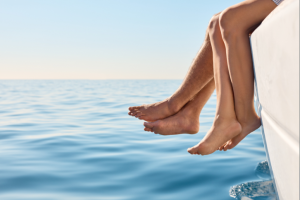 What are Varicose Veins?
Varicose veins are prominent bulging veins blue or purple in colour that tend to appear around the legs or ankles. Varicose veins appear when the small valves of the veins get damaged and stop working affecting the correct blood flow in the veins. Since the blood flow is restricted, it causes the veins to swell up and bulge out. Varicose veins can sometimes lead to other symptoms such as itchiness, burning sensation or cramping in the surrounding areas. Even though, you may not be experiencing these symptoms varicose veins are often a sign of underlying vascular problems so it is highly recommended to get them checked out by a consultant vascular surgeon.
What are the best treatments for Varicose Veins in London?
There are a variety of varicose vein treatments available. At our London Veins Clinic, we offer the latest minimally-invasive varicose vein removal procedures, suitable for almost every patient suffering from Varicose Veins.
EVLA – Endovenous Laser Ablation is the most popular varicose vein removal procedure. This is a minimally invasive procedure with a speedy recovery time performed under local anaesthetic. EVLA uses ultrasound technology to target the problematic veins to then remove them. EVLA is a highly effective procedure with a 95.4% success rate and has achieved the "gold standard" for vein removal according to NICE (The National Institute for Health and Care Excellence).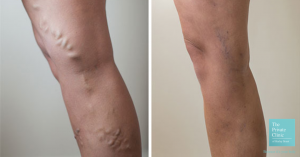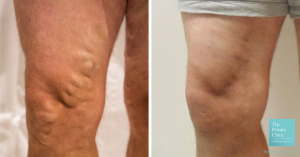 Sclerotherapy –This minimally invasive procedure consists of injecting liquid Sclerotherapy to the treatment areas. This solution causes the vein walls to collapse destroying the veins which are then naturally absorbed by the body overtime. This treatment is ideal for varicose veins that are slightly smaller.
VenaSeal – is a varicose vein removal treatment that uses medical adhesive to close varicose veins. The procedure consists of inserting a small catheter into the treatment leg, which guided by an ultrasound will dispense small doses of medical grade Sapheon Glue to close the veins. The veins are then absorbed naturally by the body.
Phlebectomy – This procedure consists of making small entry points around the affected areas to insert a hook that will gently remove the veins.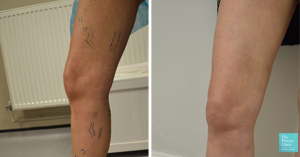 Varicose Veins Clinic London Harley Street
Our specalised veins clinic is located on Harley Street in London. The clinic is easily commutable from surrounding areas including; Bayswater, Hyde Park, Green Park, Soho, Notting hill, Kings Road, Kensington, South Kensington, Chelsea, Fulham, Battersea, Regents Park, St Johns Wood, Primrose Hill, Victoria, West End, Marylebone, Knightsbridge, Belgravia, Mayfair, Holland Park, Earls court and Fitzrovia.

Why choose The Private Clinic for Varicose Vein Removal?
At the Private Clinic, we have over 35 years of experience providing the best and latest vein removal treatments and have treated over 7,000 patients concerned about their veins. We work with highly qualified consultant vascular surgeons who have extensive experience in their field.
In our Harley Street clinic in London, we perform all the varicose vein removal treatments listed. At The Private Clinic we provide:
We are able to offer some of the least invasive method for varicose veins and thread veins for your legs, body and face.
No lengthy downtime or recovery required.
Our Consultant vascular surgeons are pioneers in EVLA (Endovenous Laser Ablation) and have treated thousands of patients.
We focus on the underlying cause of your veins and you will only see a Consultant Vascular surgeon for varicose veins.
The NICE (National Institute for Clinical Excellence) Gold Standard for treatment of Varicose Veins findings shows that the success rate after five years for EVLA is 95.4%.
A consultation with one of our Consultant Vascular Surgeons costs £200, including a free ultrasound scan of your legs (usually priced between £350 and £450 at most clinics and private hospitals).
Treatment takes one hour; you can go home shortly after being treated.
We have been featured in several TV shows and press including Channel 4's Embarrassing Bodies, TLC's My Naked Secret and have been recently featured in Harper's Bazaar's Cosmetic Tweakment Trends for 2019.
We have been able to restore the confidence in many of our patients by avoiding health issues and achieving great results.
We are able to offer finance solutions with manageable payments to suit a variety of budgets.
View our extensive FAQs
See our previous patient stories
View our varicose veins blogs for more information
Download our varicose vein treatment brochure
To find out more about varicose vein treatment or to book a veins consultation with any of our vascular surgeons call us on 0333 920 2471 or use our varicose vein online contact form.