Greater advances in medical technology mean there is now a wealth of non-surgical treatments to choose from when it comes to treating Varicose Veins. With risks of scarring and recovery times lessened, it can feel the worst part about all of them is deciding which one is right for you.
At The Private Clinic we provide a range of options according to the needs of our patients, and two of our most commonly performed Varicose Vein treatments are EVLA (Endovenous Laser Ablation) and Sclerotherapy. If you're trying to decide which might be the best way forward for you, we explain their differences and how you should make your decision.
EVLA (Endovenous Laser Ablation)
EVLA is our most popular treatment for Varicose Veins and is considered the 'Gold Standard' for the treatment of veins according to NICE (the National Institute for Health and Care Excellence). Performed under local anaesthetic, the treatment uses radiofrequency energy to collapse the walls of damaged veins, making them close and disappear. It takes on average around 45-60 minutes to perform and patients can go straight home with no hospital stay. Results, meanwhile, are permanent and immediately visible with a success rate of over 95% after five years.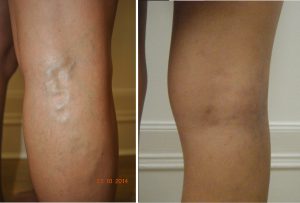 Sclerotherapy
While EVLA is suitable for most varicose veins, it normally isn't the best option for smaller veins, particularly those that are recurrent. These veins tend to be better suited to Sclerotherapy, which is also minimally-invasive. The treatment works through the injection of a chemical (either liquid or foam) into the problem vein which causes damage and makes it collapse.
We frequently use liquid Sclerotherapy for smaller varicose veins and spider veins, while foam is sometimes used on larger veins. However, the method chosen for you will vary according to your individual case and what your specialist believes the best way.
VenaSeal and Phlebectomy
We also offer VenaSeal and Phlebectomy treatments at The Private Clinic. VenaSeal is a closure system that uses medical adhesive to close varicose veins. Performed under local anaesthetic, an ultrasound is used to guide a catheter through the varicose veins dispensing a small amount of medical grade Sapheon Glue. This seals the vein causing it to close up and gradually be absorbed by the body. VenaSeal treatment is a great option for patients who are nervous of needles as it only requires one injected per vein, patients are also not required to wear compression stockings and often find themselves returning to their everyday activities much sooner than other treatments.
A phlebectomy is a minimally invasive procedure to remove varicose veins. It involves making very small incisions to allow the varicose veins to be removed using a special phlebectomy tool. The results are instant as the vein is removed from the body but recovery time is minimal as the incisions do not need stitches.
Summary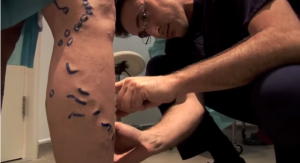 Unless you're a medical professional, it's hard to know the ins and outs of every treatment option. This is why one of the most important decisions you can make is which surgeon you work with. It may be that one treatment will be more suitable for you, another treatment like Phlebectomy will be best, or that a combination will work better. Your medical team's knowledge and expertise will be able to guide you toward the medical solution option that will rid of your veins for good.
As to which is better out of Sclerotherapy and EVLA – it completely depends on what your needs are. Both are highly effective ways of tackling problem veins, it just depends on your individual needs and circumstances.
Varicose Vein Treatment at The Private Clinic
There are over 35 years of Harley Street excellence behind every treatment we conduct. We understand that your needs are unique, and we make sure that we remember that throughout your treatment; from the first time you inquire, until long after your treatment has finished. Our Consultant Vascular Surgeons are some of the UK's most sought after vein experts, and we conduct a full scan in every vein consultation to ensure we find the underlying cause of your problem and stop it permanently. Whatever solution we decide on, we'll work with you to make sure you're both happy and knowledgeable so your experience is precisely what you want and expect.
The least invasive methods for varicose veins and thread veins removal treatment for your legs, body and face.
Our Consultant vascular surgeons are pioneers in EVLA(Endovenous Laser Ablation) and have treated thousands of patients.
No lengthy downtime or recovery required.
The NICE (National Institute for Clinical Excellence) Gold Standard for treatment of Varicose Veins findings show that the success rate after five years for EVLA is 95.4%.
A consultation with one of our Consultant Vascular Surgeons costs £150, including a free ultrasound scan of your legs (usually priced between £350 and £450 at most clinics and private hospitals).
We focus on the underlying cause of your veins and you will only see a Consultant Vascular surgeon for varicose veins.
We have treated thousands of patients who have regained their confidencewhilst avoiding health issues.
Treatment takes one hour, you can go home shortly after being treated.
Owing to our success, we have been featured on Channel 4's Embarrassing Bodies , TLC's My Naked Secret and featured in Harper's Bazaar's Cosmetic Tweakment Trends for 2019.
We have carried out over 7,000 procedures in treating Veins.
View our varicose vein before and after photos.
Read our extensive varicose vein FAQs.
Take a look at our varicose vein patient stories.
Find out more in our varicose vein blogs.
Download our varicose vein treatment brochure.
We offer Varicose Veins treatments and consultations in London, Bristol, Birmingham, Manchester, Leeds, Bournemouth, Bexhill,  and Northampton.
Expert Vascular Surgeons
To find out more about varicose vein treatment options or to book a consultation, please call 0333 920 2471 or use our Varicose Vein online contact form.