Certain areas of the body such as the tummy, thighs, upper arms, neck and love handles can be problematic areas where fat is difficult to lose through regular exercise and healthy eating.
There are surgical options to help you reduce the fat such as surgical liposuction, tummy tucks, arm lights, thigh lifts and neck lift procedures but many feel these options are a little drastic when the problem is relatively small and instead are looking for non-surgical fat removal treatments.
Here at The Private Clinic we offer a range of non surgical fat removal treatments such as CoolSculpting and other minimally invasive treatments which offer great results including Vaser Liposuction, 4D Lipo and MicroLipo. We are the UK's leading provider of vaser liposuction for men and women, performing over 1,300 minimally invasive liposuction and body contouring procedures a year.
CoolSculpting
Coolsculpting is a non-surgical fat removal treatment that can be performed on the, chin, bra fat, flanks, tummy, thighs, back and buttocks crease. The treatment uses controlled cooling too destroy only the fat cells being treated which are then naturally processed and removed by the body. Once the fat cells have been removed, they are permanently destroyed. The treatment can be performed in as little as 35 minutes and involves no downtime allowing patients to immediately return to their everyday activities including exercise. Over 7 million CoolSculpting treatments performed worldwide and it is a FDA approved treatment for fat loss. CoolSculpting has also been clinically proven to reduce up to 27% of fat cells.


CoolSculpting is available at our clinics in in our Leeds, Manchester, Birmingham, Northampton, London & Stoke Poges, Bucks 
Vaser Liposuction
VASER Liposuction is one of our most popular minimally-invasive fat removal procedures for contouring and shaping for men and women. The procedure is performed under local anaesthetic and there is no overnight hospital stay required. Vaser Liposuction can be performed almost anywhere on the body including the chin, neck, upper arms, chest, tummy, thighs, knees, back and buttocks crease.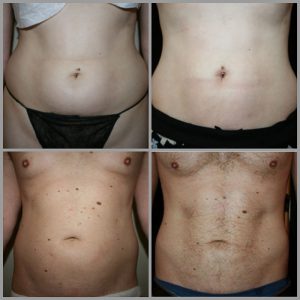 Vaser Lipo consultations are available at our London Harley Street clinic, Leeds and Manchester. Consultations with our patient coordinators are available at our clinics in Birmingham and Northampton.
Vaser Mid-Def
Vaser Mid-Def is The Private Clinic's unique vaser Lipo technique designed for patients who want a little more definition but nothing too intense like a hi-def technique would achieve. The procedure is performed in the same way as vaser liposuction however deposits of fat surrounding specific muscle groups are selectively removed to achieve a more muscular look but with a softer finish. Vaser mid-def is ideal for areas such as the tummy, thighs, arms, back and chest.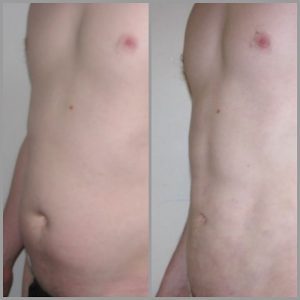 Vaser Hi-Def Liposuction
Vaser Hi-Def is a minimally invasive fat removal and body contouring treatment which aims to help sculpt and define the muscles for an athletic result. The Private Clinic were one of the UK's first aesthetic centres to offer this technique and are still one of very few groups in the UK to be certified to perform the revolutionary treatment. Vaser hi-def targets both the deep and superficial fat cells which are found around muscle tissue. Vaser Hi-Def is most commonly performed on the chest, back, arms, tummy, waist, thighs and buttocks crease or banana fold.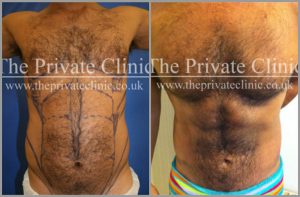 Micro Lipo
Micro Lipo is an alternative vaser lipo technique where smaller cannulas are used to perform the procedure. The small size of the cannulas make the technique best for targeting smaller body areas such as bingo wings, inner thighs, knees and male chest.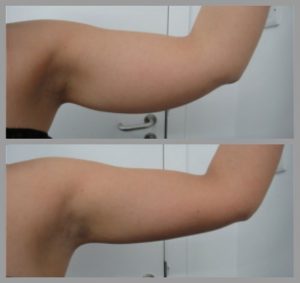 The Private Clinic prides itself on ensuring you have the best quality and most comprehensive care.
There is a huge variety of different liposuction treatment and non surgical fat removal techniques out there to choose from. The main differences between them are the technology used to assist with the fat removal process.
At The Private Clinic we will be able to determine the right treatment for you.
Why choose The Private Clinic for minimally invasive Fat Removal/ Fat Reduction Procedures?
We offer a wide range of different liposuction treatments and non invasive body contouring options.
Consultations are available with our specialist team of fat removal experts.
24 hour patient helpline to ensure you are always in the best of hands.
As many post-operative care and appointments with your surgeon, doctor and nursing team as required.
Comprehensive patient information, every step of the way.
Our team of fat removal experts our pioneers in fat freezing, liposuction and body contouring.
Our liposuction doctors and surgeons have performed over 11,000 Liposuction treatments.
Over 7 million CoolSculpting procedures have been performed worldwide.
Outstanding hospital and clinic facilities.
Competitively priced for our expertise and experience.
Our excellent reputation for patient safety and satisfaction, honest advice and outstanding care means your journey with The Private Clinic will be an exciting experience to a newfound shape.
Our fat removal clinics are located in; London Harley Street, Birmingham, Manchester, Northampton and Leeds
If you would like to arrange a consultation with one of our renowned specialists, please call us on 0333 920 2471 or use our online contact form.