Marylebone, London
CoolSculpting in London, Devonshire Place

Located close to our Harley Street clinic is our sister clinic in Devonshire Place.
The Cosmetic Skin Clinic is a multi-award winning medical aesthetic clinic founded by Dr Tracy Mountford who has over 28 years of experience in the aesthetic industry and is the only UK doctor on the International Allergan CoolSculpting faculty.
The Cosmetic Skin Clinic is the number one clinic for CoolSculpting in the UK and Western Europe for 6 years running. They have performed over 16,000 CoolSculpting treatments and have an excellent reputation for achieving the most impressive results.
For Patients seeking CoolSculpting treatment in London, book a consultation with us and we will provide you with all the information you need ahead of your visit to the state of the art clinic in Devonshire place which has a dedicated CoolSculpting centre.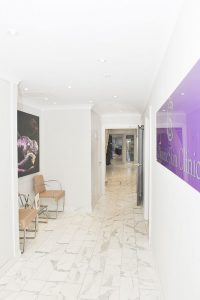 TREATMENT
We are able to offer Fat Freezing treatment via our sister clinic in their dedicated CoolSculpting and body contouring clinic.
CoolSculpting, also referred to as Fat Freezing and Cryolipolysis is a popular treatment for patients who are looking to reduce stubborn areas of fat with minimal downtime.
CoolSculpting is suitable for many areas of the body including; chin, upper arms, flanks, tummy, thighs, back and lower buttocks.
CoolSculpting treatment at Devonshire Place is undertaken by an expert team of Fat Freezing specialists, all of whom have been trained by Dr Tracy Mountford, MBBS, MBACM, GMC Number:3085451 who is the only key opinion leader and medical advisor for CoolSculpting in the UK.
Our Devonshire Place clinic offers Dualsculpting™ CoolSculpting treatment. This is when two Coolsculpting treatments are performed at the same time in different areas of the body. This helps to reduce the treatment time that would otherwise be required to treat two areas in two separate treatments. Dual sculpting treatment takes around 35 minutes to treat two areas and also helps to maintain the patients comfort.
Clinic Details – Where are we?
Our London Fat Freezing clinic is in an ideal location for patients commuting from surrounding areas such as Bayswater, Hyde Park, Green Park, Soho, Notting hill, Kings Road, Kensington, South Kensington, Chelsea, Fulham, Battersea, Regents Park, St Johns Wood, Primrose Hill, Victoria, West End, Marylebone, Knightsbridge, Belgravia, Mayfair, Holland Park, Earl's court and Fitzrovia.
You will be able to find us at The Cosmetic Skin Clinic, 8 Devonshire Place, Marylebone, London W1G 6HP
By Train
The nearest tube stops are Baker Street (Hammersmith and City, Metropolitan, Bakerloo and Jubilee lines), Regent's Park (Bakerloo line) and Great Portland Street (Circle, Hammersmith and City, and Metropolitan lines) which are just a 5-10 minute walk away from the clinic. Our London Fat Freezing clinic can also be commutable from Oxford Circus ((Central, Bakerloo and Victoria lines) which is a 15 minute walk.
By Bus
There are many bus routes which come close to Devonshire Place. You will most likely need to get to Harley Street Stop L or Stop M on Marylebone Road which serves London bus routes; 18, 27, 30, 205, 453, N18, N27 and N205. Marylebone Road is then just a 2 minute walk from the clinic.
By Car
Devonshire Place is located in central London which makes it easily accessible from major roads and motorways such as M4, M1, M25 and M20 which run around the outskirts of London.
Our London Fat Freezing clinic does not have patient parking available. If you are planning to drive we advise that you allow yourself enough time to search for parking and ensure that payment has been arranged before your appointment time to reduce any delays.
Street parking is available via Westminster City Council on Devonshire Place. The nearest carparks include Union Car Park in Devonshire Row Mews, Q-Park in Marylebone Moxon Street and NCP in Harley Street, Weymouth Mews. All of these will then require a 10 minute walk to arrive at the clinic.
Devonshire Place operates under a debit/credit park scheme and is within the Congestion Zone.