Angelina Jolie is set to wed her long-time partner, Brad Pitt, later this year and plans on treating the prominent veins on her arms before the wedding.
Bulging veins can be a sign of damaged veins, so seeking professional opinion is a great first step. If necessary, eventual removal or treatment is completely safe. There are many options available for treating veins, according to the type and desired areas to treat. Common areas where veins or varicose veins may develop include Legs, Hands, Arms, Scrotum, Under-Eye area and also in the Pelvis.
EVLA Treatment for Varicose Veins
Endovenous Laser Ablation (EVLA) is a minimally invasive procedure that serves to remove varicose veins by laser treatment.
The procedure: An Ultrasound scan carried out during the initial consultation would have pointed out the position of the varicose vein.
Prior to the procedure, a local anaesthetic is injected to the area to eliminate discomfort.
The laser probe is inserted and short pulses of laser energy are sent to seal off the damaged vein so blood cannot pass through. The area is then bandaged to reduce swelling and discomfort.
EVLA is a quick procedure, taking less than an hour to perform.

VenaSeal
VenaSeal is a closure system that uses medical adhesive to close varicose veins.
The procedure is performed under local anaesthetic and involves a small catheter being inserted into the vein under ultrasound guidance where it dispenses small amounts of medical grade Sapheon Glue which work to close the vein.
Once closed, the vein will be absorbed naturally by the body.
Quick and painless treatment taking 30-60 minutes on average.
Ideal for patients who have a needle phobia as VenaSeal only requires a single injection per vein.
Recovery time is relatively shorter and you often are not required to wear compression stockings after treatment and are able to return to daily activities such as work and exercise a lot sooner.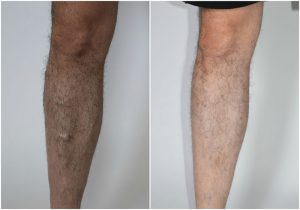 MicroSclerotherapy and Sclerotherapy
Sclerotherapy and MicroSclerotherapy are minimally invasive procedures that serve to treat thread veins and small varicose veins.
Liquid or Foam Sclerotherapy are methods used for small varicose veins and thread veins. A chemical is injected to the damaged vein, causing it to close.
Both procedures last for about 30 minutes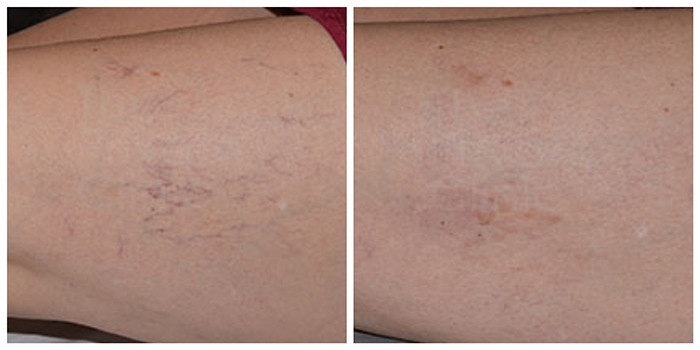 Phlebectomy
Phlebectomy is a minimally invasive procedure that removes small thread or varicose veins from the surface of the legs.
The procedure: small incisions are made through which the damaged veins are removed.
This procedure is also performed under local anaesthetic.
No stitches are required.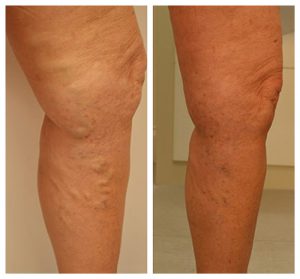 Cutera CoolGlide Laser
The Cutera CoolGlide is a special laser which targets treating veins under the eyes.
This laser delivers pulses of light energy to the target vein around the delicate eye area, which subsequently cause thickening of the blood within. The blood vessel is destroyed, reabsorbed into the body and blood flow is redirected to deeper veins in the face.
Treatment time is around 15-30 minutes.
Why choose The Private Clinic for Varicose Vein Removal?
The least invasive method for varicose veins and thread veins removal treatment for your legs, body and face.
Our Consultant vascular surgeons are pioneers in EVLA(Endovenous Laser Ablation) and have treated thousands of patients.
No lengthy downtime or recovery required.
The NICE (National Institute for Clinical Excellence) Gold Standard for treatment of Varicose Veins findings show that the success rate after five years for EVLA is 95.4%.
A consultation with one of our Consultant Vascular Surgeons costs £150, including a free ultrasound scan of your legs (usually priced between £350 and £450 at most clinics and private hospitals).
We focus on the underlying cause of your veins and you will only see a Consultant Vascular surgeon for varicose veins.
We have treated thousands of patients who have regained their confidencewhilst avoiding health issues.
Treatment takes one hour, you can go home shortly after being treated.
Owing to our success, we have been featured on Channel 4's Embarrassing Bodies , TLC's My Naked Secret and featured in Harper's Bazaar's Cosmetic Tweakment Trends for 2019.
We have carried out over 7,000 procedures in treating Veins.
View our varicose vein before and after photos.
Read our extensive varicose vein FAQs.
Take a look at our varicose vein patient stories.
Find out more information in our varicose vein blogs
Download our varicose vein treatment brochure
We offer Varicose Veins treatments and consultations in London, Bristol, Birmingham, Manchester, Leeds, Bournemouth, Bexhill and Northampton with our expert vascular surgeons:
To find out more or to book a varicose vein consultation you can call 0333 920 2471 or use our Varicose Vein online contact form.