What is the best treatment for varicose veins?
VARICOSE VEINS
Home » What is the best treatment for varicose veins?
There are a number of different treatments available to treat varicose veins but choosing the best one for you can be difficult. From surgery and injections to lasers and glue – there are so many options out there but it is important to know that different types of varicose veins respond better to different treatment and that there is no one-size-fits-all solution, what treatment may be best for one person may not necessarily be the best for another.
To find out what the best treatment for varicose veins is for you, we recommend having a consultation with one of our specialist vascular surgeons who will be able to assess your properly with an ultrasound scan before suggesting  which treatments are going to give you the best results.
Here at The Private Clinic we do not use or recommend surgical vein stripping to treat varicose veins. This is on guidance from The National Institute of Clinical Excellence (NICE) who suggested that the technique should not be used unless it was exceptional circumstances. The range of minimally invasive options that we offer here at The Private Clinic far outperform vein stripping and there are so many better treatments available to treat varicose veins than older methods traditionally used in the NHS.
We offer a range of treatments that we believe are the best for removing varicose veins;
EVLA(Endovenous Laser Ablation)
EVLA (Endovenous Laser Ablation) uses laser heat to collapse the wall of the vein and destroy the cause of the problem. It is minimally invasive, performed in-clinic, has a quick recovery time and is considered the Gold Standard of treatment for varicose veins by the National Institute for Clinical Excellence (NICE). This is the most popular vein removal treatment here at The Private Clinic and the success rate after five years for EVLA is 95.4%. Our surgeons have performed amongst the highest number of EVLA treatments in the UK, and have helped develop the procedure into the safe and highly recommended method it is today.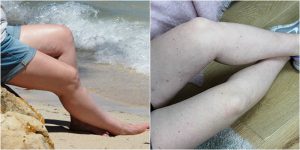 "I am really delighted when I look at my leg and no longer see the varicose vein there that made me feel so insecure. I can't wait until next summer when the small incision marks that remain will hopefully be all healed and I can wear shorts without feeling like an awkward turtle.  I would 100% return to The Private Clinic for the same treatment again and would trust them to take good care of me for that second leg." –
Jen – EVLA Patient – Click here to read Jen's patient story
VenaSeal
VenaSeal is a closure system that uses medical adhesive to close the varicose veins. Medical grade Sapheon Glue is used to close the vein which results in the blood being re-routed through other healthy veins located deeper within the leg causing the varicose veins to then be absorbed naturally by the body. This treatment is very minimally invasive and is a great option for patients who have a needle phobia as there is a limited amount of injections required. VenaSeal also boasts a very quick recovery time with many patients not needing to wear compression garments for more than 24 hours post-procedure and most are able to return to work  and exercise within a few days.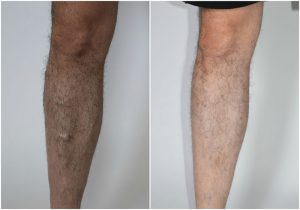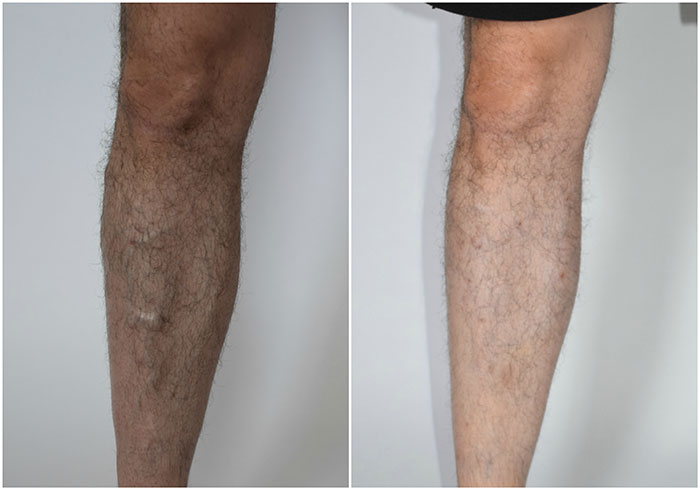 "I only had to take two days off work and I was back in the gym just four days after the procedure! I couldn't be happier with results and I would absolutely recommend the treatment to anyone who is suffering from the condition.  I was so impressed with Dr Rittoo and his team; they made me feel completely at ease at every stage of the procedure"
Martin – VenaSeal Patient, Click here to read his patient story
Foam Sclerotherapy
Foam Sclerotherapy is an injectable treatment where the veins being treated are injected with a foam solution which pushes the blood out of the area and helps to seal the vein in the process too. It is a very quick procedure often taking less than 30 minutes. The treated varicose veins will begin to disappear within a couple of weeks although multiple treatments may be required.
"Six months and three treatments later, my veins of leg are transformed. I am taking my new legs to Ibiza, where they can embrace miniskirts on a daily basis." *
Jessica Lacey, Beauty Features Editor, Marie Claire -Sclerotherapy with Mr. Constantinous Kyriakides.
Phlebectomy
Phlebectomy is a minor surgical procedure performed under local anaesthetic which requires making small incisions to allow the varicose veins to be removed. A hook is inserted into the tiny incision which then hooks onto a section of the varicose vein which is then removed. This procedure is great for larger bulging varicose veins and provides instant results. The incisions do not require stitches and most patients are able to return to their daily activities excluding strenuous exercise within 24 hours.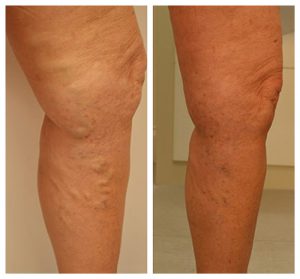 (EVLA & Foam Sclerotherapy Treatment)
All of our varicose vein treatments at The Private Clinic are;
Minimally invasive, we have carried out over 7,000 treatments
Competitively priced
Completed in less than 1 hour, which means you can head home shortly after.
Performed by some of the Country's top Consultant Vascular Surgeons.
Aimed at tackling the actual cause of the problem, which is why we offer all patients a free ultrasound scan during their initial consultation.
Carried out under local anaesthetic in one of our state of the art widely recognised in-house clinical facilities located in Harley street, Birmingham, Manchester, Leeds, Northampton, Bexhill and Bournemouth.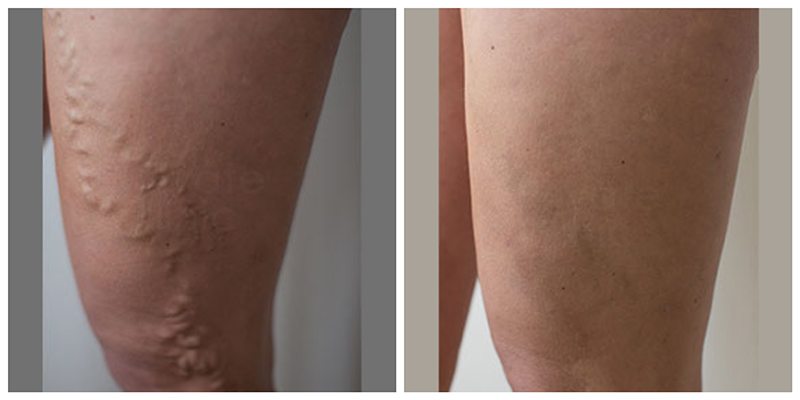 (EVLA Treatment at The Private Clinic)
Why choose The Private Varicose Vein Clinic:
Expert Vascular Surgeons at The Private Clinic
To find out more about the best varicose vein removal treatments available for you call 0333 920 2471 or use our online varicose veins contact form to make a consultation.