When it comes to researching varicose veins and the treatments associated with them it can be quite confusing to know what is best for you. We would always recommend coming in for a consultation to get the best advice before deciding on your procedure but we like our patients to be as informed as possible which is why we have put together 7 frequently asked questions to help you.
What are Varicose Veins?
Varicose veins are veins that are most commonly found on the legs. They have a bulging appearance are often sit raised above the skin and are usually deep blue or even red in colour.  Varicose veins are caused when there is a failure of the valves within the veins stopping them working efficiently.
If you have Varicose Veins you will have most likely already noticed them but other symptoms like itching, heaviness and aching can be present too.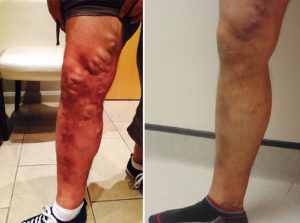 When should I treat my Varicose Veins?
The progression of Varicose Veins is normally slow so you shouldn't feel a rush to get them treated however the sooner you have the treatment the longer you will be able to take advantage of the benefits.
The best time to have your varicose veins treated is during the autumn/winter months as this allows you to recover fully, ready to reveal your new legs by the summer.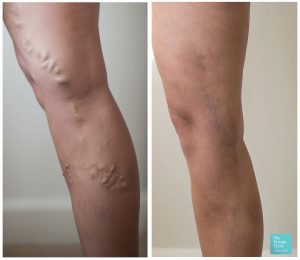 What does a varicose vein consultation involve?
At The Private Clinic a consultation for varicose veins will usually be with your chosen consultant surgeon, although you can always see an advisor first to get more general information.  Your consultation will begin with an initial conversation about why you have chosen to have treatment and what your desired outcome is. Your surgeon will go through your medical history, the risks and benefits, and may ask you questions about your lifestyle as this will determine your treatment options. Your surgeon will then need to examine your varicose veins before performing an ultrasound of your legs. The ultrasound scan will check all the veins in your legs to allow your surgeon to know what
the underlying cause of your varicose veins is. The results of the scan will then be discussed with you and the appropriate treatment plan will be suggested.
At this point you will be able to ask questions about the suggested treatments and your surgeon will discuss (in detail) your treatment plan.
You will then meet with your surgeon's patient advisor who will be able to give you a quote for the treatment/s suggested by your surgeon and answer any other questions you may have. At this point you will be able to go away and think about your treatment options, or ask to book in for treatment and your patient advisor will be able to suggest suitable dates for this.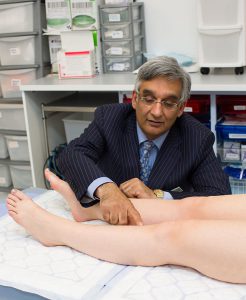 If EVLA is not suitable for me, what are my other options?
In the majority of cases your will be offered EVLA treatment as this is the NICE (National Institute for Clinical Excellence) Gold Standard for treatment of Varicose Veins.  In some cases you may not be suitable for EVLA and instead offered either VenaSeal, Foam Sclerotherapy treatment, which is suited for smaller veins or Phlebectomy treatment for larger veins. At The Private Clinic we do not offer vein stripping procedures as we find this method requires a long recovery period and the results are not as effective as the current treatments we offer.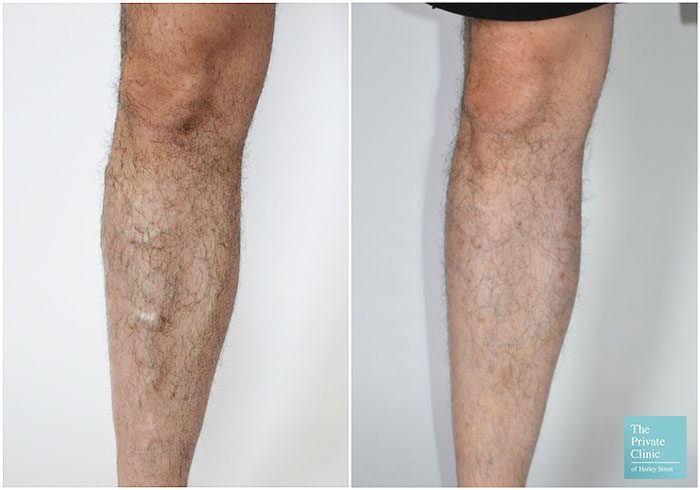 Is there an age limit to having your Varicose Veins treated?
There is no age limit to having your Varicose Veins treated as long as you are fit and healthy. At your consultation your surgeon will go through your medical history to determine your suitability for the varicose vein removal procedures.
Is there a limit on how many varicose veins can be treated in one session?
Generally there is not a limit on the amount that can be treated in one session however we like to take patients comfort into consideration.
Varicose vein removal treatments, even EVLA, are performed under local anaesthetic so the amount that can be treated in one session is limited to this. In most cases all veins are treated in one session but if your surgeon feels you may need two then this will be discussed at your consultation.
If you have varicose veins on both legs then we would recommend having your legs treated on two separate sessions. This allows you to be more comfortable during your recovery time and have more mobility too.
In some cases you will need a follow-up treatment but this often won't be decided until your follow-up consultation after your procedure.
When my varicose veins are removed, how does the blood continue to circulate in that leg?
There are two types of veins in your leg; superficial veins and deep veins. Deep veins carry your blood back to your heart supported by the squeezing of your muscles that occurs during movements like walking. Superficial veins lay closer to the surface of the skin and are not supported by the leg muscles which mean the blood within these veins is not forced towards the heart like the blood within deep veins. The blood that flows through superficial veins is often diverted into deep veins through the connecting veins valves.
Varicose veins only affects superficial veins, so once these veins are destroyed and removed from your leg your blood will be able to travel back into your deep veins and up towards the heart as normal.
If you have any additional questions about Varicose Veins and the treatments we offer please don't hesitate to get in contact.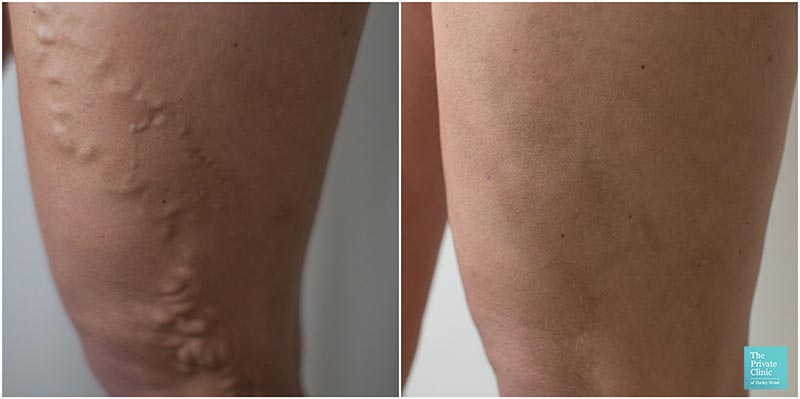 Varicose Vein Treatment at The Private Clinic
Here at The Private Clinic we offer competitively priced walk-in walk-out varicose vein procedures that are performed by some of the Country's top Consultant Vascular Surgeons. Our surgeons have also performed among the highest number of EVLA treatments in the UK, and have helped develop the procedure into the safe and highly recommended method it is today.
Why choose The Private Varicose Vein Clinic:
The least invasive method for varicose veins and thread veins removal treatments for your legs, body and face.
Our Consultant vascular surgeons are pioneers in EVLA(Endovenous Laser Ablation) and have treated thousands of patients.
No lengthy downtime or recovery required.
The NICE (National Institute for Clinical Excellence) Gold Standard for treatment of Varicose Veins findings show that the success rate after five years for EVLA is 95.4%.
A consultation with one of our Consultant Vascular Surgeons costs £150, including a free ultrasound scan of your legs (usually priced between £350 and £450 at most clinics and private hospitals).
We focus on the underlying cause of your veins and you will only see a Consultant Vascular surgeon for varicose veins.
We have treated thousands of patients who have regained their confidence whilst avoiding health issues.
Treatment takes one hour, you can go home shortly after being treated.
Owing to our success, we have been featured on Channel 4's Embarrassing Bodies , TLC's My Naked Secret and featured in Harper's Bazaar's Cosmetic Tweakment Trends for 2019.
We have carried out over 7,000 procedures in treating Veins.
See our varicose vein before and after photos.
Read our extensive varicose vein FAQs
Take a look at our varicose vein patient stories.
Find out more information in our varicose vein blogs.
Download our varicose veins brochure.
Varicose vein consultations are available at our clinics nationwide: London Harley Street, Bristol, Birmingham, Manchester, Leeds, Bournemouth, Bexhill and Northampton with our expert vascular surgeons.
Expert Vascular Surgeons
To find out more about our varicose vein treatments or to book a consultation please call, 0333 920 2471 or use our varicose vein online contact form.