Varicose Veins Removal at The Private Clinic
VARICOSE VEINS
Home » Varicose Veins Removal at The Private Clinic
The Private Clinic is a specialist centre for vein removal. We have been operating for over 35 years and offer the latest techniques and cutting-edge technology for safe, effective varicose vein removal. Our ultimate aim is to provide you with the very best procedures that are not only effective but impede as little as possible on your life; our vein procedures are walk-in walk-out treatments so you can get straight back to your life.
What are Varicose Veins?
Varicose veins occur when the tiny valves within the veins do not work properly because they are weaker or damaged in some way. The blood then flows the wrong way and collects in the vein causing it to grow and swell.
As opposed to your normal veins, varicose veins are prominent, often unsightly and bulbous. They may even be painful. They can appear in a navy or purple hue and are most commonly found on the legs and sometimes feet. They can also be related to other symptoms like swelling and cramping in the surrounding areas.
If there is no pain then varicose veins are not dangerous, regardless of this, you should get them checked out by a professional to rule out any more serious conditions such as deep vein thrombosis (DVT). They can develop at any age although it is true that older people are more likely to have varicose veins.
How are varicose veins treated?
The NHS used to treat Varicose Veins regularly but now only do so in special circumstances with long waiting lists. The current recommended course of action is to wear compression stockings, stay mobile and keep the leg elevated where possible. In some cases that is enough to see a difference but for many it is simply not an effective long term solution.
A great advantage of our range of procedures for vein removal is they are suitable for practically everyone. 99% of patients are suitable for treatment with one or more of the procedures mentioned as long as you are over eighteen.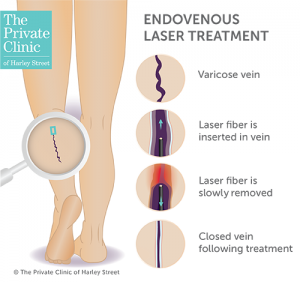 There are several ways we can treat varicose veins:
Sometimes more than one of these procedures is performed to ensure maximum results. This is subject to a full consultation.
A lot of people ask us about vein stripping which is an older method of vein removal. It was much more painful than anything we now offer with a lot of downtime and the recurrence rate was about fifty per cent. We are happy to say that with our procedures the recurrence rate is incomparable. For EVLA it is 1% as of 2017. It is almost impossible that any veins treated by EVLA will return, the body will have naturally 'eaten away' the rest of the vein. There is a chance that a new vein will grow close to the treated vein though which is confusing for some patients.
Where can I get my Varicose Veins treated?
To ascertain the best way to treat you we would, first of all, invite you in for a no-obligation consultation. We have locations nationwide for your convenience and treat you in-house so there are no arduous hospital trips and stays and you know you'll be getting The Private Clinic level care from the moment you decide to get in touch with us until you're fully recovered. We have a medical team available around the clock in the rare event that you should have any issues or concerns post-procedure.
You can see a specialist advisor at no cost to yourself and when you then meet with the surgeon we are very happy to say that we perform a private scan as part of the consultation fee at no additional cost. We have clinics across the country with our experienced and respected surgeons here to help you.
We have clinics in:
Varicose Vein Before and After Photos
Varicose Veins Patient Testimonials/Reviews
We have every faith in our procedures and only offer them because they are safe, tested and provide proven results but we know that hearing it from someone who has undergone the treatment is worth just as much to you as our expertise, so we've collected a few quotes from our patients.
"Six months and three treatments later, my veins…are transformed. I am taking my new legs to Ibiza, where they can embrace miniskirts on a daily basis."
–Jessica Lacey, Beauty Features Editor, Marie Claire -Sclerotherapy with Mr. Constantinos Kyriakides.
"From the time I walked through the front door, the care received from all staff has been consistent and amazing. The surgery I had for my horrendous looking varicose vein was, yes a bit uncomfortable but so worth it when I got to see the results. I am now able to go swimming and, best of all, wear dresses and skirts again. Don't put your life on hold – just do it!" –Tina – North Yorkshire
"I'm so pleased with the results and it is really life changing for me!"
–Nicole Hopkirk – Former Managing Editor, MSN Health
Expert Vascular Surgeons
Varicose Vein Removal at The Private Clinic
We pride ourselves on working with the most experienced and venerated surgeons in the industry. Combined they have performed among the highest number of EVLA treatments in the UK and been instrumental in pioneering the procedure as we know it today.
The least invasive method for varicose veins and thread veins removal treatment for your legs, body and face.
Our Consultant vascular surgeons are pioneers in EVLA(Endovenous Laser Ablation) and have treated thousands of patients.
No lengthy downtime or recovery required.
The NICE (National Institute for Clinical Excellence) Gold Standard for treatment of Varicose Veins findings show that the success rate after five years for EVLA is 95.4%.
A consultation with one of our Consultant Vascular Surgeons costs £200, including a free ultrasound scan of your legs (usually priced between £350 and £450 at most clinics and private hospitals).
We focus on the underlying cause of your veins and you will only see a Consultant Vascular surgeon for varicose veins.
We have treated thousands of patients who have regained their confidence whilst avoiding health issues.
Treatment takes one hour, you can go home shortly after being treated.
Owing to our success, we have been featured on Channel 4's Embarrassing Bodies , TLC's My Naked Secret and featured in Harper's Bazaar's Cosmetic Tweakment Trends for 2019.
We have carried out over 7,000 procedures in treating Veins.
View our varicose vein before and after photo gallery.
Read our extensive varicose vein FAQs.
Hear from previous patients in our varicose vein patient stories.
Find out more in our varicose vein blogs.
Download our varicose vein treatment brochure.
We see thousands of happy patients every year so you know you are in the right hands.
To find out more or to book a consultation, please call 0333 920 2471 or use our Varicose Vein online contact form.