Photos are a great way to remember happy days, but can be an even better way to lose confidence; sagging skin, wrinkles and generally anything nasty not only shows, but often looks worse. Beauty app developers Modiface think they've found the perfect solution for this photographic faux-pas in their new creation Beauty Mirror, which allows you to 'Photoshop your face in real time'; thinning the cheeks, ridding of blemishes, and easing out lines and creases before any photos are taken.
While the app is a novel idea, at The Private Clinic we like our beauty solutions to be a little more true to life and a little less, well…virtual. And it seems we're not alone; last year BAAPs reported a huge increase in UK anti-ageing surgical procedures. Facelifts in particular led the fight against time as the third most popular surgical procedure, with 6,380 treatments taking place in the UK alone.
However, not everyone wants the invasion of full-blown surgery. Wrinkle injections and fillers are a favourite non-invasive solution for many, but they aren't always the best way to reverse sagging skin. Finding an intermediary is difficult with few offerings providing adequate lift without surgery, which is where the revolutionary Silhouette Lift (also known as a Threadlift, Silhouette Soft, or Suture Lift) comes into play.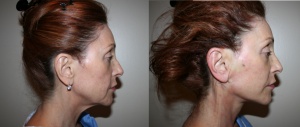 A procedure that is perhaps not as severe as a surgical facelift, the non-invasive treatment is focused more on lifting than wrinkle injections and fillers. It raises sagging areas of the face and eases the wrinkles surrounding them through the insertion of very fine sutures which have bi-directional cones on them. The cones cling to the face's tissue, thus lifting the area and ridding of sagging whilst lessening wrinkles. The procedure is minimally-invasive and requires no incisions; instead your doctor simply inserts the sutures using a small needle and anchors them into position using very light pressure.
It is important to remember that the procedure is not a facelift and will not produce the same results. Any good doctor trained in the method will be able to tell you if it will suit your needs. Be sure to find out the facts during consultations so you can make an informed decision based on what you want. Likewise, as with any treatment, make sure the professional you are working with is well-trained and well experienced. While the procedure is minimally-invasive, it is highly specialised and requires a lot of expertise to work efficiently.
As long as you work with the right professional, Silhouette Lift is a worthwhile and effective anti-ageing solution – the anchoring action of the cones means it's more long-term than many other offerings, and it can even encourage your own collagen production to further lift skin.  It will not produce the same results as a facelift, and you should always consult with your doctor to ensure which of the two is better for your needs.  But, for the right candidate, it can certainly produce better, longer-lasting and more real results than a phone app.
Book your free consultation or find out more. 
If you feel a surgical option might be of interest please click here for eyelift, blepharoplasty or eye bag removal  or click here for one stitch facelift  (as seen in Harpers Bazaar as the treatment to watch).
---
With other 30 years of Harley Street experience and 8 nationwide clinics, we are industry leaders in the art of minimally-invasive cosmetic treatment. Our medical team has extensive knowledge on a wide range of anti-ageing procedures to guide you through finding the right option for your needs.
Suture lift procedures are available in our Birmingham and Harley Street clinics.