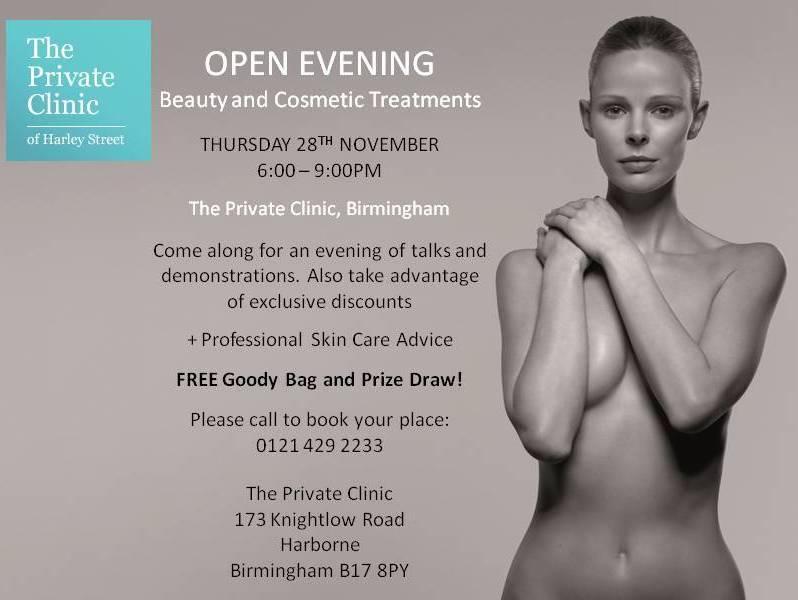 Open Evening 28/11/13: The Private Clinic Birmingham (FREE Goody Bag and Prize Draw)
GENERAL
Home » Open Evening 28/11/13: The Private Clinic Birmingham (FREE Goody Bag and Prize Draw)
The Private Clinic of Harley Street's Birmingham clinic is hosting an open evening on Thursday 28th November, 2013.
Book your free place now to get the latest on our range of beauty and cosmetic treatments, from our experienced team.
FREE prize draw and goody bag for every visitor!
Want to spruce up your skin? Give it an Autumn/Winter treat? Tired of your lines and wrinkles? Do you suffer from uneven skin, acne, scarring, pigmentation or sun damage? Want FREE professional advice in a safe environment? Please do join us on Thursday 28th November.
We have a number of non-invasive and minimally invasive cosmetic treatments that can help treat lots of common skin issues and our team can talk you through them and demonstrate some as well.
To find out more please give our Birmingham clinic a call on 0121 429 2233 and we'll be more than happy to fill you in on some more details and book your complementary place.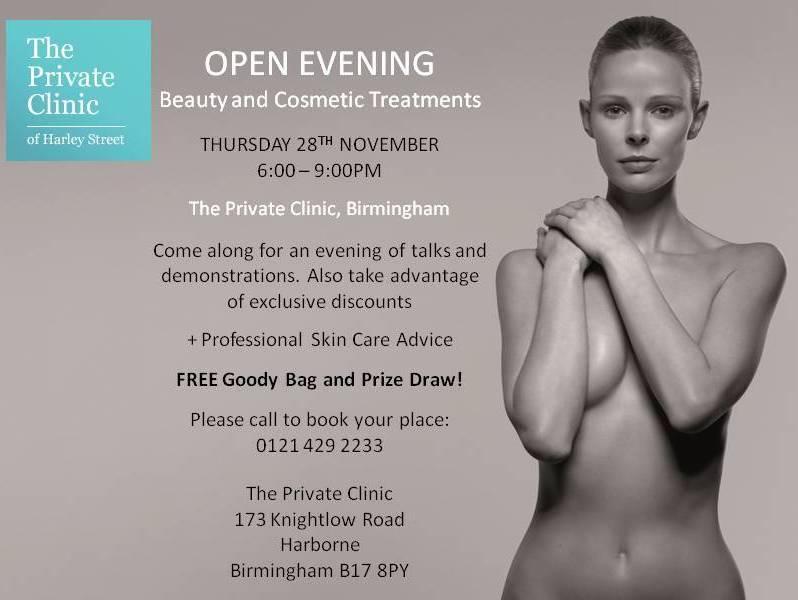 Join us from 6pm to 9pm for an evening of insights and demonstrations of the latest cosmetic treatments as well as professional skin care advice. Take part in our discussions and have a chat with our experienced medical and clinical team.
Why are we doing this?
Here at The Private Clinic we think the best patient is an informed patient so we try hard to let patients get to know our treatments and procedures before making any decisions. We're here to help people find the right treatment for them, even if that means they are not suitable for our treatments. We pride ourselves on our ethical standards and after 30 years we are still here to help and guide patients to the best and most advanced cosmetic treatments. To find out more, please visit our website: https://www.theprivateclinic.co.uk/