A man reportedly had the inside of his left testicle removed and endured 6 months of radiotherapy after doctors in the UK mistook enlarged varicose veins in the scrotum for cancer when he was just a teenager. The man, now 23, is unhappy and has brought his story to the media. He believes his career has been affected by the issue. The UK story gets even more complicated so for more details please see the news source on the Daily Mail by clicking – here.
Varicose Veins in the Scrotum or Varicoceles
Varicose veins are enlarged and damage veins that do not provide the support necessary to keep blood flowing back to the heart. The valves in the varicose vein will be damaged and the vein can be bulging, resulting in a pooling of blood. This is why there is often a bulging, purplish appearance with varicose veins. They pose a cosmetic and medical problem for many people. They may be unsightly and feel uncomfortable.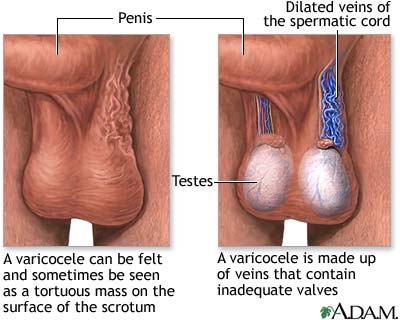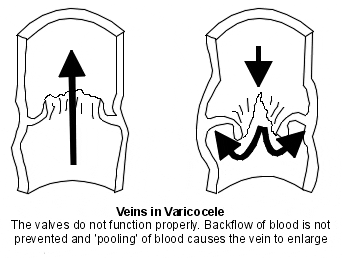 Not many people know that you can get varicoceles or varicose veins in the scrotum (for females, it's possible to get varicose veins in the pelvis and vagina). It's an issue we would like to raise awareness about so that more people can identify these varicose veins and treat them effectively. Varicose veins in the scrotum pose a risk to fertility (as they interfere with the heat exchange involved in keeping the area at a suitable temperature).
The Private Clinic
We regularly treat varicose veins to the scrotum. Our medical team have well over 10 years of experience treating problem veins. For more information please see our treatment page. We also treat varicose veins in the pelvis and vagina for women, including those that suffer from pelvic congestion.
Our Varicose Vein treatments are
Minimally invasive, we have carried out over 7,000 treatments
Competitively priced,  walk-in walk-out procedures.
Performed by some of the Country's top Consultant Vascular Surgeons.
Carried out under local anaesthetic in one of our state of the art widely recognised in-house clinical facilities located in Harley street, Birmingham, Manchester, Bristol, Glasgow, Leeds, Essex (Chelmsford) and Bournemouth.
Completed in less than 1 hour, which means you can head home shortly after.
Aimed at tackling the actual cause of the problem, which is why we offer all patients a free ultrasound scan.
Book in for a consultation today at London, Bristol, Birmingham, Manchester, Leeds, Glasgow, Bournemouth, Bexhill, Essex, Northampton, Newcastle, Doncaster, Milton Keynes, Cardiff, Liverpool, and Edinburgh.
To book a consultation you can call 0333 920 2471 or use our Varicose Vein online contact form.