Picking the right clinic for your Hair Transplant procedure is a tricky one as there are a lot of options available. It is really important that you spend time researching hair transplant surgery as your donor hair is the key factor to getting a good result and you don't want to damage these precious hairs by picking the wrong procedure or clinic.
We have been consistently developing our follicular technique over the past 10 years and we are able to achieve the most natural results with scars that are almost undetectable. Many of our patients that come to see us do not want the appearance of a long linear scar at the back of their head that is associated with a FUT (Follicular unit transfer) procedure and have come to see us to find out more about the FUE (follicular unit extraction) procedure.
If you are considering going abroad for a hair transplant, our Hair Transplant Surgeons at The Private Clinic of Harley Street, have said that roughly 35% of patients that come to see us them about hair transplants have actually already had their hair transplant overseas and are not satisfied with their disappointing results.
We have discussed the risks of hair transplant procedures abroad here and we really urge you to be cautious if this is the route you are planning to take.
Having a hair transplant procedure in the UK means it is much easier to visit a variety of different clinics and surgeons before booking in for your procedure.
Why choose The Private Clinic of Harley Street for your Hair Transplant procedure?
You will be treated by highly experienced Doctors. Our Hair Transplant surgeons are specialised in FUE (Follicular Unit Extraction)
Our FUE surgeons have decades of experience between them. They can give you the best advice and assurance about what is right for you. There are no false promises, only honest advice.
We use the finest instruments, resulting in as minimal trauma to your scalp as possible.
We work by hair, not per graft – this ensures that only the strongest, healthiest follicles are selected for your transplant procedure.
Your results will look natural, with denser packing – the hair is implanted in the direction that matches your hair growth, and because we select healthy follicles, the treated area will look densely filled.
Thanks to our advanced skills and techniques, scars are virtually undetectable.
We are renowned for setting high standards in the cosmetic industry.
We have an excellent reputation for patient safety and satisfaction.
We provide the most comprehensive patient information, every step of the way.
As many post-operative care and appointments with your surgeon and nursing team as required.
We are competitively priced for our expertise and experience and we are able to offer finance solutions with manageable payments to suit a variety of budgets.
We are contactable 24/7, 365 days a year for patients.
Outstanding clinic facilities.
Consultations available nationwide in London Harley Street, Birmingham, Bristol, Leeds, Manchester and Northampton.
Our excellent reputation for patient safety and satisfaction, honest advice and outstanding care means your journey with The Private Clinic will be an exciting experience to a newfound head of hair.
Hair Transplant before and after results photos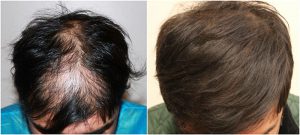 Patient Hair Transplant Procedure Testimonials
Don't just take our word for it, here are some real patient testimonials from recent hair transplant patients left on our TrustPilot review page where we are rated 5*
"I have undergone multiple treatments with Dr Raja including a hair transplant and PRP. Throughout my whole experience I've been treated with respect and made to feel comfortable at all times, both my care on the day of my treatments and before/after has been amazing and way above what I expected. I would absolutely recommend Dr Raja and the wider team to anyone looking to undergo hair related treatments."
"Very pleased with the hair transplant procedure and aftercare I received from Dr Mouzakis at The Private Clinic. Being a completely new experience for me Dr Mouzakis was able to advise through every step of the journey which was a huge factor for me when considering a domestic procedure. The procedure itself was very comfortable and I would not hesitate to use Dr M again in the future. 12 months on and I am delighted with the result."
Location of our Harley Street Clinic
Our Harley Street clinic is close to Regents Park station which is on the Bakerloo line. Or alternatively we are also a short walk away from the popular shopping destination Oxford Street and the Oxford Circus tube station.
Clients visit our clinic in London's Harley street to receive the quality care and results that we are known for. London's extensive transport links make us easily accessible from areas such as Bayswater, Hyde Park, Green Park, Soho, Notting hill, Kings Road, Kensington, South Kensington, Chelsea, Fulham, Battersea, Regents Park, St Johns Wood, Primrose Hill, Victoria, West End, Marylebone, Knightsbridge, Belgravia, Mayfair, Holland Park, Earls court and Fitzrovia.
You are in experienced hands at The Private Clinic and you are much more than a number, our surgeons and their teams will get to know your individual needs creating a treatment plan that is tailored to your needs and desired results.
To book a consultation or get some more information on hair transplants please call 0333-920-2471 or use our hair transplant online contact form.