With modern techniques, a Hair Transplant procedure can be performed in as little as a day. But, for most of our patients, it's not the treatment itself that's the hard part…it's waiting for the results afterwards.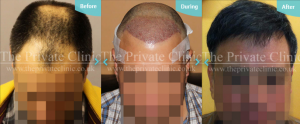 After a FUE Hair Transplant treatment you'll be able to see your new hair line immediately, but it will take a little while longer for you to reap the benefits of your final results. Everyone's hair is different, meaning the exact process you'll go through to see your results will vary massively from everyone else. Your hair will still grow at its normal rate so it's crucial to remember that undergoing a transplant treatment will not change this and there's no magic button to speed up the frustrating process.
What is your hair growth cycle?
To understand how your hair might grow after a FUE hair transplant, you need to first of all appreciate your hair growth cycle and how, exactly, each strand grows.
Anagen Phase
A hair's active growth period is known as the anagen phase and this is where cells in the follicle's bulb (the place where growth occurs) rapidly divide, causing the hair to grow an average of 1cm every four weeks. When your hair is healthy and not experiencing thinning, 90% of it will be in this phase at any one time where it will remain for around 2-7 years.
Telogen Phase
After its active growth period, hair will then enter the catagen phase (a transitional period where growth begins to stop), followed by the telogen phase in which your hair is released and falls out. Hair loss and thinning occurs when this cycle is disrupted, meaning hairs spend less time in the anagen phase.
Will my hair growth cycle change after a hair transplant?
After a Hair Transplant, your hair will continue this exact cycle – meaning it will grow at the same rate it did prior to being transplanted.  Most patients will find they shed some of the newly transplanted hairs a few weeks after treatment, which is completely normal and nothing to worry about. This is due to the follicle being starved of its blood supply for a brief period. The follicle and graft will still be in tact, and most patients tend to notice new hair growing around 3-4 months after any loss has occurred.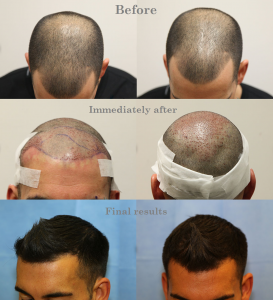 When will I see results after Hair Transplant Surgery?
Apart from this (which is a fairly standard expectation), the time until your final outcome will be entirely individual. Remember, hairs are asynchronous (in other words they grow out of sync with one another and will always be in different stages at any one time) meaning there'll be no huge rush of hair.
Results can begin to show themselves as early as four to six weeks after the treatment, but your final result won't be noticeable until at least five to six months after. Some patients will take as much as 18 months, depending on their natural hair, to see the results they were striving for. And, while it can feel frustrating, key to making sure everything is coming along as it should is staying in close contact with your clinic and surgeon. They should explain to you what to expect from your recovery and invite you to post-procedure check ups to make sure everything is coming along as intended.
As an (extremely rough) timeline, you might expect:
Day one after hair transplant surgery
You'll usually be asked to wash your hair extremely gently to get rid of any blood remaining and you should normally expect some soreness, numbness and oozing from the recipient area.
Watch patient Steven Ashworth talk about his results 1 day after treatment:
Week one after FUE Hair Transplant surgery
Scabbing and swelling will start to disappear on around the second to third day after treatment and any redness will begin to subside.
Watch patient Steven Ashworth talk about his results 4 days after treatment:
Week two after FUE Hair Transplant Surgery
By the tenth day after treatment your transplanted hair grafts should be firmly in place, meaning any residual crusting can be gently rubbed off. You may also notice the transplanted hairs beginning to shed – this is completely normal. You can return to your usual shampoo, brushing and combing regime and can get a hair cut if you wish.
Watch patient Graham Satchwell talk about his results two weeks after treatment:
Week three to four after FUE Hair Transplant Surgery
Transplanted hair will often continue to shed during this period, and you may look very similar to your pre-procedure self.
Watch patient Steven Ashworth talk about his results 4 weeks after treatment:
One to five months after FUE Hair Transplant Surgery
The transplanted hair will begin to grow again, normally more fine than usual and getting thicker as the months go on.
Six to twelve months after FUE Hair Transplant Surgery
Your hair will continue to grow and thicken during this time, often undergoing texture changes. Most patients will begin to see something that resembles their final result during this period.
Watch patient Douglas McAdams talk about his results 6 months after treatment:
One to two years after FUE Hair Transplant Surgery
Your final results will be visible. Some patients can take up to 18 months to notice the real changes they wanted, and hair may continue to change after this.
See patient's Douglas McAdams' results 1 year after treatment below: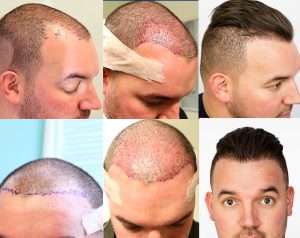 It's a cliché, but patience is a virtue when it comes to hair transplantation. While the treatment only takes a day, the one thing the skill of a surgeon can't change is how quickly results will show through, meaning you should expect to wait several months until you see the final outcome. We can't change how quickly your hair grows, but we can be there with you every step of the way to ensure you're informed, happy and confident you'll achieve precisely what we promised.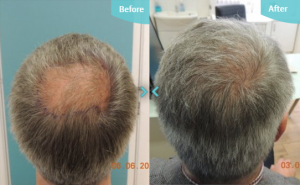 Hair Transplant Surgery at The Private Clinic
The Private Clinic prides itself on ensuring you have the best quality and most comprehensive care:
24 hour patient helpline to ensure you are always in the best of hands.
As many post-operative care and appointments with your Hair Transplant surgeon and nursing team as required.
Highly experienced Hair Transplant Surgeons who have many years of experience.
Comprehensive patient information, every step of the way.
Outstanding clinic facilities.
Our excellent reputation for patient safety and satisfaction, honest advice and outstanding care means your journey with The Private Clinic will be an exciting experience to a newfound head of hair.
Read our patient stories to find out about their FUE Hair Transplant experiences at The Private Clinic
Read our extensive hair transplant FAQs
Watch our hair transplant videos
Find out more information in our hair transplant blogs
Our hair restorations surgeons are:
FUE Hair Restoration consultations are available in London, Leeds, Manchester, Northampton and Birmingham includes renowned FUE Hair Transplant specialists.
To find out more about our FUE Hair Transplant procedure please call 03339209135 to book a consultation or use our Hair Transplant online contact form.