The New Year has just started and for many, this is the perfect time to make a change and achieve the goals you have set yourself for the year.
Hair transplant procedures are growing in popularity especially with the rise of innovative hair transplant techniques such as the FUE procedure involving minimal downtime and ability to provide outstanding results. If one of your goals is to undergo your much-awaited hair transplant procedure, in this blog post you will be able to find useful information about the procedure and what to expect from it.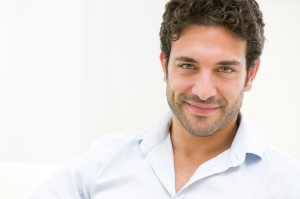 What is the FUE hair transplant?
The FUE stands for Follicular Unit Extraction and is an innovative hair restoration procedure which is a technique that involves making tiny entry points in the scalp to extract the hair follicles from the donor area. These follicles are harvested and are then implanted into the treated areas.
This method of hair restoration is minimally invasive and is performed under local anaesthetic. The trauma to the scalp is minimal due to the fine instruments that are used. There is also no linear scarring involved making the procedure almost undetectable; with other hair transplant procedures, a linear scar can be left across the back making this procedure more noticeable.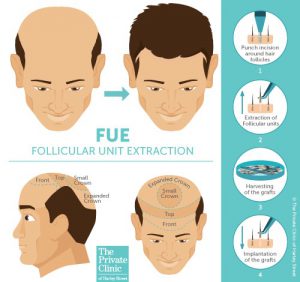 Do I need to shave my hair prior before the hair transplant procedure?
When you undergo the FUE hair transplant procedure you are required to shave around the treatment area as well as at the back and on the sides.
At The Private Clinic, we can accommodate hair transplant cases where someone that does not want to shave the area being treated. The unshaven hair transplant is not overly popular but for some in the public eye, a public speaker or a high profile Director they take this option. It is best to book a consultation with our Hair Transplant surgeons to discuss your requirements.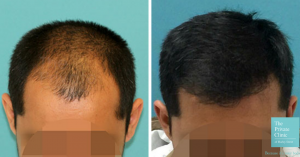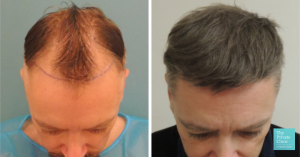 When can I see the results from the FUE hair transplant procedure?
Patients are able to see an outline of their newly restores hairline directly after their procedure. After the treatment the hair will start to grow immediately however, you will experience an initial shedding period where the transplanted hair falls to then grow back stronger and healthier. This new hair will be the one that remains for good.
You will be able to start seeing the initial hair growth around 4-6 weeks after the procedure and the final results are seen within 6 to 12 months.
Does the FUE hair transplant treatment hurt?
The FUE procedure is not painful as it is performed under local anaesthetic. Patients have reported a slight rubbing sensation on their scalp. The only time where patients usually feel the most discomfort is a few hours post-procedure but this can be managed with pain killer medication.
Will I need more than one procedure?
The FUE procedure is meant to be a one time procedure; however, this can vary from patient to patient depending on the level of hair loss and the results that you want to achieve.
Some patients require a second procedure due to further hair loss; this usually helps cover those new areas adding fullness and density. At The Private Clinic, we recommend waiting a period of 12 months between procedures in order to allow the new hair follicles to fully grow so your surgeon can better asses the areas that require further treatment.
Where to get a Hair Transplant in London?
The Private Clinic of Harley Street, London.
At The Private Clinic, we count with world class reputed hair restoration surgeons. In our London clinic located in Harley Street, we have available the highly skilled Dr Furqan Raja, Mr Michael Mouzakis and Dr Luca De Fazio
We provide outstanding results, you can see more before and after images in our hair restoration page.
We have highly experienced Hair Transplant Surgeons who are members of the International Society of Hair Restoration Surgery (ISHRS).
We offer a 24-hour patient helpline to access if you have any concerns or questions at any stage of your treatment.
Access to as many appointments with your hair restoration surgeon or members of the nursing team as required.
Full patient information, every step of the way.
Exceptional hospital facilities.
Our excellent reputation for patient safety and satisfaction, honest advice and outstanding care means your journey with The Private Clinic will be an exciting experience to a newfound head of hair.
See our patient testimonial videos.
Find out more information in our blogs
Read our extensive FAQs
We also have clinics nationwide in London Harley Street, Birmingham, Leeds, Manchester and Northampton.
Expert Hair Transplant Surgeons at The Private Clinic
To find out more about hair transplants or to book a hair transplant consultation with any of our hair restoration surgeons at Harley Street or at any of our clinics across the UK please call us on 0333 920 2471 or use our online hair transplant contact form.