Looking into varicose vein treatment? Our Glasgow Clinic offers a comprehensive selection of modern varicose vein removal treatments, by our leading Consultant Vascular Surgeon, expert in minimally invasive vein treatments, with years of experience.
Glasgow Vein Clinic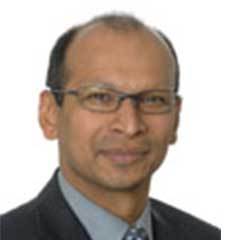 Highly effective varicose vein removal procedures at our Glasgow Clinic are conducted by our outstanding Consultant Vascular Surgeon;nMr Dynesh Rittoo, MBChB, FRCS(Eng), FRCS(Gen Surg). GMC 3556456 who is highly regarded in the industry. Extensively experienced, Dr Rittoo has undertaken more than 1,150 vein procedures with The Private Clinic to date. A member of the Vascular Society of Great Britain and Ireland, Dr Rittoo has expertise in treating all venous disease aspects with emphasis on modern advanced techniques.
Our Glasgow Clinic offers you state-of-the-art facilities and a comfortable environment, as well as a convenient location. Just off Glasgow City Centre, our clinic at 11 Park Circus,Glasgow G3 6AX lies within close reach of Kelvindale, Kelvinside, Knightswood, Hillhead, Hyndland, Jordanhill, Shawlands, Strathbungo, Partick, Park District, Linthouse, Milngavie, Bearsden, Newlands, Mount Florida, and Mansewood.
Your Vein Treatment Options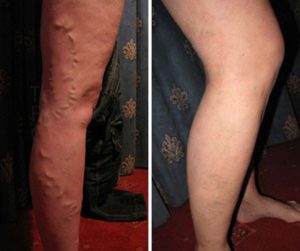 We provide four different minimally invasive, 'walk-in-walk-out' options for varicose vein treatment: EVLA, Sclerotherapy, Phlebectomy and VenaSeal, which we explain in more detail (below). All treatments use local anaesthetic, take up to one hour to complete do not involve large surgical incisions. We are able to recommend and use the best procedure for your individual needs, having a broad spectrum of treatments, and we also tailor our treatments to you.
Your Consultant Vascular Surgeon will advise the most suitable technique, or combination of techniques, in your case, from the below treatments, after detailed assessment including an ultrasound scan: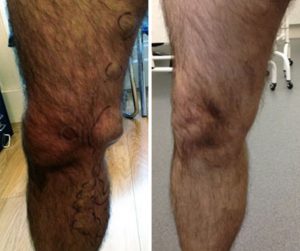 Seeking Thread Vein Treatment instead?
Our Glasgow Clinic also offers options for thread vein treatment, the best treatment for you being dependent on your case. These include Sclerothapy and Cutera CoolGlide. Although sclerotherapy can be used to treat varicose veins, it is also largely recommended for thread veins. To treat thread veins, the veins or capillaries affected are injected with a scelorising agent (as used in varicose vein treatment), causing the vein walls to become sticky, and meaning blood cannot pass through. Without blood moving through the vein, the capillaries collapse and are absorbed by the body, while disappearing gradually from view. In the Cutera CoolGuide treatment, pulses of light energy are directed at the veins, leading the blood inside the veins to coagulate and reroute to deeper veins. The affected thread vein is eventually absorbed by the body.
Why select The Private Clinic Glasgow for your Varicose Vein treatment?
https://www.youtube.com/watch?v=-brndYu-50w
Walk-in walk-out, competitively priced treatments
We have performed over 7,000 vein treatments to date
Present highly acclaimed Consultant Vascular Surgeon Dr Rittoo, with extensive experience and expertise in all of our varicose vein treatments
All procedures performed using local anaesthetic in state-of-the-art in-house clinical facilities, and are completed in under one hour, so you can return home shortly after
No lengthy recovery or downtime
We aim to tackle the problems cause, which is why we provide a free ultrasound scan in consultations (usually costing between £350 and £450 at most centres and private hospitals)
 "Fantastic Couldn't recommend the Glasgow Clinic , surgeons and staff highly enough. I went to them after years of looking for somewhere to deal with my varicose vein problem , and I couldn't have wish for better. I was made to feel at ease , safe and was confident that after the consultation I would be pain free. I have a terrible phobia of needles so the non invasive procedure was prefect. Honestly fantastic from start to finish." Justin, Varicose Vein Treatment Patient
"EVLA and Ambulatory Phlebectomy for Varicose Veins Excellent service and customer care from Mr Rittoo, Stefanie and all the team at The Private Clinic, Glasgow. I'm delighted with the results. A quick, efficient and pain free treatment. Wish I had done it sooner as I can now show off my legs after years of hiding them." Joanne, Varicose Vein Treatment Patient
Learn more about our advanced varicose vein treatments on our website which offers varicose vein before and after photos, patient stories, our responses to varicose vein FAQ's and more. To request a varicose vein consultation at our Glasgow Clinic please get in touch on 0333 920 2471 or you can do so via our website.