If you are looking into hair transplant procedures especially here at The Private Clinic you may have heard of the Norwood scale being referenced. If you are suffering with hair loss then you may already be familiar with the Norwood scale but for others this may be an unfamiliar way of defining the stage of your hair loss.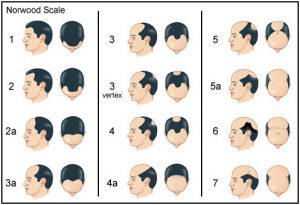 We have spoken to experienced Hair Restoration doctor, Dr Mark Tam who deals with stages 1 – 3 of the Norwood scale.
Dr Tam's Quick Fact: Norwood scale was actually one of the many classifications of pattern hair loss, and you know, it has been there since 1975. Yup 42 years ago!!  OK, Norwood scale has 1-7, today let's have a look at the first 3 stages, where it is likely to have the most noticeable changes to the way that you look at yourself.
Norwood Scale 1 Hair Loss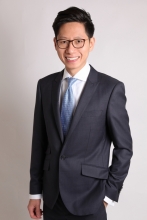 This is the earliest stage of the Norwood scale to classify a normal or minimal recession of the hairline.
If you have just noticed your hairline has gone back slightly or if it is starting to look thinner then you will most likely be in this stage
A trichologist will be able to check your pattern of hair loss and recommend appropriate treatments which will most likely be topical medication or non-surgical therapy. Take note, if you know that you have a strong family history of hair loss and you take no actions now, it is possible that you will continue proceed to next stages of the Norwood scale. Prevention is always better, so they say…
Noorwood Scale 2 Hair Loss
At this stage you will have noticed triangular and normally symmetrical areas of hairline recession at the frontal (front of the head) and temporal (on your temples) sections of your hairline.
This is when you start to notice that your facial framing ratio has started to changed. A trichologist will be able to advice you on therapies of controlling future hair loss. The history of hair loss that runs in the family will determine your likelihood of significant future hair loss. A consultation with a hair transplant doctor may be useful to see if you are suitable for a hair transplant procedure but only if you feel strongly about restoring your temples or hairline at this stage. Don't be surprised if some doctors say that it is too early for a hair transplant and may not achieve the best results.
Noorwood Scale 3 Hair Loss
If you are at Norwood scale 3 you will see very clearly that your temples have receded deeper. It is likely that your hairline and temples have receded past an imaginary line between your ear canal and over your scalp.
You may find that you are not able to style your hair how you used to and hopefully no one has mentioned it to you in an insensitive way. If you are happy with the way it is and wish to keep your hair as it is, a trichologist is your friend. If you are looking to restore the temples or have your hairline filled in then a visit to the hair transplant doctor should be able to help you with your restoration project! If you have a particular hairline that you are looking for, you can bring a photo too, but the doctor may advice a different one base on your shape of forehead, availability of donor hairs and naturalness of the design, (yes, keeping it natural is equally important!!) I like to say that if you are in doubt ask your mum, mums know best!

The Private Clinic
Our specialist hair transplant surgeons – Dr. Raghu Reddy and Dr Luca De Fazio in London Harley Street , Dr. Mark Tam in Leeds and Bristol, Dr. Michael Mouzakis in Birmingham, Manchester, Bristol, Leeds and Northampton and Mr Doraisami Mohan in Birmingham and Leeds offer the most advanced, minimally invasive Hair Transplant techniques available today – leaving no visible scarring or linear scar at the back of the head. You can wear your hair however you want after your procedure and get back to your daily life as quickly as possible with minimal fuss and discomfort.