Many of us these days are leading busy lives and we are looking for treatments and procedures that deliver good results, fast. Although Vaser Lipo is by no means a quick fix, the downtime associated with it is minimal compared to a surgical procedure.
Many of our liposuction patients will see the results of their procedure straight away but the best results will not be seen until 5 or 6 weeks later. Once you have got through the unbearable wait we hope that you will be feeling over the moon with your new body shape.
The best way to show the results of our Vaser Liposuction procedure is to share some of our reviews and photos
TrustPilot Reviews
"2 months post treatment, and I can honestly say I am happy that I had the treatment done at the Private Clinic Leeds. The initial consultation was with Clare, I found it to be very informative and helpful. We discussed what was needed and how it would work. I was very pleased with all the information and help I was given at the consultation.
I then came to see the surgeon, he was very positive and dealt with my queries and concerns very efficiently. He also showed me some photos of others who had the vaser liposuction treatment.
As for the procedure, the pain was minimal and the results were excellent. If you are thinking of having this procedure done, I cannot recommend the team in Leeds enough. You will not be disappointed."
---
"So here I am 2 weeks after Abdominal Vaser Lipo and can honestly say it's one of the best decisions I have made. Yes I'm still in the swollen recovery stage and looking a little lumpy but the difference is amazing and I wouldn't hesitate to recommend going for it .
My consultation in Harley Street with Dr Wolf was swift but not rushed with plenty of opportunity to ask questions. Following that I was taken through to the lovely Lisha who gave me the cost of the procedure and then went on to explain how things would proceed. I made my decision immediately but didn't have to, I just knew it was what I wanted , even though I was extremely nervous! I paid my deposit and from then on things moved quickly with emails, prescriptions and clear instructions for both pre and post op.
My procedure took place in with 4 professionals in attendance who all made me feel at ease. I can't say what the actual lipo felt like as my sedation was amazing and I was out for the count and didn't feel a thing! Seeing my 'cocktail' of liquified fat was actually quite emotional and I had a few tears of pure joy.. probably just the sedation affecting me but I was extremely happy that things had gone so well.
Over the last 2 weeks I have had the recommended MLD to help with the swelling and lumps that happen due to the invasive procedure and continued wearing the compression garment but other than the obvious sensitivity to my skin I feel pretty good. My scars are next to nothing and I'm looking forward to seeing the full results which can take 4-6 months but I am already wearing clothes more confidently and that's what it's all about. This decision has given me much more than a flat belly for sure."
For more reviews please see our TrustPilot page here
Vaser Liposuction Before & After Photos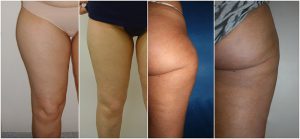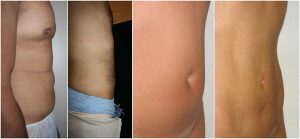 For more photos please see our vaser lipo before and after results image gallery.
Vaser Lipo Areas
Vaser Liposuction can be performed to the;
Buttocks crease and Hips
Inner and Outer Thighs
Knees and Ankles
To find out more about areas suitable for Vaser Liposuction view our 'What Areas Of My Body Can Vaser Liposuction Target?' blog.
Vaser Liposuction at The Private Clinic
The Private Clinic is a training centre for Advanced Vaser Lipo. We perform over 1,300 Vaser lipo procedures every year. Our Doctors and medical teams are of the most experienced in the country:
The Private Clinic prides itself on ensuring you have the best quality and most comprehensive care:
Our expert surgeons and doctors have years of experience in vaser liposuction performing over 11,000 VASER Liposuction treatments to date.
We have a 24-hour patient helpline meaning you will always be in the best hands.
You will be entitled to as many post-operative care and appointments with your surgeon, doctor and nursing team as you require.
We provide 1 year cover of cover for all surgical, hospital and nursing care, in case of any medical issue giving you peace of mind*.
Our comprehensive patient information will allow you to be well informed about the procedure.
We have outstanding hospital and clinic facilities in
Consultations are available in London Harley Street, Birmingham, Manchester, Leeds and Northampton
We are competitively priced for our expertise and experience.
We have over 35 years' experience in Cosmetic medical Excellence.
See our before and after photo gallery.
Our excellent reputation for patient safety and satisfaction, honest advice and outstanding care means your journey with The Private Clinic will be an exciting experience to a newfound shape.
To find out more about Vaser Liposuction at The Private Clinic view our FAQs or call 0333 920 2471 or use our Vaser Lipo online contact form.