Top tips for getting natural lip fillers
DERMAL FILLERS
Home » Top tips for getting natural lip fillers
Lip fillers are no longer a 'un-talked' about procedure with stories about celebrities having the treatment featuring online and in magazines on a regular basis however a lip filler story tends to only be a story these days for negative reasons.
We've all seen photos of celebs who have had too much lip filler and are not looking at their former best. Seeing the so called 'duck lips' of the rich and famous – it can be enough to put anyone off even considering the lip enhancement treatment.
What you may not know however, is how bad results are easily avoided as long as you take the basic precautions.
So how does the trout pout happen and what you can do to ensure you don't end up with one?
'Trout Pout'
Many refer to cosmetic & aesthetic doctors and nurses as being artists which in some senses is true as all lip fillers need a combination of science and art.
Your practitioner should be aware of the idea lip proportions which is when your bottom lip is one and half times the fullness of the top lip.
The science part becomes apparent when it's time to inject.
Your practitioner should be separating your lips into two main treatment areas – the vermillion borders and the main body of your lips.
The vermillion borders are known as the 'tunnels' that run along the top and bottom of each lip. Getting this area right is vital to achieving a great result.
Injecting filler into these lip borders is great giving the lips definition giving you a small natural pout; it is also great at filling out smokers lines.
Where it often all goes wrong is if the outer edges of your upper lip are injected as this could cause the corners of your top lip to turn upwards and outwards giving off a very un-natural look known as the 'trout pout'.



How to avoid a trout pout after lip filler?
Knowledge – Now that you know what causes trout pout, you are going to be equipped with the knowledge to avoid it.
Experience – Like choosing any kind of doctor or cosmetic surgeon, it is vital that you do you research and only choose an experienced, medically qualified practitioner to carry out treatment.
Medical – Lip Enhancement is an injection, and you would let your hairdresser for example inject you so make sure you are only going to a Doctor, Surgeon, Dentist or Nurse who are qualified in aesthetics to make sure you are being treated by someone who is competent, safe and actually knows what they're doing.
Research – Once you have found someone, don't take their word for it. Do some research their credentials and look for reviews and before and after photos from past patients.
Consultation – Be honest and firm at your consultation. Let them know it is your first time having the procedure but at the same time if there is anything you are confused or feel worried about – say so. You are under no obligation to go ahead with any treatment that you are not comfortable about.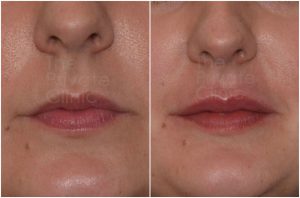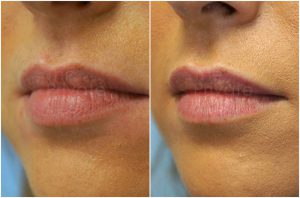 So to sum up, finding a medically qualified practitioner, checking their credentials and telling them it's your first time should be enough to avoid Trout Pout and get great natural results.
Aesthetic Doctors
Aesthetic Nurses
The Private Clinic
The Private Clinic is an independent healthcare provider and is therefore registered with all the appropriate regulatory bodies. We work hard to demonstrate our compliance with exacting standards and set outcomes. Furthermore The Private Clinic allows only qualified doctors and nurses to inject fillers. We also perform cheek filler, chin filler, tear trough filler and non-surgical nose job filler.
To find out more about dermal lip fillers or to book a consultation please call 0333 920 9135 or use our online contact form to request a call back.
Dermal filler consultations are available at London Harley Street, Birmingham, Bristol, Buckinghamshire, Leeds, Manchester and Northampton.