The facts on Nipple surgery
INVERTED NIPPLE CORRECTION
Home » The facts on Nipple surgery
Nipple correction surgery can be the solution for a range of nipple-related conditions such as inverted, flat, depressed, protruding or oversized nipples.
Inverted Nipple Surgery
You may be surprised to know that quite a lot of people have inverted or flat nipples; over 10% of people in the UK have the irregularity which in a sense means that they are maybe not as uncommon as you once originally thought.
Hidden away underneath your clothes you may not think they would be anything to get bothered about, but for some it can leave them feeling very uncomfortable and self-conscious with others being concerned about how it is going to affect them later in life during breastfeeding for example.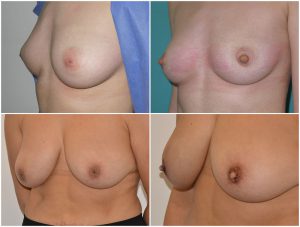 Many have discovered that having their nipples pierced can temporarily fix an flat or inverted nipple as the metal bar can often push and hold the nipple out. This can be an effective solution however if you decide to take the piercing out, the inversion of the nipple is likely to return and piercings can cause scar tissue which may cause some issues.
Inverted and flat nipple surgery is a quick and simple procedure which often only takes around 15 minutes to carry out, and as it is carried out under a local anaesthetic you are free to go home straight away.
The downtime is minimal with many returning to work 1-2 days post-op but we would recommend avoiding the gym and any other strenuous activities for at least a week.
Nipple Reduction

Nipple reduction is a common procedure for men who feel their nipples are overly prominent and leave them feeling embarrassed when they have to be topless for swimming and when the nipples show up underneath their clothes.
The procedure can also be carried out on women who again feel they have over-projecting nipples although it is not recommended for women who are considering breast feeding in the future.
Nipple reduction surgery is another quick and simple procedure where the size, width or prominence of the nipple is reduced.
The downtime is minimal again with the ability to return to all normal activities within a week.
Nipple Surgery at The Private Clinic
Our philosophy at The Private Clinic is to help you feel your best you, comfortable and confident in your own body. In order to do that, we've gathered some of the UK's leading Consultant Plastic Surgeons to advise you in an unbiased and professional manner. Keep in mind, if they think that a procedure wouldn't benefit you, they won't perform it.
Nipple Correction Surgery consultations are offered at our London, Birmingham, Leeds, Manchester, and Northampton clinics.
To find out more about Nipple Correction surgery please call 0333 920 2471 or use our nipple correction online contact form to request a call-back.