When it comes to researching a Follicular Unit Extraction (FUE) Hair Transplant there is a variety of information that you want to know including the type of procedure required, the surgeon and most importantly in some cases how much is a hair transplant cost.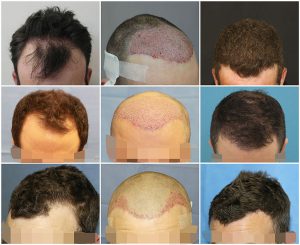 When it comes to giving you a cost for an FUE Hair Transplant you may struggle. A lot of surgeons and advisors will refuse to give you a cost before you come in for a consultation. This is not a sales technique and they are not being difficult – it is important to understand that costing for a hair transplant is very individual and will depend on a number of factors which can only be assessed during a consultation.
We do understand however that it is helpful to at least have an idea of how much you need to start saving so we have answered some of the most common cost-related questions for FUE Hair Transplants in London;
What is the average cost of an FUE hair transplant at The Private Clinic in London?
We treat our patients on a case-by-case basis so you will only be able to get an accurate figure of how much an FUE Hair Transplant will cost you by coming in for a consultation and scalp assessment. Each patient's needs are different and we like to work by hair not graft ensuring that only the strongest and healthiest follicles are transplanted resulting in the best results possible.
At The Private Clinic, the average cost of an FUE Hair Transplant at our London Harley Street Clinic is £2.50 per hair. The pricing structure for FUE Hair Transplants at our Leeds, Manchester, Northampton and Birmingham clinics may differ slightly so please contact us for more information.
How does the cost of an FUE Hair transplant vary depending on the area chosen?
The cost of an Follicular Unit Extraction(FUE) Hair Transplant depends on the area or areas of the head that the patient would like to treat. There are most commonly three sections;
A-Zone – Frontal core, hairline and temples
B-Zone – Mid-core
C-Zone – Crown
The area of your scalp being transplanted can alter the cost of your FUE Hair Transplant. For example; if you are having your hairline or temples treated, this area is smaller compared to if you were having your crown treated which means the number of hairs will differ.
Hair loss can also vary between patient to patient which is why we prefer our patients to come in for an individual assessment where we can give you an accurate cost for your FUE Hair Transplant.
FUE Hair Transplant Procedure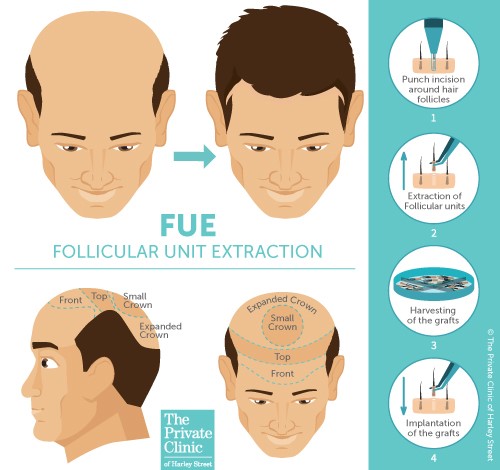 Does cost of FUE hair transplants differ from cost of FUT hair transplants?
An FUE Hair Transplant is the most minimally invasive method of carrying out a hair transplant due to the advanced technique and experience of the surgeons required the cost of an FUE Hair Transplant will on average be more than a FUT Hair Transplant. But the benefits of an FUE Hair transplant more than cover the additional expense.
What are the payment plans at The Private Clinic?
The Private Clinic offer a variety of different flexible payment plans and finance options including 12 months at 0% interest. Click here to find out more about our finance option packages.
What are the dangers of the cost of low priced hair transplants?
The quality of the work carried out, the experience and ethical approach of the surgeon and medical team could be far less reputable from a low priced hair transplant, which could potentially reflect in the final result of the hair transplant.
If the treatment is not a success, there is a danger that further treatment in the future may not be possible, this is because of the damage caused to the donor area.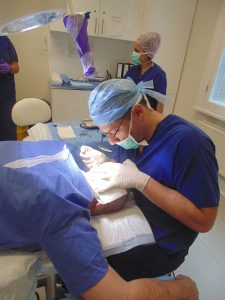 What are safe low-cost alternatives to an FUE Hair Transplant?
We do offer alternative treatments to an FUE Hair Transplant and these include FDA approved medications such as minoxidil (5%) lotion and finasteride (oral medication)
These are the only FDA approved medications available to patients and are both advised by the majority of all the hair transplant surgeons that work at The Private Clinic.
The medications are just a precautionary measure to help slow down and potentially stop further hair loss from developing. They can also thicken up the finer hairs which although will only be able to achieve 10% of what a full FUE Hair Transplant can achieve, in some cases it is enough to approve a patients appearance.
It is worth noting that medications are not able to grow new hair, in those instances, you will need an FUE Hair Transplant but we do advise that patients take either of these medications for 6 months and in some cases, they notice a visible improvement.
Please note that any references to cost in this blog are average costings only. To get a more accurate quote for your FUE Hair Transplant you must book a consultation as everyone is different. It is always quite tricky to give quotes on areas as it depends on the severity of the hair loss.
Why choose The Private Clinic for an Follicular Unit Extraction (FUE) Hair Transplant?
FUE is a minimally invasive treatment, carried out under local anaesthetic.
We use the finest instruments, resulting in as minimal trauma to your scalp as possible.
Highly experienced Hair Transplant Surgeons who have many years of experience in FUE (Follicular Unit Extraction) and treat hundreds of patients every year.
You won't require any stitches after your treatment which means that the recovery time is reduced when compared to the Strip (FUT) surgery.
Thanks to our advanced skills and techniques, results can be undetectable.
You'll be free to wear your hair long or short post-treatment with minimal scarring.
We work by hair, not per graft – this ensures that only the strongest, healthiest follicles are selected for your transplant procedure.
Hair is implanted in the direction that matches your hair growth meaning your results will look natural, with denser packing.
24 hour patient helpline to ensure you are always in the best of hands.
Comprehensive patient information, every step of the way.
Outstanding clinic facilities.
Our excellent reputation for patient safety and satisfaction, honest advice and outstanding care means your journey with The Private Clinic will be an exciting experience to a newfound head of hair.
Our surgeons are the only surgeons in the UK offering the Unshaven Hair Transplant (U-FUE) to those who prefer not to shave beforehand. At your consultation, we will be able to advise you on whether an unshaven procedure is suitable for you.
View our gallery of Hair transplant before and after results
Hear from previous hair transplant patients in our patient stories and videos
Read our extensive hair transplant FAQs
Find out more in our hair transplant blogs
The Private Clinic hair transplant surgeons are:
Hair transplant consultations are available in our clinics located nationwide:
To book a FUE Hair Transplant consultation please call 0330 311 4474 or use our FUE Hair Transplant online contact form.
We offer consultations with our experienced patient advisors who will be able to offer you all the information you require before meeting with a surgeon. Consultations with our renowned FUE Hair Transplant surgeons are £100.