Recent news stories have prompted many questions surrounding Donald Trump's hairstyle and if he has, in fact, had a hair transplant.
Videos show Donald Trump boarding a plane when an unfortunate gust of wind blows his hair revealing, what many have reported to ne an incision line on his scalp and a very obvious sign of thinning hair in the back of the scalp.
So has Donald Trump had Hair Transplant?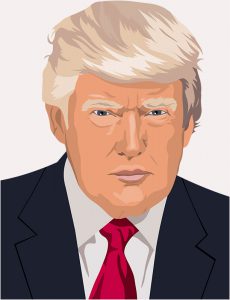 It is difficult to tell and without Donald Trump admitting it himself I don't think we will ever know the answer but the scar that we can see on the back of his head does arouse some suspicions.
A FUT (Follicular unit transplants) Hair Transplant could cause scarring to the back of the head however the position of the scar is debatable. Others have commented that rather than a Hair Transplant, Donald Trump instead most likely had a scalp reduction.
Scalp Reduction is not a procedure that is commonly performed these days and is usually reserved for extreme cases of alopecia or traumatic burns to the scalp. Back in the 1980s however, scalp reduction was a popular procedure for 'treating' baldness. The procedure involves removing a section of skin from the scalp before it is sewn back together, essentially stretching the skin that contains healthy hair follicles with the premise of moving the follicles on the scalp closer together to give the impression of a full head of hair. This procedure was very invasive and painful for the patients who often had long recovery times too so you can see why it is not commonly used anymore.
These days, if you are struggling with hair loss aside from visiting a trichologist the main procedure you would be looking into would be a hair transplant.
FUE Hair Transplant Procedure
An FUE Hair Transplant, in particular, is the more favoured hair transplant method due to its minimally invasive approach and shorter recovery periods. During an FUE (Follicular Unit Extraction) procedure hair follicles are removed using a specialised punch device that separates surrounding tissue from the follicle, meaning minimum trauma. These follicles are then transplanted into the areas that are thinning or receding in an artistic way to replicate your hairs natural growth.
Celebrities such as Wayne Rooney, Calum Best, Brian McFadden and James Nesbitt have all admitted to having FUE Hair Transplants and Wayne Rooney's story in particular really opened up the world to seeing that hair transplants do not look how they once did and they can be done in a really natural and dignified way without looking fake. To read more about celebrities who have had hair transplants click here.
When asked about hair transplants, many will think back to FUT (Follicular unit transplants) otherwise known as the strip method as this procedure requires a strip of the scalp to be surgically removed from the donor area before the hair follicles are then carefully dissected from the tissue under a microscope, before being transplanted into the bald patches. This method often caused scaring at the back on the head which is visible when hair is short. The new FUE procedure removes the need for this scar making it a preferred option when it comes to deciding which hair transplant procedure is right for you.
To find out more about scarring after a hair transplant procedure please see our previous blog here
Or to find out more about the differences between FUE and FUT procedures click here.
Why Choose The Private Clinic?
Highly experienced Hair Transplant Surgeons who have decades of experience and who have carried out thousands of hair transplants.
The Private Clinic prides itself on ensuring you have the best quality and most comprehensive care.
24-hour patient helpline to ensure you are always in the best of hands.
As many post-operative care and appointments with your Hair Transplant surgeon and the nursing team as required.
Comprehensive patient information, every step of the way.
Outstanding clinic facilities.
Our excellent reputation for patient safety and satisfaction, honest advice and outstanding care means your journey with The Private Clinic will be an exciting experience to a new hairline.
See our hair transplant before and after photos in our online gallery.
View our patient stories.
Read our extensive FAQs.
Find out more in our Hair Transplant blogs


Hair transplant consultations and procedures are available in London Harley Street, Birmingham, Manchester and Leeds. Consultations with a hair transplant surgeon or adviser are also available in Northampton.
If you would like to discuss your hair transplant options please call 03339 209135 to book a consultation with one of our surgeons or advisers or use our hair transplant online contact form.