While neither is particularly popular and the two are often confused, Varicose Veins and Spider Veins are two entirely different leg problems that need to be addressed in varying, case-dependent, ways.
The Treatment needed will always depend on what, exactly, you're suffering from and how deep-rooted the problem is. Varicose veins are a medical issue and always need to be addressed by an experienced surgeon to make sure they are rid of effectively. Very fine or light spider veins are usually just cosmetic and can often be addressed by a specialist therapist with lighter treatments. Regardless, however, you always need to work with professionals who know what to look out for.
It can be difficult to know where to start in treating problem veins so, first things first, how can you tell the difference?
Spider Veins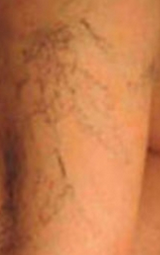 Less than 1mm in diamenter.
Superficial
Flat
Often purple/red in colour
Spider veins/thread veins are a common problem, occurring in roughly 15% of men and 25% of women. They are small, thread-like purple or red lines with a maximum diameter of around 1mm that rest very near the surface of the skin, normally flat and very rarely protruding outwards or creating a bump.
They occur when blood vessels lose their elasticity and widen, sometimes caused by minor injury after bruising has healed or obesity, but often caused by genetics and hormones.
They can be found on the legs and face including veins under the eyes.
Varicose Veins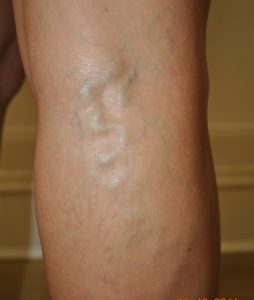 Usually larger than 3mm in diameter
Normally involving a major vein of the leg
When near the surface, normally appear bumpy or bubbly
Often blue in colour
If spider veins are 'thread-like', varicose veins are more like a rope, often with a diameter of ¼ of an inch or more. They will sometimes grow from their original size and can be painful and itchy for sufferers, with throbbing and tired legs a common occurrence. In terms of appearance, varicose veins will normally be blue in colour and, when near the surface, can have a bumpy or bubbly look.
The damaged veins occur when one-way valves that transport blood around our body fail, and cause a 'reflux' of blood in the channel. Like spider veins, the biggest factor in a varicose vein occurring is genetics, but obesity and multiple pregnancies are also often attributed to the disease.
What are the treatment options for spider veins?
The treatment that is right for you will depend on multiple factors and your own unique case. Regardless, we always recommend speaking with a respected clinic to make sure serious problems aren't missed, and to make sure that any treatment you go ahead with will be long-lasting and produce the results you're after.
For thread and spider veins, depending where the vein is located, we often recommend either Sclereotherapy, Cutera CoolGlide or Intense Pulsed Light (IPL) treatment.
Cutera CoolGlide is normally used on smaller thread veins where needles are not appropriate such as the face. The non-invasive laser treatment involves the application of intense light directly at problem spider veins, causing the blood within them to coagulate and divert to deeper veins below the surface. The result is the disappearance of the characteristic lines and clearer, healthier looking legs.
Sclerotherapy involves the injection of a chemical solution directly into problem veins to collapse them. Before performing the treatment, you will normally undergo a thorough ultrasound scan to ensure there are no underlying medical problems and that the veins won't reoccur after removal. The results will be permanent but multiple treatment sessions may be required.
What are the treatment options for varicose veins?
Varicose vein treatment, meanwhile, is a more in-depth process. At The Private Clinic, your consultation with a surgeon will include a free ultrasound scan to make sure we understand what has caused your vein problem, so we can then treat it effectively. For smaller varicose foam sclerotherapy can be used, but our top choice for treatment is normally a laser method called EVLA (Endovenous Laser Ablation). The non-invasive method involves the application of laser energy directly into the problem vein to seal the faulty valve that caused the vein, and redirect blood flow to a fully functioning vein.
We also offer VenaSeal treatment for Varicose Veins which uses medical adhesive to close varicose veins. It is for patients who have a needle phobia as VenaSeal only requires a single injection per vein. Your surgeon will use an ultrasound to guide the small catheter through the affected veins. The VenaSeal tool then dispenses small amounts of medical grade Sapheon Glue that works to close the vein and once closed the vein will gradually be absorbed by the body.
We also offer Phlebectomy treatment for larger veins.
Why choose The Private Clinic for spider vein or varicose vein treatment?
50, 000 veins were treated in the UK in 2010 alone, however the treatment methods (and success rates) vary massively. This is why we work with only the most innovative treatments, all with the highest records of long-term results. Regardless of what type of vein you think you might have, we always recommend seeking help from a recognised, highly-regarded clinic; 30% of those with spider veins also suffer from varicose veins and, if not spotted, you may be at risk from requiring more treatment in the future. From our therapists for smaller veins to our Consultant Vascular Surgeons for EVLA, every member of our team has extensive experience and a huge wealth of knowledge. We're here to help you get the very best results.
The least invasive method for varicose veins and thread veins removal treatment for your legs, body and face.
Our Consultant vascular surgeons are pioneers in EVLA(Endovenous Laser Ablation) and have treated thousands of patients.
No lengthy downtime or recovery required.
The NICE (National Institute for Clinical Excellence) Gold Standard for treatment of Varicose Veins findings show that the success rate after five years for EVLA is 95.4%.
A consultation with one of our Consultant Vascular Surgeons costs £150, including a free ultrasound scan of your legs (usually priced between £350 and £450 at most clinics and private hospitals).
We focus on the underlying cause of your veins and you will only see a Consultant Vascular surgeon for varicose veins.
We have treated thousands of patients who have regained their confidencewhilst avoiding health issues.
Treatment takes one hour, you can go home shortly after being treated.
Owing to our success, we have been featured on Channel 4's Embarrassing Bodies , TLC's My Naked Secret and featured in Harper's Bazaar's Cosmetic Tweakment Trends for 2019.
We have carried out over 7,000 procedures in treating Veins.
View our varicose veins before and after photos.
View our thread vein before and after photos
Read our varicose vein extensive FAQs.
Read our thread vein FAQs
Take a look at our varicose vein patient stories.
Find out more in our varicose vein blogs and thread vein blogs
Download our varicose vein treatment brochure
Varicose Vein and Thread Vein Consultations available at London Harley Street, Birmingham, Bristol, Leeds, Manchester, Bexhill Veins Clinic, Bournemouth Veins Clinic and Northampton.
Expert Vascular Surgeons
To find out more about vein treatments or to book a consultation you can call 0333 920 2471 or use our Vein online contact form.