When that first warm day of spring/summer arrived this year I'm sure you were itching to get out of your woolly tights or jeans are bare all in your favourite summer frock, but did you still find yourself avoiding this prospect no matter how much the sun shone?
As you gleam in delight looking in the mirror at your new summer outfit, your joy may have quickly subsided as you noticed those familiar leg veins that you had hid away under winter layers and forgotten about… until now.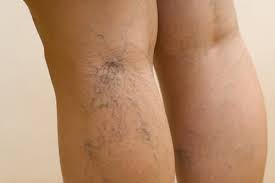 If you face a summer hiding under maxi dresses, jeans and wraps then I'm sure you will be pleased to know that here at The Private Clinic we have a team of highly qualified doctors and practitioners that are waiting to solve your leg vein woes.
What are thread veins?
Thread veins, also known as spider veins, broken veins or telangiectasia are tiny blood vessels which sit under the surface of the skin. They have a red or purple appearance and are often curvy in shape.
What causes thread veins?
It's a myth that standing for extended amounts of time can cause leg veins, although it doesn't help the condition so it is best to avoid this if you know you may be prone to getting them.
They can be common amongst women who have had hormonal changes during pregnancy or the menopause. Other causes include sun exposure, certain medicines, ageing and exposure to extreme temperatures.
In some cases, patients with thread veins actually have underlying vein problems such as varicose veins that are not visible from the surface of your skin, but can be seen via an ultrasound scan of the legs. In cases of underlying varicose veins, these will be treated, before addressing the original thread veins.
How can I treat Thread Veins?
Thread veins on the leg can successfully be treated with sclerotherapy. During this treatment the affected area will be injected with a 'sclerosing' agent which makes the vein walls sticky disabling blood from being able to pass through. As a result the capillaries collapse and get reabsorbed by the body.
Other treatment options are laser treatments, such as our Cutera CoolGlide. This treatment involves aiming an intense light directly at the veins causing the blood within them to coagulate. The blood is then diverted to veins deeper below the surface of the skin where it should be.
Depending where your thread veins are or the severity of them can determine which type of treatment may be best. Facial thread veins can also be treated with Intensed Pulsed Light (IPL) treatment which uses intense pulsed light which works by heating up the vein, causing it to collapse and be naturally absorbed by the body. Veins under the eye however are best treated with Cutera CoolGlide.

When will i see thread vein treatment results?
For all thread vein treatment options, a course of 3-5 is recommended for the best results depending on the treatment and severity of the vein. The appearance of small thread veins after Sclerotherapy will be reduced after 3-6 weeks. Larger thread veins may not see results until 3-4 months.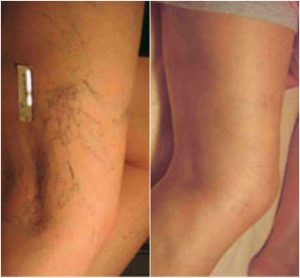 "All I can say is what a treatment! I literally walked in with thread veins on my legs, felt a bit of a sting during treatment, walked out slightly red, and woke up the next day with no veins. Although I could slightly feel the burn, the results were immediate. I have thread veins on my thighs and I could literally see them being zapped away. Thank you Nikola and The Private Clinic team!"
D.G, Thread & Spider Veins – London, July, 2015
Thread Vein treatment at The Private Clinic
We are the UK's leading authority in non-invasive and minimally invasive cosmetic procedures
The practitioners who carry out these vein removal procedures are highly qualified and have successfully treated hundreds of patients using these innovative technologies.
We are one of a very few clinics within the industry to treat veins under the eyes.
We have carried out over 7,000 procedures in treating veins
We are a UK centre of excellence for the minimally invasive treatment of veins.
We provide the highest standard of clinical care and offer the latest technologies available in the industry.
Read our extensive thread vein FAQs
Read our extensive facial thread vein FAQs
Find out more information in our thread spider vein blogs
Consultations for thread veins are available in London Harley Street, Birmingham, Bristol, Buckinghamshire, Leeds, Manchester and Northampton
To book a consultation to find out more about thread vein treatments at The Private Clinic, call us on 0333 920 2471 or use our thread vein online contact form.