Is liposuction available on the NHS?
LIPOSUCTION
Home » Is liposuction available on the NHS?
If you're interested in liposuction you may be thinking about what your options are, and if the NHS can help you. In this blog post, we discuss the limits to liposuction with the NHS, and what The Private Clinic is able to offer you.
Can the NHS treat me?
Due to typically being a cosmetic procedure (used to enhance your appearance), liposuction is usually unavailable on the NHS. The NHS can only offer liposuction as reconstructive surgery, to treat patients with specific conditions, including:
| | |
| --- | --- |
| Condition | Description |
| Lipoedema | A chronic condition usually generating an abnormal fat cell build up in the thighs, legs and buttocks, and occasionally in the arms. |
| Lymphoedema | The chronic condition causes swelling and excessive fluid in several bodily areas. |
| Lipodystrophy | A syndrome in which fat is gained in one bodily area and lost from another. |
| Gynaecomastia | The NHS may be able to treat extreme cases of Gynaecomastia. Gynaecomastia or Gynecomastia occurs when the male breasts swell to become larger in size than usual, and is usually a result of a hormone imbalance. |
| Breast Cancer | Your body tissue, including body fat can be used to create a new breast following a mastectomy. |
I want liposuction for cosmetic purposes
If you're looking to have liposuction treatment for cosmetic purposes, and do not suffer from one of the above conditions, private cosmetic clinics can help you to achieve your goals.
However, it should be your priority to choose the right clinic and surgeon that will help you achieve safe and effective results.
We advise you to check your surgeons experience and qualifications, for example, for training in plastic and general surgery, and Fellowship of the Royal College of Surgeons. Importantly, ask to see the surgeon's before and after photos and check out patient reviews for an idea of what you can expect with that surgeon.
What can The Private Clinic offer me?
We can offer you peace of mind that you will achieve the best possible results for you. Collectively, our liposuction doctors have undertaken the highest amount of minimally-invasive liposuction procedures within the UK and represent pioneers of their treatments. The Private Clinic have more than 30 years of experience within the industry, and every year; carry out approximately 2000 liposuction treatments. Our commitment to excellence is also shown in our patient care and aftercare, which is always delivered to the highest standard.
At The Private Clinic, we provide the below award winning range of liposuction treatments to ensure that we meet every need. We also customise each treatment specifically to each individual patient's requirements, as we know that each patient's body is unique: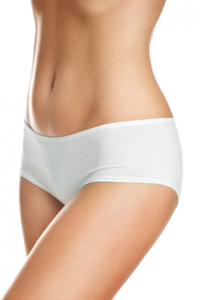 Micro Liposuction: An advanced minimally-invasive technique using extremely small cannulas from 0.9mm to 3mm. The method can remove up to 3.5 litres of fat and is able to target small areas including the chin, knees, inner thighs and upper arms, as well as more commonly treated areas including the chest, flanks and abdomen with high precision.
Vaser Liposuction: The minimally-invasive method is performed on specific stubborn fatty areas, and can extract up to 3 litres of fat (or 4% of your body weight) per sitting. Available on most bodily regions, including the stomach, knees, upper arms, thigh and neck.
If you desire further precision, we also provide several advanced Vaser Liposuction procedures, including Vaser Hi-Definition, Vaser 4D, Mid-Def and Vaser 360.
For patients who need or want surgical intervention we also provide the traditional Surgical Liposuction. The more invasive option can be performed on most areas of the body and suitable candidates are often larger patients with a high BMI.
Some patients may prefer to seek a non-surgical fat reduction option. We offer CoolSculpting at selected clinics which is a non-invasive fat removal procedure that uses controlled cooling to to target and destroy only the fat cells being treated. The results are gradual but there is no downtime, surgery or needles involved. With other 7 million procedures worldwide it is a popular treatment that can offer noticeable results within 8-12 weeks. CoolSculpting has been clinically proven to reduce up to 27% of fat cells across a range of treatment areas.
Patient Reviews
"Excellent Company and Fantastic and Professional Surgeon from beginning to end the care I have received was more than I could have expected. Dr Wolf was professional and kind … All of the staff at the clinic have been amazing. As for the procedure, the pain was minimal and the results were excellent. I never expected for drastic results as I have quite muscly legs but in terms of shape, I feel so much more confident and feel comfortable in my jeans."
– Vaser Liposuction Patient
Private Lipoedema and Gynecomastia Treatment
If you are suffering from Lipoedema, Lymphoedema or Gynecomastia and would prefer to undergo private treatment, we can also offer liposuction treatments for patients with these conditions. Enquire today by calling 0333 920 9135 or use our online contact form to find out more information.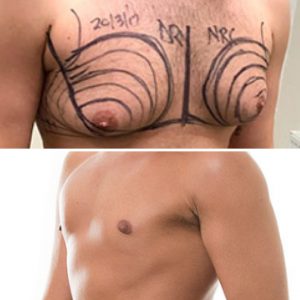 "I can finally feel confident to take my top off on holiday and can comfortably wear t-shirts without having to hide in black baggy tops! It's completely changed my look; it's made me love me more."
– Alex, Gynecomastia Patient.  
Watch Alex's Male Chest Reduction patient testimonial on our website.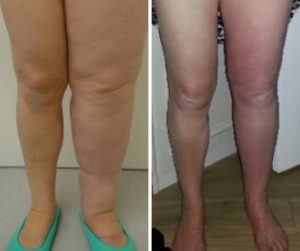 "I can honestly say that it was the best thing I have ever done. The treatment was straightforward – it was carried out under local anaesthetic and I was in and out the same day – and my leg more than halved in size following the procedure. "
– Judith, Micro Liposuction Patient for treating Lymphoedema
Why choose The Private Clinic?
We offer a wide range of different liposuction treatments and non invasive body contouring options.
Consultations are available with our specialist team of fat removal experts.
24 hour patient helpline to ensure you are always in the best of hands.
As many post-operative care and appointments with your surgeon, doctor and nursing team as required.
One year cover for all surgical, hospital and nursing care, in case of any medical issue.
Comprehensive patient information, every step of the way.
Our team of fat removal experts our pioneers in fat freezing, liposuction and body contouring.
Our liposuction doctors and surgeons have performed over 11,000 Liposuction treatments.
Over 7 million CoolSculpting procedures have been performed worldwide.
Outstanding hospital and clinic facilities.
Competitively priced for our expertise and experience.
Our excellent reputation for patient safety and satisfaction, honest advice and outstanding care means your journey with The Private Clinic will be an exciting experience to a newfound shape.
View more CoolSculpting before and after photos
View more Vaser Lipo before and after photos
View more Micro Lipo before and after photos
To give you as much flexibility as possible, we also provide a range of finance options and packages. Please get in touch if you would like to find out more about the available options and arrange your application.
Make a consultation
If you are at the stage where you would like to arrange a consultation, we offer consultations with our highly knowledgeable and experienced patient coordinators, who can provide useful information and answer queries before you see a surgeon.
Vaser Liposuction Consultations
Consultations for Vaser Liposuction take place at our clinics in London Harley Street, Leeds, Manchester, Birmingham and Northampton
MicroLipo Consultations
All Micro Liposuction procedures will take place in our boutique hospital in Fitzroy Square, London.
Consultations for Vaser Liposuction take place at London Harley Street with our expert liposuction surgeon.
CoolSculpting Consultations
We offer CoolSculpting® Fat Freezing treatments at our clinics in Leeds, Manchester, Birmingham, Northampton, London & Stoke Poges, Bucks.
Consultations for liposuction or CoolSculpting procedures can be booked by calling 0333 920 9135 or use our online contact form