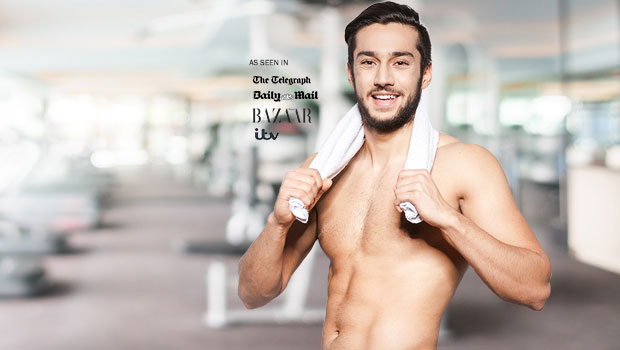 Sculpt and define muscles for an athletic result
Specialists in High-Def Liposuction
Best Clinic Group UK and Trustpilot 5 star rating
The Private Clinic was one of the UK's first aesthetic centres to introduce VASER Hi-Def; a pioneering body contouring treatment to sculpt and define muscles for an athletic result. We are proud to work with one of the UK's most respected pioneers of the method, Vaser Liposuction Surgeon, Dr Dennis Wolf, BSc(Hons), MBBCh, MRCS, DO-HNS, GMC Number: 4773959 who works from our London Harley Street clinic.
We are also still one of very few clinics in the UK to be certified to perform the revolutionary Vaser Hi-Def treatment.
Vaser hi def before and after result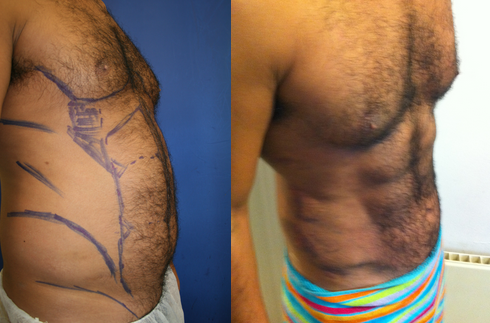 What is VASER Hi-Def and How does it work?
Assisted High Definition LipoSculpture, or VASER Hi Def is an advanced body sculpting technique that creates an athletic, sculpted appearance. It works through the removal of both superficial and deep fat that surrounds muscle groups to enhance the visibility of underlying toning and musculature. 
The method can be performed on multiple body areas, but the most popular include:
Abdomen – Chest – Waist – Back – Buttocks – Arms – Flanks – Thighs
What happens during the VASER Hi-Def treatment procedure?
Firstly, local anaesthetic is administered to the chosen area(s) to numb the site. A VASER probe, which is around 3-mm in diameter, then emits an ultrasonic fat-specific wave, which breaks down the fat cells.
The Doctor is then able to sculpt and define the underlying muscles through a gentle suction process which causes minimum damage to surrounding tissues which causes minimum damage to surrounding tissues.
How long after VASER Hi-Def do you see results?
Because muscle structures are chiselled and the underlying musculature is made to be more visible and well defined, the results of VASER Hi-Def procedure are highly defined and sculpted. The treatment is often chosen to create strong-looking pectorals, defined upper arms, demarcated abdominal flanks, an athletic six pack or a strong, defined upper and lower back.
The results of your VASER Hi-Def Lipo sculpturing are usually best seen after a couple of weeks. We may advise for you to undertake a course of MLD Massage to aid your vaser hi def recovery, though this will be discussed fully prior to and after treatment. We offer  Body Ballancer® treatments in some of our clinics which we recommend a course of to help reduce swelling caused by inflammation, bring healthy oxygenated blood to the upper dermal layers of the skin and encourage overall scar tissue repair.
Your treated areas should retain their sculptured appearance for as long as you remain the same weight.
VASER High Definition Before and After Photo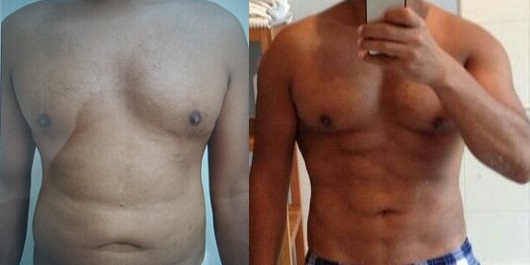 Our Medical Team
The VASER Hi-Def technique requires extensive experience and well-practised skill in VASER treatments. What distinguishes this procedure is its ability to chisel out prominent muscles including the pecs, lats, and obliques.
This procedure is carried out under local anaesthetic and the patient is sedated. Every surgical procedure presents risks and complications and those will be discussed during your consultation. Any risk associated to anaesthesia will also be discussed before your surgery.
There are very few UK clinics certified in VASER Hi-Def, and our Medical Expert is highly trained and experienced in the procedure with proven results and countless recommendations.
Dr Dennis Wolf  has performed thousands of minimally invasive vaser liposuction procedures and VASER High Definition procedures and The Private Clinic undertake close to 2,000 VASER Liposuction procedures every year. Dr Wolf is amongst the UK's most experienced doctors in standard VASER, VASER Mid Definition and VASER High Definition.
Click here to go back to our main VASER Liposuction page.