How to get rid of your Love Handles with Vaser Lipo
VASER LIPO
Home » How to get rid of your Love Handles with Vaser Lipo
Excess fat at the side of our torso is medically known as your flanks but more commonly referred to as love handles or a muffin top. More often than not, the fat in this area is usually quite stubborn and difficult to lose with exercise and diet alone due to the increased fat cells sitting in this area.
Eating excessive amounts of sugary, fatty or starchy foods can result in fat being stored around the waist area and love handles appearing. However, lack of sleep and stress can also cause increased weight gain as lack of sleep can alter your body's metabolism and cause it to slow down and stress causes a hormone called cortisol to be released into your body which encourages it to store the fat rather than burn it away.
Stubborn fat can be distressing for many, especially when you are putting the effort in with healthy eating and regular exercise and can result in confidence loss and a feeling of failure.
For over 35 years, we have offered our patients the most advanced and effective cosmetic treatments, and have some of the most experienced specialists in the industry that can advise on the best treatment for love handles. The next step is to book a consultation to discuss your area of concern. We treat thousands of patients every year and pride ourselves on our knowledge and expertise. All of our Clinics are registered with the Care Quality Commission.
Vaser Liposuction for Love Handles
Vaser Liposuction is a great treatment option for love handles and muffin tops.
Vaser Liposuction is a minimally invasive body sculpting and contouring procedure that is performed under local anaesthetic with sedation. Once the local anaesthetic has been administered then your procedure will begin with a tumescent fluid being injected into the area to be treated. This fluid works to separate fat cells from the connective tissues which can minimise the disruption to the surrounding tissues. Small incisions are then created and a specialised Vaser probe will be inserted into these incisions and pulses of ultrasound energy are then carefully guided through the area to help break down the fat cells. Fat cells are then gently sucked out of the targeted area/s.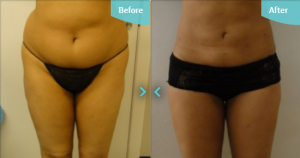 No stitches are required and once fully recovered you are free to go home. The downtime after Vaser liposuction is fairly minimal and you should be able to return to your daily routine quite quickly.
Although initial results can often be seen straight away, the best results are seen 5-6 weeks post procedure once the swelling has reduced.
Consultations for Vaser Liposuction take place at London Harley Street, Leeds and Manchester with our expert liposuction surgeons.
Consultations with our patient coordinators are also available in Birmingham and Northampton

How to get rid of your Love Handles with CoolSculpting
We also offer CoolSculpting at The Private Clinic which can also target love handles. CoolSculpting or Fat Freezing as it is commonly known is a non surgical fat reduction treatment that is available in our clinics in Leeds, Manchester, Birmingham, Northampton, London Marylebone & Stoke Poges, Bucks.
CoolSculpting is an ideal option for patients who are looking for natural and gradual results with no downtime. Fat freezing treatment is an FDA Approved Treatment for Fat Loss and over 7 million CoolSculpting treatments performed worldwide. Treated fat cells are permanently destroyed and you can expect to see noticeable results within 8-12 weeks. CoolSculpting has been clinically proven to reduce fat cells by 20-27% across a range of treatment areas.


Why Choose The Private Clinic?
One of the UK's leading clinics for body contouring and fat removal procedures, The Private Clinic is dedicated to achieving excellent results, using the most innovative, advanced techniques possible.
Our excellent reputation for patient safety and satisfaction, honest advice and outstanding care means your journey with The Private Clinic will be an exciting experience to a newfound shape.
Vaser & MicroLipo Liposuction Doctors
Our liposuction surgeons are:
If you would like to discuss love handle fat removal procedures please call 0333 920 2471 to book a consultation with one of our surgeons or advisers. Or use our online contact form.