Previously, breast implants were often influenced by celebrities and often resulted in women choosing larger implants to achieve a similar look to those that they idolised. However; some of the most popular celebrity bust sizes such as Pamela Anderson and Victoria Beckham have all reduced in size and we have noticed a big shift in the desired result that women want in recent years.
No longer are women seeking larger implants, but instead preferring to go for smaller shaped implant with the aim of achieving a more natural look with common celebrity idols being Taylor Swift and Gigi and Bella Hadid.
Avoiding the fake look with breast implants is possible and at The Private Clinic we pride ourselves on being able to offer patients natural looking results so here are our top tips on how to get the best results from your breast augmentation.
Pick the right surgeon
The first step to achieving the results that you desire from any type of cosmetic surgery is picking the right surgeon. Although plastic surgeons these days tend to a variety of procedures, seeing a surgeon that is a specialist in breast augmentation in particular is always going to give you better results compared to one that is not. Be sure to ask your surgeon how many breast implant procedures they perform on a regular basis and request to see a selection of before and after photos.
You should also feel comfortable with your selected surgeon which means feeling listened too and understood. Make sure you are able to communicate what you want to achieve from a breast augmentation procedure and bring along photos of breasts that you like, as well as photos of ones that you don't like so your surgeon is clear on what your desired goals are.
Choose the right size of implant
Your plastic surgeon will take some measurements of you either at your consultation or at a second sizing appointment. These measurements will determine the best implant size for you based on your body frame, mass and existing breast tissue. You may be given the chance to try on different sized implants which is a really great way to see how they look with different outfits.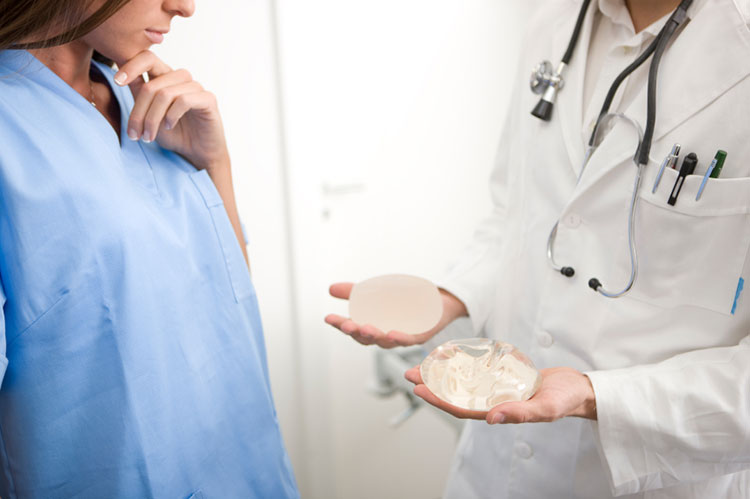 If the implant size chosen is outside the recommended range as suggested by your plastic surgeon then this is most often the reason your implants will look artificial. The measurements that your surgeon makes takes into consideration your natural proportions and going above these will mean your breasts will look out of proportion to your body and not achieving the natural look that you desire.
Choose the right kind of implant and position
Choosing the right implant of course is not a decision you should be making on your own and of your plastic surgeon will go through your choices as well as their recommended choice based on your desired results.
As well as the size of the implant, you will also need to decide on the breast profile of the implant which determines how much your breast implant protrudes forward from your chest. The profile of the implant will generally be decided based on your measurements – those who have a wider chest will usually be recommended to try low profile implants where as those with a more petite figure may have medium to high profile implants recommended.
The position of your implant will depend on your natural breast tissue and also your lifestyle. Your surgeon will discuss the pros and cons of going both behind and in front of the muscle and will make their suggestion into what they feel will give you the most natural look.
For more information on how to choose your breast implant see our blog here.
For more information on how to achieve a natural looking breast enlargement, see our blog here.
Breast Augmentation The Private Clinic
We provide a 10 year implant warranty with £1000 towards your surgical costs.
Expert Cosmetic surgeons
Dedicated care with your expert breast surgeon and nursing team, and a 24-hour help line.
Peace of mind with our personal three-year aftercare breast cover.
The Private Clinic covers a lifetime guarantee on your implant.
We have state of the art hospital facilities.
All of the breast options are discussed not just one type of implant. So you will be happy with your shape.
Hear from previous patients in our breast enlargement patient stories.
Watch our breast augmentation video guide.
Read our extensive breast augmentation FAQs.
To find out more about breast enlargement check out our 12 part Breast Augmentation Video guide here or take a look at some of our Breast Augmentation patient stories here.
We are proud to offer the highest quality breast implants, with procedures performed by some of the UK's top consultant plastic surgeons. Our team includes some of the most recognised Breast Surgeons in the UK and many of which are are members of British Association of Aesthetic Plastic Surgeons (BAAPS).  They are based in our London, Birmingham, Manchester, Leeds and Northampton clinics.
If you would like to discuss breast enlargement options please call 03339209135 or use our online breast augmentation contact form.