How to choose your Breast Implants
BREAST AUGMENTATION AND ENLARGEMENT
Home » How to choose your Breast Implants
Once you have chosen your clinic and surgeon, your next big decision on your breast enlargement journey is choosing your implants. There are a wide range of breast implants available and in some cases certain surgeons or clinics will only offer a certain brand or shape based on the surgeon's preference. As part of our Breast Augmentation Video Guide we decided to help clear up some of the confusion around breast implants and Consultant Plastic Surgeon, Mr Adrian Richard's goes through the most common implant shapes and sizes to help you make a more informed decision.
Types of Breast Implants
There are two different shapes of implants;
Teardrop/Natural/Anatomical
– Teardrop implants are thinner at the top compared to the bottom giving them a much more natural shape.
Round
– Round implants are round in shape and add volume to the lower portion of the breast as well as the upper pole.
Both implant shapes have their pros and cons but it does come down to the look that you want to achieve. As Mr Richards mentions in the Breast Augmentation series, it would be beneficial to you and your surgeon to bring in photos of breasts that you do and don't like. This way you can work together to pick the best implant shape based on your desired results.
Once you have picked your implant shape you will then be able to discuss the projection of your implant.
Breast Implant Profile Types

The projection of your implant relates to the shape of your breast, particularly from a side profile view. The usual projections are;
Low Profile – Low profile implants are wider in the base with minimal projection from the chest. This option is best for women who have a wider chest wall.
Moderate Profile – Moderate profile implants project more from the chest compared to the low profile but they do not create excessive width on the side. This option is ideal for women who have a smaller/narrower chest.
High Profile – High profile implants have a narrow width base giving you the maximum projection from the chest. This option is ideal for petite women who have a narrow chest wall.
Your implant projection is usually decided by your surgeon. Your breast and body measurements will be taken which allows your surgeon to determine what the largest width and projection of implant your current proportions would allow.  Your surgeon will use the measurement as a guideline along with your personal preferences to select the correct projection to meet your desired results.
Most importantly, before you even decide on your shape and profile/projection you will need to pick your size. Picking the size of your implants can be a difficult decision which is why we recommend you work with your surgeon or their nursing team to thoroughly discuss the range of sizes available for you to be able to achieve the results you desire.
Breast implant sizes are not the same as cup sizes they are instead measured based on their volume in cubic centimetres (CC). Although it can't be guaranteed that a certain sized implant will give you a certain cup size, on average to increase from an A cup to a B cup usually takes 200cc of breast implant.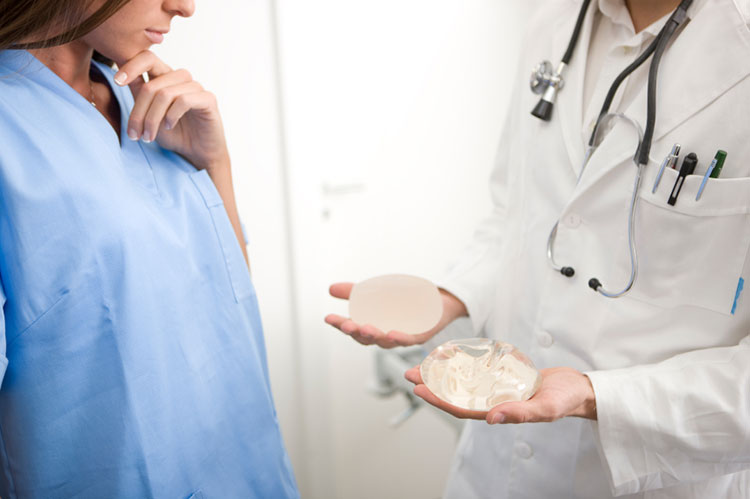 For more information on types of breast implants please see our previous blog here.
At your consultation with your surgeon, you will get to try on different sized implants and discuss all of your options in great detail with the option of returning for a second consultation if you are still feeling unsure.
The Private Clinic Breast Augmentation

Here at The Private Clinic we pride ourselves on providing the most comprehensive cover in the industry including free consultations with our specialist breast surgeons, 24 hour patient helpline, dedicated post-operative care and appointments, three years of all surgical, hospital and nursing care free of charge, Nagor lifetime guarantee on the implant, unique peace of mind warranty of £1000 towards towards surgical costs for 10 years from the date of your operation for breast enlargement.  This is detailed in our comprehensive Breast enlargement Patient Guide.
We are proud to offer the highest quality breast implants, with procedures performed by some of the UK's top consultant plastic surgeons. Our team includes some of the most recognised Breast Surgeons in the UK and many of which hold memberships with key bodies in healthcare such as; British Association of Aesthetic Plastic Surgeons (BAAPS) and The British Association of Plastic, Reconstructive and Aesthetic Surgeons (BAPRAS). Breast Enlargement consultations with our surgeons can be carried out in our London, Birmingham, Manchester, Bristol, Leeds, Glasgow, Northampton and Buckinghamshire clinics.
Mr Adrian Richards, MBBS, MSc, FRCS (Plast.) GMC Number: 3286812
Mr. Navid Jallali BSc MB ChB (Hons) MD FRCS (Plast)   GMC Number: 4404969
Mr Dario Rochira BS, MD GMC Number: 6130664
Mr Davood Fallahdar FRCS (Plast) Fellow of the Royal College of Surgeons (Plastic) GMC Number: 4686602
Ms Lyndsey Highton, BM BCh (Oxon) MA FRCS (Plast) GMC Number: 6128243
Mr Philip Lim BSc (Hons), MB ChB, AFRCS (Ed), MRCS (Eng), FRCS (Plast) GMC Number: 4219068
Mr Olubowale, MB ChB, MSc (Sheffield), FRCSI, FRCSI (Gen Surg) GMC Number 6044974
Mr Maisam Fazel  MA(Cantab) MB BChir MSEd FRCS  GMC Number: 4767420
Mr Mobinulla Syed MBBS, MSc, PhD, FRCS (Plast) GMC Number: 6035480
Mr Prashant Govilkar, MBBS MS MCh FRCS FRCS (Plast) GMC Number: 4258041
Mr Adel Fattah, FRCS (Plast.) GMC Number: 4764599
Mr Kenneth Kok MBChB MRCS MSc(Hons) FRCS(plast)   GMC Number: 4701147
To find out more about breast enlargement options at The Private Clinic, please call 03339209135 to book a consultation or use our online breast implant call back request form.