We always aim to produce a natural-looking breast shape which nobody could guess is the result of breast enlargement surgery. Our aim is to make sure your bust is in proportion to your shoulders and hips to create a natural, feminine figure without making you look top-heavy or 'fake'.
This is achieved by using detailed measurements of the natural diameter of your breast base then taking away a small amount of your natural breast tissue so that the implant will lie inside your breast tissue without extending out to the sides.
If your breast implant is too small or too large then it can extend into the outer chest area which produces an unnatural appearance. We also tailor the height and shape of the implant to your unique physical characteristics.
Here is our guide to choosing the right implant;
Cup Size

Recommendation

AA Cups with very little breast tissue

A shaped implant partially behind the muscle in a dual-plane position. This is because we need to create the shape of the bust using a shaped implant. We also need the extra coverage afforded by the muscle in the upper portion of the breast so that we do not get any unnatural shelf or ridge in this region.

A-B Cups

If your breast tissue measurement is below 3cms in the upper part of your breast but you do have a natural bust shape, we usually recommend a round implant placed partially under the muscle in a dual-plane position.

This will enhance the natural look of your own breast shape. There is a slight risk of shaped implants rotating slightly which does not happen with round implants.

C Cups and larger

For a natural breast shape with over 3cms of breast tissue in the upper portion of your bust, we would usually recommend a round implant placed in front of your muscle. This gives a slighter quicker recovery time but placing the implant in front of the muscle is only suitable if there is a minimum 3cms of tissue available to cover the implant and give a natural effect otherwise the implant could start showing through the skin with ridging or rippling.
Rather like buying a pair of jeans, an identical outfit might look very different on various body shapes so the same approach must be taken to trying on breast implants which is why we always advise you to attend a sizing appointment where you can try out different sized implants. We also encourage you to bring outfit changes so you can see how your implants look with different styles.
Most recently we are seeing an increase in patients who have previously had breast enlargement surgery now looking to downsize their implants to fall in line with the current trend of a smaller and more natural looking bust.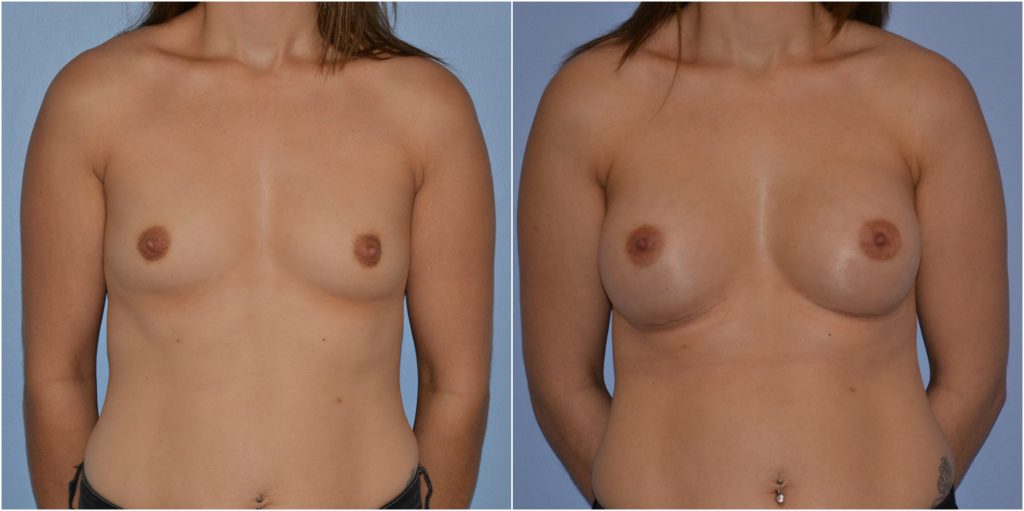 Consultant Plastic Surgeon Mr Adrian Richards of Aurora Clinics part of The Private Clinic recently featured in the Daily Mail and The Sun giving his views on celebrity breast surgeries' confirming that more people are now opting for natural looking implants that will leave people guessing as to whether they've had surgery.
"'We see this in the clinic and there's a trend for the more natural look. We've analysed our data and in the last two years the average size of implant people go for has reduced by 30cc."
We know how important it is that you feel completely comfortable with the look that you select, so will never hurry you into making a decision and you are able to schedule additional sizing appointments if you become unsure.
We do not endorse the artificial, fake breast enlargement surgery look. By carefully matching your breast implant size to the shape of your unique physique, we can ensure that others would struggle to guess that you have had breast enlargement surgery. They will be too busy focused on how amazing and confident you look with your great big smile!
The Private Clinic
The Private Clinic is renowned for setting high standards in the cosmetic industry and we value our excellent reputation for patient safety and satisfaction. From the first consultation through to your first-class aftercare, our Consultant Plastic Surgeons team is sympathetic, caring and highly skilled. There's no hard-sell, just good advice and the best possible results.
Because we offer breast enlargement through both fat transfer and implants, we'll only ever give you an honest opinion on what procedure is more likely to achieve your desired results.
Breast Augmentation is available at our London, Birmingham, Bristol and Manchester clinics.