Breast Implant Positions
BREAST AUGMENTATION AND ENLARGEMENT
Home » Breast Implant Positions
Making the decision to go ahead with surgery is a big one and we always recommend taking the time to do this. When it comes to breast augmentations however, it is not the only big decision you need to make.
Breast augmentation surgery has a number of variables to choose from and one of the most commonly asked about one is breast implant position and placement.
There are 3 different positions that the breast implant can sit in within the chest.
In your chest area you have 2 muscles; the pectoralis major muscle is the one that runs from your armpit over the upper part of your chest. The serratus anterior muscle comes from around your back and covers the lower portion of your chest.
Breast implants can be placed;
Total Sub-Muscular (Under both muscles)
Dual Plane/Partial Sub-Muscular – (Under only the pectoralis major muscle)
Over the muscles – Over both muscles
Total Submusclar
The process of placing the implant behind both muscles is actually not commonly used these days and is considered by most surgeons as being an old fashioned technique. Implants that have been placed in this position are more prone to distortion when the muscles are tensed which can cause an unnatural appearance.
Over the muscle
The option of having your implants over the muscle often depends on your natural breast tissue. For the best results you ideally need to have enough natural breast tissue to conceal the shape of the implant. If you are lacking in breast tissue then the implants will be more prominent and have a fake look.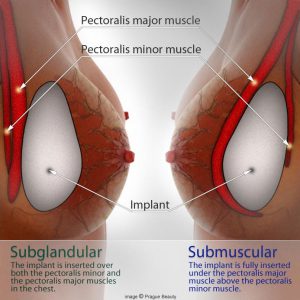 Dual Plane
Placing the implants under the pectoralis major muscle in the upper breast but above the serratus anterior muscle in the lower breast is more commonly referred to as being dual plane and is normally the most favoured of techniques. Your natural breast tissue is generally thicker in the lower half meaning it is often enough to cover the implant and then the muscle in the upper portion of your bust will cover the implant at the top. This results in a good coverage of the upper portion of your bust where it's needed, without causing constriction in the lower pole which can sometimes occur when the implant is placed under the serratus muscle too.
How do I choose?
Your surgeon will help you choose which position is best before your breast enlargement surgery. They will measure your natural chest and make a decision based on your natural tissue in order for you to achieve the best results.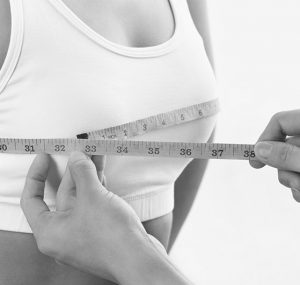 You can do a quick test yourself at home to give yourself an idea of what may be suggested;
Measure 3 or 4cm above your nipple
Pinch the area between your thumb and forefinger
Move your fingers out and away and measure the distance between them.
If over 3cm, you probably have enough breast tissue to have implants over the muscle. Any less and your implants should go under the muscle to provide extra coverage.
The Private Clinic
Here at The Private Clinic we provide the most comprehensive cover in the industry including a 24 hour patient helpline, Dedicated post-operative care and appointments, three years of all surgical, hospital and nursing care free of charge, Nagor Lifetime guarantee on the implant and a unique peace of mind warranty of £1000 all of which are detailed in our comprehensive Patient Guide.
We are proud to offer the highest quality breast implants, with procedures performed by some of the UK's top consultant plastic surgeons. Our team includes some of the most recognised Breast Surgeons in the UK, based in London, Birmingham, Manchester, Leeds and Northampton – many of which are on the specialist register for Plastic Surgery and are members of British Association of Aesthetic Plastic Surgeons (BAAPS).
To find out more please call 0333 920 2471 or use our online breast augmentation contact form to request a consultation.