Boob Job predictions for 2016: Big boobs go bust
BREAST AUGMENTATION AND ENLARGEMENT
Home » Boob Job predictions for 2016: Big boobs go bust
Breast Augmentation procedures have consistently topped the charts of Plastic Surgery procedures and it doesn't seem to be a trend that's likely to die out anytime soon.
That being said, smaller breasts are now the option of choice, with women no longer aiming to super-size their assets.
Smaller is better
A survey of plastic surgeons conducted by RealSelf – the online cosmetic treatment community platform – found that in 2015, 39% of them saw their patients asking for smaller implants, compared to patients in 2014. Figures from the British Association of Aesthetic and Plastic Surgeons (BAAPS) are in line with these findings, as they reported a 20% dip in the number of Breast Augmentations in 2014 – a dip that hadn't previously been seen for 10 years.
Many practitioners put it down to celebrity influences as women often came in with cleavage examples taken from those in the limelight. Smaller-chested stars such as Rihanna, Gwen Stefani and Kate Hudson appear to be influencing the change in paradigm and for some, including us, it's a welcome change.
The 'natural' look
A more natural look is in vogue at the moment, with women preferring only a little bit of a boost to what's already there. We at The Private Clinic would like to encourage this trend, as we believe that the best results are reached by adapting the size of implants to a person's height, frame and body type.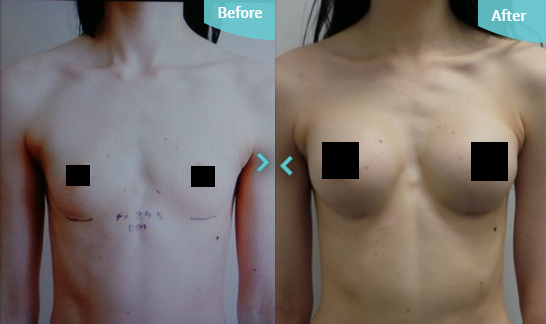 By choosing smaller implants, patients are not only opting for a more natural look, they're also putting less strain on their bodies, so there are relative health benefits to going with such a choice, as well as aesthetic ones.
Overly large breasts can cause problems in the long run and could potentially affect patient's health, which is why we prefer to discourage patients from such undertakings.
It's not just about implants
Smaller breasts aren't just a matter of implants either. RealSelf surgeons claim to have seen an increase in Breast Reduction requests – especially in teens. This may be once again related to celebrity influence, particularly after Ariel Winter, star of the Modern Family show, had her Breast Reduction extensively covered by the media.
In a similar vein, celebrities such as Chantelle Houghton and Katie Price have opted to reverse their Breast Enhancement procedures.
So, for 2016 we can expect smaller breasts all round, or at least, for women to make slightly more conservative choices when it comes to beauty enhancement.
The Private clinic
Our Plastic and Cosmetic Surgery division consists of an elite team of reputable and trustworthy Consultant Plastic Surgeons so that we can offer you objective advice for the most effective and suitable  treatment options available to you.
Choosing Breast Surgery at The Private Clinics means;
We provide a 10 year warranty with £1000 towards your surgical costs.
We have a team of highly skilled expert Cosmetic surgeons, see our breast implant before and after results here.
We offer dedicated post-operative care and appointments with your surgeon and nursing team, including a 24 hour help line.
You will receive three-year aftercare breast cover.
The Private Clinic covers a lifetime guarantee on your implant.
We have state of the art hospital facilities.
Our priority is ensuring you get the best results and patient care.
See our breast reduction before and after photo gallery here
See our breast implant removal before and after results here.
Consultations for Breast Augmentation and Breast Reduction procedures are available at our London Harley Street, Birmingham, Buckinghamshire (virtual consultation only), Leeds, Manchester and Northampton clinics.