Black Friday 2019
DISCOUNTS AND OFFERS
It's that time of the year again, once we see off Halloween and bonfire night – we enter into the festive season and those savvy shoppers will be eagerly awaiting one of the biggest shopping events; Black Friday.
Black Friday originated from the USA and takes place the day following Thanksgiving. This year Black Friday is on 29th November – just in time for the Christmas shopping season!
Whilst we may not be able to offer you premium deals on consumer electricals. We are able to offer savings on some of our most popular skin treatments.
Register today to be one of the first to know about the launch of our Black Friday event.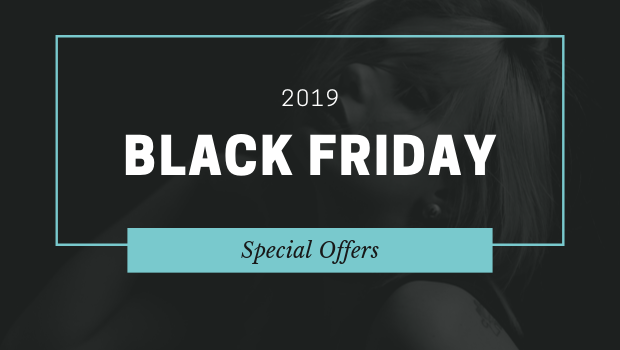 Black Friday Offers at The Private Clinic
This Friday we are offering savings on cellulite treatment, scar reduction treatment and skin rejuvenation treatments.  So why not treat yourself, a friend of family member to something different this year.
Laser Hair Removal
It is thought that women spend around 72 days of their lives shaving their legs – that's 1,728 hours that could be better spent doing something a lot more worthwhile. Laser hair removal aims to reduce the amount of time spent in the shower by providing a 90% reduction in hair growth. We have a range of treatment packages including underarms, bikini and legs and can treat both men and women of all skin types.
N-Lite Acne
Acne can be a tricky condition to treat, with the market saturated with washes, topical solutions and creams it can be difficult to know where to start. Our N-Lite treatment is one of our most popular treatments in clinic with patients and practitioners alike. It is a non-invasive laser treatment aimed at targeting the bacteria that causes acne whilst stimulating collagen to improve the skin texture and reducing inflammation and redness. Suitable for the face, neck, back and chest – the treatment has been described as one of the most significant advancements in the treatment of acne in decades.
IPL Photorejuvenation
If you are looking for an overall skin rejuvenation treatment, Intense Pulsed Light (IPL photorejuvenation is ideal. It is a non-invasive treatment that can be used on all types of skin tones and works to resurface the skin reducing the appearance of pigmentation, rosacea and other skin tone irregularities. The results are smoother and clearer looking skin.
Cellulite Treatment Plan
Cellulite affects nearly 90% of women at different times in their lives. There are many creams and lotions that claim to treat cellulite but our treatment plan works to tackle cellulite from the inside. Our cellulite combination treatment package of Mesotherapy and Body Ballancer pressure massages work well together to promote healthy circulation whilst helping to break down connective tissue bands reducing the trapped fat under the skin resulting in a smoother appearance.
Post Surgical Scar Treatment plan
All surgical procedures come with scarring but for some having a prominent scar can really affect their confidence. Our scar treatment plan package has been put together by our team of skin experts to help you get the best result from your scar healing. The treatment package includes topical products as well as a course of Laser Genesis and Pearl Fusion laser treatments which will help to accelerate collagen regrowth.
Bespoke Youth Trio
Our Bespoke Youth Trio is a great combined treatment helping to give your skin that much needed boost in time for the festive season. The treatment involves a Circadia Enzyme Exfoliating treatment which uses active enzymes to dissolve different forms of cellular debris and protein build up on the skin. This is followed by a Latic Peel which is a performance peel with powerful ingredients that target areas of hyperpigmentation caused by acne, ageing or sun damage. The treatment ends with Laser Genesis, an innovative skin therapy that uses an advanced laser to treat key signs of skin ageing to promote a healthy and vibrant looking skin. It is a pain free treatment that requires no downtime providing gradual and natural results for healthier looking skin.
Skin Peel
Our Epionce Lite Refresh Peel is a low downtime treatment that is great for patients looking to brighten, tighten and clarify their skin. It is great for treating dull and tired skin that is looking for a fresh boost with no downtime. The Epionce Corrective Peel is a slightly stronger and more advanced treatment designed to target wrinkles, pigmentation, acne and rosacea in particular. The Epionce skin peels use Salicylic acid and Malic acid to accelerate cell turnover with less exfoliation than other peels to reveal more beautiful, radiant skin.
Dermapen
Dermapen is a really versatile microneedling treatment that can help with a number of common skin concerns including fine wrinkles, scars and general ageing. The micro-injuries caused by the dermapen encourages the skin to naturally re-grow and repair itself which results in boost of collagen and elastin production. Dermapen treatment does come with some downtime however the results of smoother, fresher and brighter looking skin are a good consolation.
Thread Vein Removal
Remove thread veins from the face or legs with our Cutera CoolGlide treatment which uses pulses of light energy to directly target the vein, breaking it down within the skin causing to gradually be absorbed by the body leaving you with vein free skin.
Microdermabrasion
Microdermabrasion is a great treatment to refresh and revive skin that is looking or feeling a little tired and dull. The treatment provides manual exfoliation to the skin using medical grade crystals to remove dead skin cells leaving you with a fresh and youthful glow. When performed regularly, microdermabrasion treatment will help to boost collagen and elastin production in your skin whilst resulting in an even and more rejuvenated complexion.
Why Choose The Private Clinic?
We are the UK's leading non-invasive cosmetic group and have some of the most experienced Consultant Dermatologists, doctors, nurses and skin experts working with us. Our treatment packages have delivered significant results time and time again, and we're proud of the difference we can make to people's lives.
There are no hidden costs.
We afford all our patients the right care well before, during and long after every procedure
Our doctors, nurses, technical assistants and therapists are all very experienced and well trained
Our aftercare promise – you can call, email and visit us to discuss how we tailor-make each procedure and offer ethical and professional aftercare for every patient
We are contactable 24/7, 365 days a year for patients
We are competitively priced for the expertise and professionalism we provide to every patient.
Register today to be one of the first to know about the launch of our Black Friday event.