Valentine's Lip & Skin Offer
DISCOUNTS AND OFFERS
Home » Valentine's Lip & Skin Offer
February has just arrived and that means Valentine's Day is swiftly approaching. So much to do, so little time! But don't worry; we'll help you get the most important thing covered – you looking fabulous and utterly kissable for your date.
We're helping you out with 20% off a Luxury Lip and Skin Bundle. Perfect pout – tick, perfect skin – tick. The gorgeous combination includes:
JUVEDERM SMILE or JUVEDERM HYDRATE
For a plumped up and fabulous pout, Juvederm Smile adds body and fullness to the lower and upper lips, while improving its contour and overall shape.
For smooth, youthful looking lips, Juvederm Hydrate smooths wrinkles around the mouth as well as making them appear fuller and more symmetrical.
+
Lactic Acid peel
Lactic Acid peels offer a multitude of benefits. The mild chemical peel deep cleanses, stimulates collagen production, evens the skin tone, brightens the skin, improves the appearance of fine lines and wrinkles and tackles any acne. The treatment works by removing dead skin cell layers, while protecting the lipid barrier of the skin.
Even if you have sensitive skin, or have never had a chemical peel, a fabulous choice, lactic skin peels are considered particularly safe and gentle.
OR
Profhilo (only available at selected clinics)
Stimulating collagen production and elasticity, the unique new discovery, Profhilo, improves the skin texture, firmness and tone to result in smoother, softer, healthier skin.
The injectable treatment is ideal for those with loose, crepey, wrinkled skin on the neck or face. Visible results after just 2 treatments.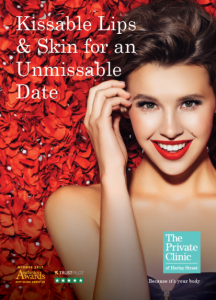 The Valentine's day 20% off offer is available at our London Harley Street, Northampton, Buckinghamshire, Bristol, Birmingham, Leeds, Manchester and Glasgow Clinics. Prices and treatments available in the bundle however vary at different clinics, and these can be found on our Valentine's Day Offer page.
The bundle must be prepaid for by Valentine's Day, but can be booked for anytime 12 months after purchase, if you'd like to save the treatments for another special occasion. Further terms and conditions can be found on the Offers page.
Why The Private Clinic?
The Private Clinic are proud to offer an expert team of practitioners for our skin treatments, who are dedicated to achieving the best possible results for you. Treating patients for over 30 years, and achieving a 5 Star Trustpilot rating, with us you know you are in safe hands.
Committed to offering patients the most comfortable journey possible, we provide free consultations where patients can discuss their individual needs and requirements before treatment if preferred. These can booked via our website or calling 0333 920 9135 .