A central part of our face, the nose has a huge impact on our image and facial harmony. Nose reshaping can therefore greatly enhance our look, and we have found significantly improve the confidence of our patients.
At The Private Clinic, we listen to your needs and help achieve the best outcome possible for you. We deliver the most beautiful results for your face, while maintaining a natural look. Different types of nose reshaping, addressing various aspects and concerns of the nose, can be performed depending on your requirements.
The recent trend – non-surgical nose reshaping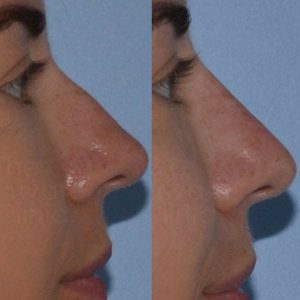 If you're looking to reshape the nose but would rather avoid surgery, the in-demand treatment, non-surgical nose reshaping, represents the most effective and advanced solution.
Non-surgical nose reshaping treatments, by their nature, however, are temporary. To sustain the results, the treatment will need to be repeated every 6 months.
"I am so happy Lilly recommended this treatment to me! My nose is something that has always bothered me. With this treatment I was in and out in no time and the staff at the private clinic made me feel very comfortable and at ease! Would highly recommend to anyone thinking of having this procedure!" Amanda
Non-surgical nose reshaping is available at the following clinics: 98 Harley Street, Birmingham, Manchester, Leeds, Bristol, Glasgow, Buckinghamshire and Northampton. For more information on non-surgical nose reshaping or to schedule a consultation, visit our website or please call 0333 920 9135.
Rhinoplasty Surgery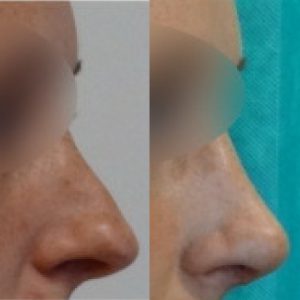 For a permanent solution, rhinoplasty surgery reconstructs and shapes various parts of the nose, including the bridge, tip, nostrils or whole profile. For some, it can correct a deviated septum or restore nasal functions. Different types of rhinoplasty target different areas. At your consultation, your Cosmetic Surgeon will discuss your requirements and recommend the most suitable procedure for you.
Involving some downtime, rhinoplasty surgery takes up to two hours, requires 7-14 days off work and may require general anaesthetic and a hospital stay depending on your procedure.
Delivering excellence, we only offer the top, most experienced Consultant Plastic and Reconstructive Surgeons in the UK for our rhinoplasty procedures, focused on providing you the highest level of patient care. Being one of the oldest cosmetic surgery treatments, our surgeons have sharpened their skills and techniques in the procedure to perfection.
Our expert rhinoplasty surgeons include:
Find out more our highly experienced surgical team for rhinoplasty on our website.
"So happy with the results, everything has been excellent from 1st consultation onwards.  Really glad I made the decision" Rhinoplasty patient from our London Clinic.
Should you choose The Private Clinic for rhinoplasty, the site of your procedure would likely be our purpose built hospital at 98 Harley Street in central London. If you do not live in or cannot reach London, there is possibility of us booking you in at a hospital local to you. Consultations by leading surgeons, however, can also be scheduled at our clinics in Manchester, Bristol, Glasgow and Northampton. We realise that rhinoplasty surgery is a significant decision to make. If you would like more information before meeting with a surgeon, you can also arrange a meeting with a patient advisor within any of our consultation rooms.
To find out more about our rhinoplasty procedures or arrange a consultation with a patient advisor or one of our expert surgeons visit our website or please call 03339209135.
Why choose The Private Clinic?
At The Private Clinic we are proud to present the most experienced practitioners for our nose reshaping procedures, and are dedicated to providing you the best possible care. Our ambition since 1983 has been to help deliver the most beautiful and natural looking results for our patients, and helping them look and feel their best.