Push up bras at the ready, its National Cleavage day!
Originating in South Africa, National Cleavage Day started in 2002 and was started as a way to; 'solemnise women's independence and power in all facets of life, from their careers to their relationships to their own destiny' The day is sponsored by Wonderbra, Cosmopolitan Magazine and 5fm and all money raised during the day goes towards Sunflower Fund which helps South African citizens diagnosed with leukaemia and other life-threatening blood diseases.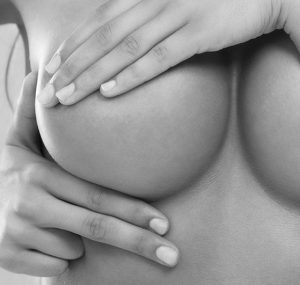 Of course the day itself should all be seen as a bit of fun and nothing to take too seriously but while some women are digging out their low cut tops others may be feeling a little deflated about breast issues of our own.
Research from lingerie brand Playtex last year found that 6 out of 10 women in Britain were unhappy with their breasts. So we spoke to Consultant Plastic Surgeon, Mr Adrian Richards and asked "what are the most common breast complaints?" that he receives from patients.
Asymmetrical Breasts
We should always think of our boobs as being sisters and not twins and so to have perfectly symmetrical breasts is very unrealistic. Mr Richards says. "All women have some variance between their breasts. The only difference is that, for some, the asymmetry is almost impossible to spot, whereas the difference between other women's breast size and shape may be more obvious."
A breast augmentation is often used to correct asymmetric breasts in which different sized implants or single implants are used or often the procedure is combined with a breast uplift which is done as a two stage procedure to create a more symmetrical look.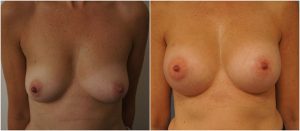 Sagging Breasts
Sagging breasts is such a common complaint we get here in clinic and although often symbolised with ageing, it is an issue that can occur at any age. "Sagging breasts are often diagnosed as breast ptosis. It can not only be embarrassing for women, but it also creates back pain and can lessen their ability to enjoy certain activities and exercise", Mr Richards says.
Breast ptosis can be caused by a number of things including weight loss and breastfeeding. Generally the issue is normally easily corrected by breast uplift surgery also known as a mastopexy. This surgery will not dramatically reduce or increase the size of the bust but will instead raise the breast using the surrounding tissue to give the breast more shape and support to counteract any drooping or sagging.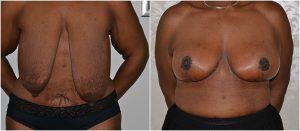 Oversized Nipples
Many of us can find ourselves feeling self-conscious about the size of our nipples despite them not being on display for all to see. "Enlarged protuberant nipples can cause embarrassment for both men and women, and it is an issue patients come to me with frequently, particularly as we head into the summer months" says Mr Richards.
Enlarged nipples are easily fixed by a simple nipple reduction procedure that is often performed under local anaesthetic meaning the downtime is minimal. The procedure however is not recommended for any women who have plans to breastfeed in the future so for some it may be best to wait.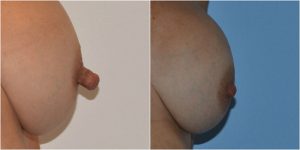 Tuberous Breasts
Tuberous breasts are an abnormality in the breast and is categorised when the breast has a narrow base combined with a high breast crease meaning the breast can appear to be elongated.
"Tuberous breasts are extremely common but the severity can vary greatly meaning that the treatments are varied too" says Mr Richards.
In most cases tuberous breasts are corrected with breast implants however more severe cases may need to consider a tissue expander which is an inflatable breast implant designed to stretch the skin and muscle enough to create room for a breast implant.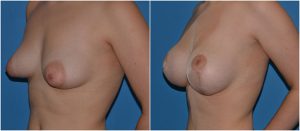 Inverted Nipples
"I see many patients who are insecure about inverted nipples and generally they have no idea just how common they are." says Mr Richards.
Inverted Nipples are down to in imbalance between the inward traction of the milk ducts and the traction of the muscle which actually pushes the nipple out. Essentially the force of the inward pull from the milk ducts is stronger than the outward pull from the nipple muscle resulting in the nipple being pulled into the breast which gives it an inverted appearance.
Despite the technical sounding reasoning above, inverted nipple surgery is a very simple procedure which is often performed under local anaesthetic. In some cases inverted nipples can even be treated without surgery through the use of a niplette device which we always encourage all our patients to try before booking in for surgery.
More often than not breast abnormalities are simply natural occurrences, however sometimes there are underlying medical issues that could be the cause of changes in the look or feel of your breasts. If you are ever concerned or notice any changes in your bust then make an appointment to visit your GP as your first point on call.
The Private Clinic
The Private Clinic is renowned for setting high standards in the cosmetic industry and we value our excellent reputation for patient safety and satisfaction. From the first consultation through to your first-class aftercare, our team is sympathetic, caring and highly skilled. There's no hard-sell, just good advice and the best possible results. We have some of the most experienced and well-respected surgeons in the industry as part of our breast implant team across all our locations in London, Manchester, Birmingham, Leeds and Northampton
To find out more about breast surgery at any of our clinics you can call us on 0333 920 2471 or use our breast surgery online contact form to request a call back.