Women these days are taking more care of their bodies and training hard to reach those dream body goals. There is one area in particular however that can't be worked on – breasts.
Breasts unfortunately can't be' trained on' meaning that aside from the obvious push-up bras and "chicken fillets", the only real solution is surgery.
Vicky Hadley is a blogger for the BikiniGirlsDiary, personal trainer and fitness bikini model who first thought about having a breast enlargement after competing in her first fitness bikini competition. Training for the competition meant that she lost volume in her chest which was already small.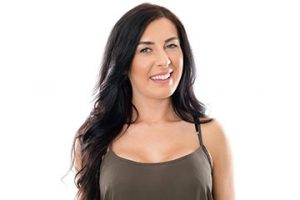 "The annoying thing about dropping body fat especially with most women is that the first place you lose it from is the breast area. Which, for me, was definitely not ideal being that I was already sat at a small B cup."
Being someone heavily involved in fitness generally should not cause any issues when it comes to breast enlargement surgery, but there are a few things that you need to consider; suitable implant size and whether to go over or under the muscle. These factors are best discussed with your surgeon who will be able to measure your current size and make an informed decision.
Going under the muscle is ideal for someone after a natural look especially if you are small-chested originally; going under the muscle does mean a much longer recovery time and sometimes more pain.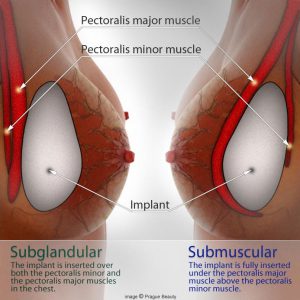 Going over the muscle can still give you a natural look as long as you have enough natural breast tissue there in the first place, and the recovery is also said to be faster and less painful. If you are quite lean and small chested naturally there is a risk that the implants can look quite obvious which would then limit your choice of implant size.
"I didn't want anything huge, I wasn't after becoming the next page 3 glamour model I just wanted 'something'"
Vicky knew exactly what she wanted and coming to The Private Clinic for a consultation she met with one of our experienced surgeons who was able to take on board Vicky's wishes and come up with a perfect surgical plan that would suit Vicky's expectations and her lifestyle too.
Recovering from surgery is another big factor for anyone on a strict fitness plan. Doing anything that goes against your aftercare can potentially cause a risk for you and your final result. Exercise, for the majority of surgical procedures, is off limits for at least six weeks.
"I wasn't allowed to train for the first six weeks which for an avid gym goer was another challenge but totally worth it. I am back in the gym now and lifting weights. My strength had taken a bit of a dip from my break but it quickly came back – and the motivation seeing my new shape in gym wear and swim wear definitely helped out."
Most often, getting the result that you desire comes down to the surgeon. If you are working hard on getting your body looking amazing then you would most likely want your breasts to compliment the hard work you have been putting in rather than overshadow your work by being too big.
The aftercare following surgery requires commitment and although there are lots of things you can do to keep in shape like walking and working on your legs, it may take a while to get back into any upper body or chest work.
"It was unbelievable, my confidence was high and I felt amazing. The real achievement here is the fact that I finally feel like a woman. Not a young girl missing something – a grown, sexy, confident and happy woman."
We think Vicky has had a great result from surgery which has most definitely helped by going to someone who understood her expectations and was experienced in working with someone who had a more athletic body and lifestyle.
You can read more about Vicky's patient story here
The Private Clinic
Here at The Private Clinic we have a team of breast enlargement specialists who use their years of expertise to ensure you find the right option for your needs. We are proud to offer the highest quality implants with the most comprehensive cover in the industry including free consultations with our specialist breast surgeons, twenty-four hour patient helpline, dedicated post-operative care and appointments, three years of all surgical, hospital and nursing care free of charge, Nagor lifetime guarantee on the implant, unique peace of mind warranty of £1000, all of which are detailed in our comprehensive Patient Guide.
Our team includes some of the most recognised Breast Surgeons in the UK, based in London, Birmingham, Manchester, Leeds and Northampton – all of which on the specialist register for Plastic Surgery and are members of British Association of Aesthetic Plastic Surgeons (BAAPS).
Find out more about breast implant surgery at The Private Clinic by calling 03339209135 or using our online breast surgery contact form.