Choosing rhinoplasty (surgical nose reshaping) is a big decision. Your nose is a very defining feature of the face and impacts your overall facial balance and harmony. Another highly important decision and something you don't want to compromise on, is your choice of rhinoplasty surgeon and clinic. You want to be assured that you will be advised and realise the best possible and natural-looking changes that are suitable for and complement your profile.
These decisions are no easy feat. But one of the most effective ways to help you feel more informed is seeing rhinoplasty patients' before and after photos. These can give an indication of what you may expect or what is possible to achieve with rhinoplasty. Helping you choose your rhinoplasty clinic, it can also show the approach taken with different clinics, and kind of results that can be attained.
Our Rhinoplasty Patients Before and After Photos:
At The Private Clinic part of our mission is delivering natural-looking results which enhance our patients' natural beauty. In line with this, our expert industry-renowned rhinoplasty surgeons only ever advise and achieve the best possible, aesthetically pleasing and natural-looking changes for your individual nose and profile. A lot of patients fear drastic change of their image after rhinoplasty, but with us, we ensure you will still look like you, while your nasal flaws are corrected. See the kind of results we have achieved for some our rhinoplasty patients…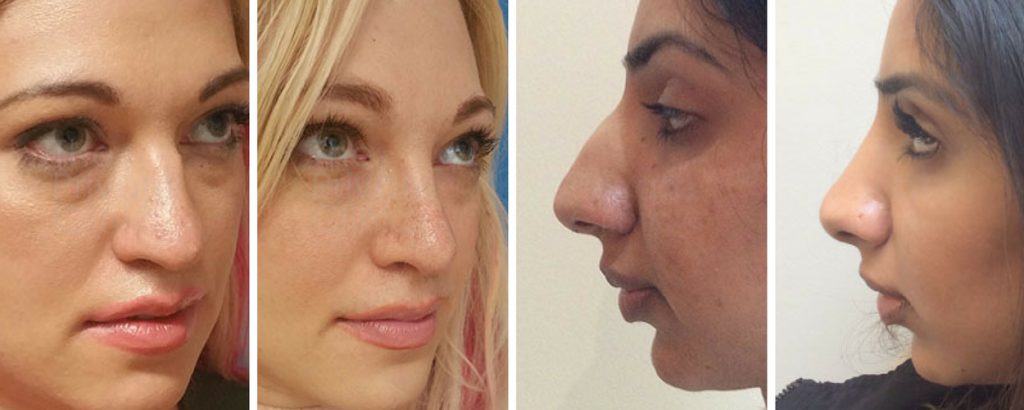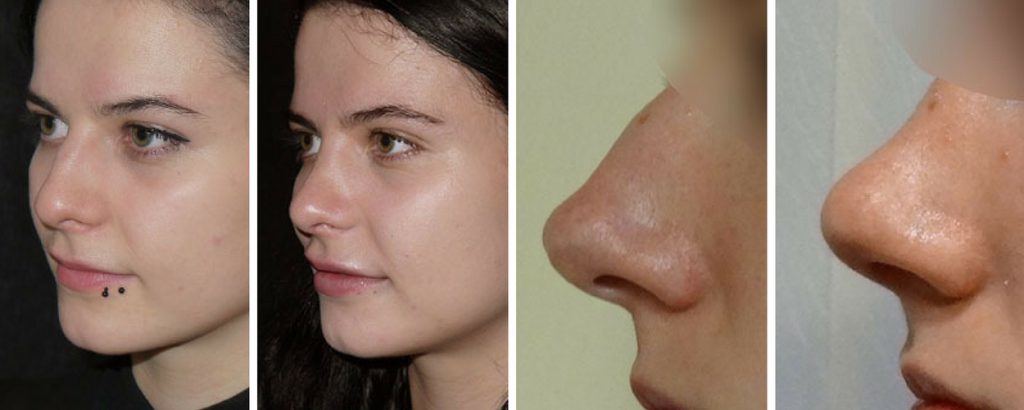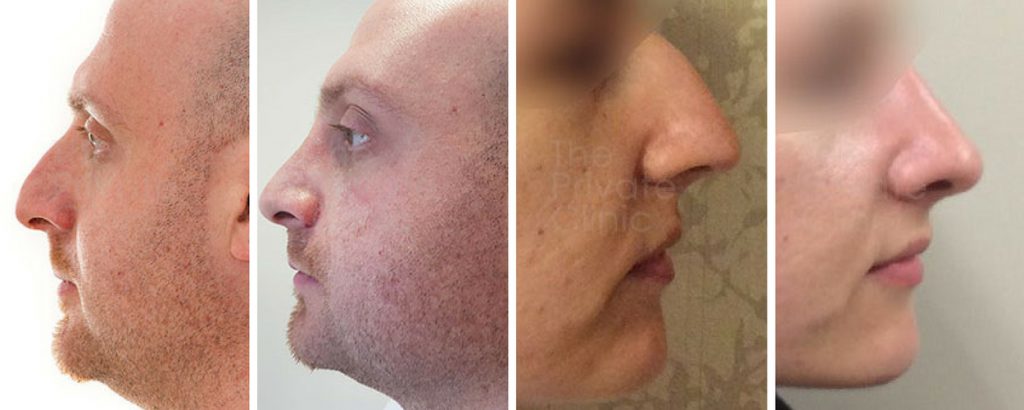 More of what you can expect with rhinoplasty at The Private Clinic…
We are proud to offer some of the most experienced and skilled Consultant Plastic and Reconstructive Surgeons performing our rhinoplasty (Nose Reshaping) Procedures
Our expert rhinoplasty surgeons have advanced rhinoplasty techniques and skills to perfection
Excellent customer service and outstanding care, at every stage of your journey, before during and long after your procedure
Dedicated to patient care, we ensure all of our rhinoplasty patients have a full medical assessment and minimum of two consultations pre-surgery. All patients are provided detailed care and aftercare instructions and excellent post-operative care, with post-surgery follow up appointment(s)
Offer honest, transparent advice at all times, and ensure patients are provided with realistic expectations
We offer Rhinoplasty consultations with our Patient Advisors in selected clinics, who can answer questions and provide you information before you see a rhinoplasty surgeon
Find out more on our rhinoplasty webpage including more rhinoplasty before and after photos, answers to FAQ's and more information about the nose reshaping procedure.
Our rhinoplasty surgeon consultations are available in several clinics throughout the UK. Our rhinoplasty surgeon consultations will include discussing your nose concerns and desired outcome, seeing before and after photos, your surgeon taking detailed measurements, and providing realistic and clear recommendations of what can be achieved for you. Our esteemed team of some of the UK's top rhinoplasty surgeons and their respective locations include:
If you would like to arrange a rhinoplasty consultation, please call us on 0333 920 2471 or book via our website.