FUE (or Follicular Unit Extraction) Transplants have become extremely popular over the past few years with a wealth of famous faces including Wayne Rooney and Calum Best undertaking the treatment. Less invasive than the traditional 'strip' method of hair transplantation, pioneering surgeons have developed the treatment to produce the most natural results with minimum trauma to the donor area, but what is the recovery process like?
It's important to remember that every single person will have a different experience from their transplant; firstly the number or hairs will differ massively depending on your needs, and secondly your body reacts to things in different ways to other people. There are no set guidelines on how long any sensitivity may be there, nor an exact date that you'll see your final results, but there are things you can be aware of to make sure you're fully informed and prepared for changes.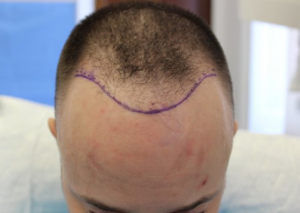 Before FUE can take place your doctor will design a hairline that they believe will both suit you, and make the most of the donor hair you have. This will be something they will discuss with you during consultations and meetings so you're fully aware on what to expect – it might be that your original idea won't look natural or full enough, their job is to give you the greatest success.
FUE treatment itself is minimally-invasive and performed entirely under local anaesthetic. It begins with your doctor extracting individual follicular units (complete with necessary glands) from your donor area using a specialist punch device that's only around 0.6mm  to 0.9mm in width. This creates minimum trauma to the area as surrounding tissues are not damaged and there is no need for any incisions  – as a result your risk of any scarring is significantly less and your immediate recovery is much more comfortable. Likewise only minuscule instruments are used to replant each hair one-by-one in the treatment area, allowing for faster healing and a more natural look.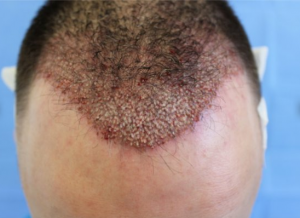 Immediately after your transplant you will be able to see the outline of your new hairline, however it won't necessarily be the result you want to show off. In theory, as the treatment isn't invasive, you can return to work the day afterwards, but we'd always advise taking a couple of days off to recover and allow yourself adequate space to complete the post-operative instructions. Your doctor will advise on specific directions for you, but a couple of key points may be sleeping with your head elevated and direct instructions on how often to wash your hair and keep it clean.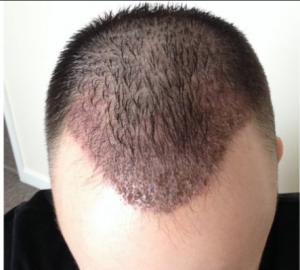 A couple of days after treatment, you will already see a huge difference to the original outline, and may begin to experience a little bit of swelling or soreness. However it is important to remember that this will not be your final result and any tenderness will eventually go. After a couple of weeks, at least some of the hairs in the area will normally shed – this is a completely normal part of your recovery and nothing to be afraid of. We normally advise to look out for any bleeding (which may represent a lost graft) during this period, but in the vast majority of cases shedding is completely normal and does not pose any risk to the success of your treatment.
It's after this that your final hair will begin to make itself known. Remember hair grows at an average of around 1cm per month and your transplanted strands will be no different. Hairs are asynchonous (meaning they grow at various stages from one another) so there's no way you're going to have luscious locks after just a few days. Results begin to show themselves properly after about four to six weeks, but a final result won't become noticeably clear until about five to six months after.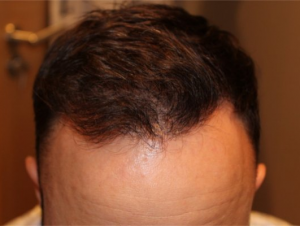 Every single patient is different so it's important to remember that sometimes it may even be up to eighteen months before you have the finished result. The process is one of length – while it may take a while for results to be clear, they should be long-lasting and worthwhile in return.
FUE Hair Transplants at The Private Clinic 
The Private Clinic of Harley Street offers the latest and most advanced FUE Hair Transplant procedures available, including hair transplants to the face and eyebrows. Hair Transplants are the only permanent hair loss solution.
The Private Clinic prides itself on ensuring you have the best quality and most comprehensive care:
24-hour patient helpline to ensure you are always in the best of hands.
As many post-operative care and appointments with your Hair Transplant surgeon and nursing team as required.
Highly experienced Hair Transplant Surgeons who have many years of experience.
Comprehensive patient information, every step of the way.
Outstanding hospital facilities.
Our excellent reputation for patient safety and satisfaction, honest advice and outstanding care means your journey with The Private Clinic will be an exciting experience to a newfound head of hair.
Extensive videos of past patients click here
Extensive Hair Transplant FAQs click here


Expert Hair Transplant Surgeons at The Private Clinic
Hair Transplant treatment is available at our London Harley Street, Birmingham, Bristol, Glasgow, Manchester, Northampton and Leeds clinics. To find out more about FUE Hair Transplants call 0333 920 2471 or use our hair transplant online contact form.