When booking in for any type of procedure you will give a list of pre-treatment instructions to follow in the weeks leading up to your treatment date. For the majority of us we are just used to following these instructions but you shouldn't be afraid of asking why. In this blog we are looking at some of the EVLA treatment instructions pre and post treatment and answering that very question: why?
EVLA or Endovenous Laser Ablation is minimally invasive method of destroying dysfunctional varicose veins. The treatment is performed under local anaesthetic and involves locating the damaged vein with ultrasound before using laser heat to collapse the wall of the vein and destroy the root cause of the problem.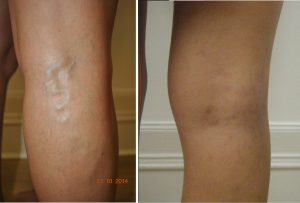 Pre Varicose Vein Treatment
Let your surgeon and his/her team know if you are taking oral contraceptive pills
Why?
Some birth control pills can increase your risk of clotting. It is important that you inform your surgeon that you are taking them and the type on your medical history form. It is unusual that you will be asked to stop taking them for the purpose of this type of procedure, but you may be given a higher dose of premedication to prevent clot formation (DVT) in the legs after the procedure.
Do not apply creams or lotions to your leg before treatment
Why?
You will be instructed not to apply any type of moisturizer, sunblock or oil to your legs on the day of your procedure and advised to shower the morning before your treatment too. This is to ensure that your legs are clean, lotions on the skin have the potential to carry germs and bacteria that may promote infection. We want the area being treated to be sterile so having a shower the day of your surgery and not using any lotions afterwards will help ensure this. We also advise that you refrain from shaving your legs the day of your procedure; this is to reduce any razer burn irritation when the sterilizing wash is applied to your legs before surgery.
Wear loose trousers and shoes/or bring spare.
Why?
After you have had your EVLA treatment you will be bandaged up in an assortment of both bandages and compression stockings and your legs may swelled slightly too. This results in your legs being a little wider than they were when you first came in, so those skinny jeans are not going to go back on easily! We advise either coming in loose clothing or bringing a spare set that you can easily change into to go home in.
Make sure that you have had something to eat and drink before the procedure.
Why?
This procedure is performed under local anaesthetic so you do not need to fast beforehand as if you were going under general anaesthetic. It is advisable to have a light breakfast or lunch before your procedure for example; tea and toast or a sandwich and soft drink. You might feel faint or sick after your procedure if you do not eat or drink as instructed.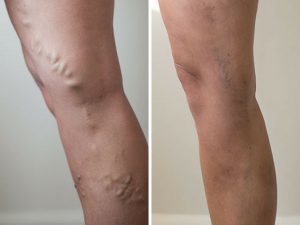 Post Varicose Vein Treatment
Resume normal activities immediately after treatment including walking
Why?
You may have been excited to get home and spend a few days with your feet up post-op but this is not the case! We always tell our patients to be up and about post treatment to get the circulation in the legs going and reduce any risk of DVT for example. A short 15-20 minute walk 3-4 times a day is more beneficial rather than a long march.
Wear compression stockings for the prescribed amount of time
Why?
Compression stockings are not the most attractive of garments we agree, but they are so important to aid your recovery post treatment. Wearing your stockings decreases the risk of blood clots developing in the leg, which is known as deep vein thrombosis (DVT). Wearing the stocking also helps keep the treated vein from re-opening so make sure you wear it day and night until advised otherwise.
Avoid vigorous gym workouts, hot baths or excessive sun.
Why?
We mentioned before about keeping active whilst recovering after EVLA but that doesn't mean you should head back to the gym the very next day. Vigorous workouts such as weight lifting, cycling, jogging or running should be avoided for at least 72 hours as the increased pressure caused by bearing down can push blood back into the treated vein therefore undoing the treatment.
Hot baths,  hot tubs and swimming pools should also be avoided for a week post treatment as exposing an already inflamed area to heat can increase the inflammation and cause dilation of small vessels in that area. There is also a risk of infection to healing wounds from hot tubs and swimming pools so we would again recommend you avoid these for at least 4-5 days. You may shower and clean the treated leg, but try to avoid submerging the leg in water. Use a plastic bin bag or cling film to prevent the treated leg from getting wet.
Sun exposure should be avoided for 2 weeks post treatment; the tissues are inflamed as part of the natural healing reaction. Direct sun exposure could stimulate the pigment cells in the areas and result in the area appearing more pigmented and so we would advise keeping your legs covered and/or using a high factor sun cream which our skin experts in clinic will be able to advise you on.
Summary
These are just some of the pre and post op instructions you will be given. The full list will be discussed during your consultation and given to you once you book your treatment and of course – if you want to question any of them not covered here – just give us a call!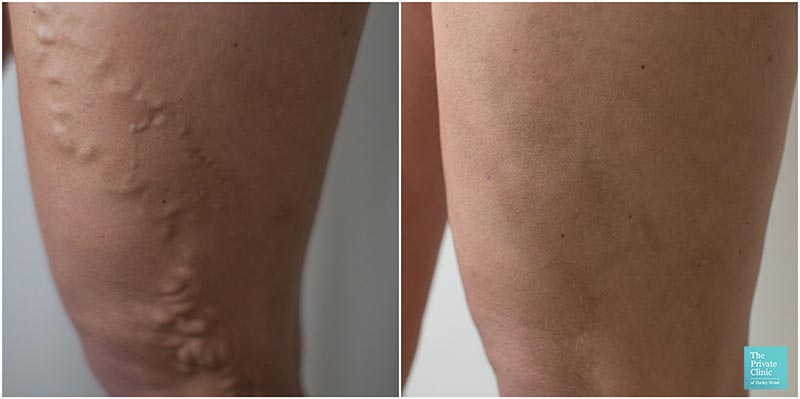 Varicose Vein Removal at The Private Clinic
We have over 35 years' experience in offering the most advanced, minimally invasive treatments for all types of veins. Our Consultant vascular surgeons are pioneers in EVLA (Endovenous Laser Ablation) and have treated thousands of patients. EVLA is considered the Gold Standard of treatment for varicose veins by the National Institute for Clinical Excellence (NICE). We are able to offer competitively priced, walk-in walk-out procedures performed in one of our widely recognised in-house clinical facilities by some of the Country's top Consultant Vascular Surgeons.
The least invasive method for varicose veins and thread veins removal treatment for your legs, body and face.
Our Consultant vascular surgeons are pioneers in EVLA(Endovenous Laser Ablation) and have treated thousands of patients.
No lengthy downtime or recovery required.
The NICE (National Institute for Clinical Excellence) Gold Standard for treatment of Varicose Veins findings show that the success rate after five years for EVLA is 95.4%.
A consultation with one of our Consultant Vascular Surgeons costs £150, including a free ultrasound scan of your legs (usually priced between £350 and £450 at most clinics and private hospitals).
We focus on the underlying cause of your veins and you will only see a Consultant Vascular surgeon for varicose veins.
We have treated thousands of patients who have regained their confidence whilst avoiding health issues.
Treatment takes one hour, you can go home shortly after being treated.
Owing to our success, we have been featured on Channel 4's Embarrassing Bodies, TLC's My Naked Secret and featured in Harper's Bazaar's Cosmetic Tweakment Trends for 2019.
We have carried out over 7,000 procedures in treating Veins.
View our varicose vein before and after photo gallery.
Read our extensive varicose vein FAQs
Hear from previous patients in our varicose vein patient stories
Find out more information in our varicose vein blogs
Download our varicose vein treatment brochure
Our Expert Vascular Surgeons
We are one of the UK's most recognised, specialist varicose vein clinics with nationwide locations:
To find out more or to book a consultation you can call 0333 920 2471 or use our Varicose Vein online contact form.