Otoplasty Before and After Photos
OTOPLASTY EAR RESHAPING
Home » Otoplasty Before and After Photos
Otoplasty surgery, also known as Pinnaplasty surgery or ear pinning surgery is a cosmetic surgery procedure to reshape the ears.  
The procedure is commonly performed on patients who are unhappy with the appearance of their ears, usually because the ears stick out too far from your head, the ears are large in proportion to the head or because you may have had previous surgery and are unhappy with the results. 
Traditionally ear reshaping surgery was performed during childhood due to the cartilage being softer and easier to mould compared to older ears however, our surgeons are very experienced and skilled in carrying out successful ear reshaping procedures on patients of all ages.  
How to choose the best surgeon for Otoplasty
When it comes to choosing a surgeon to carry out your otoplasty procedure, we recommend picking a surgeon who is specialises in ear surgery and always ask to see before and after photos of their results. 
Otoplasty Before and After photos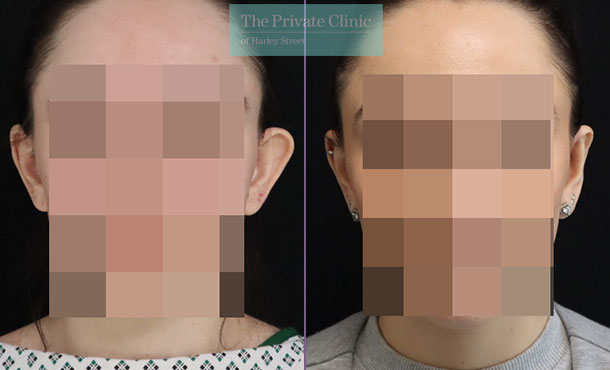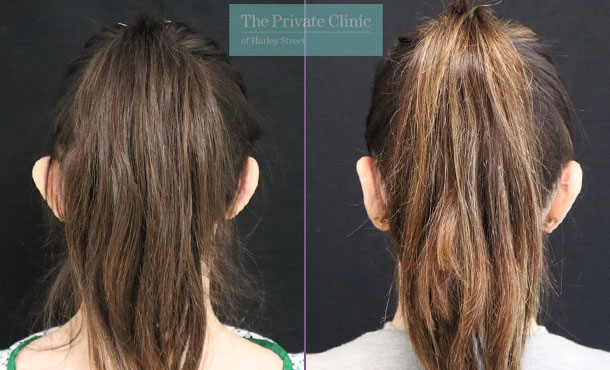 This patient was unhappy with the appearance of her ears, in particular the left ear which she felt stuck out more than the right ear. After a consultation with Mr Mark Lloyd, he explained that the reason for the prominent ear was down to the lack of the fold of the ear (anti-helical fold). He explained that surgery would only be required to correct the left ear to try and bring it more in proportion to the right ear.  
An otoplasty procedure was performed under local anaesthetic, after photos were taken 4 months later.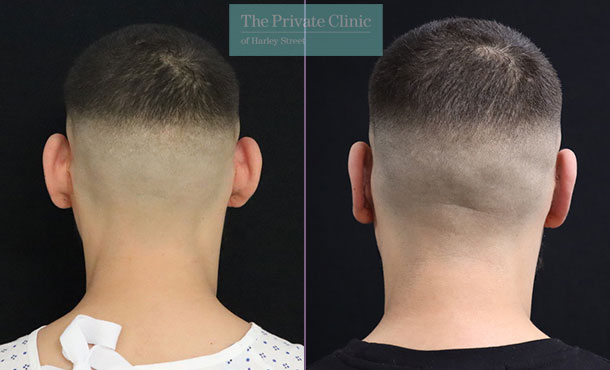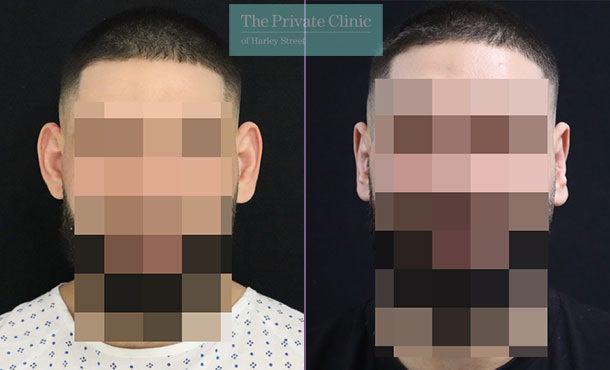 This patient had always been conscious about his ears, particularly about how much they stuck out from the back. The patient came to see Mr Mark Lloyd to discuss otoplasty surgery, Mr Lloyd confirmed that the prominence of the ears were down to the conchal bowl (the cup shaped piece of the ear in the middle) of the ear being excessive. An otoplasty procedure on both ears would be required with a small piece of cartilage being removed from the conchal bowl on each side. 
An otoplasty procedure was performed under local anaesthetic, after photos were taken 5 weeks later.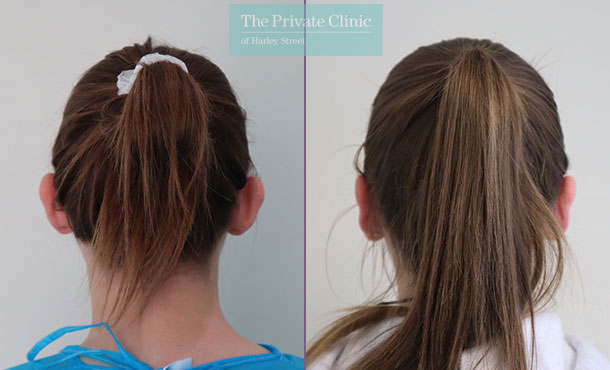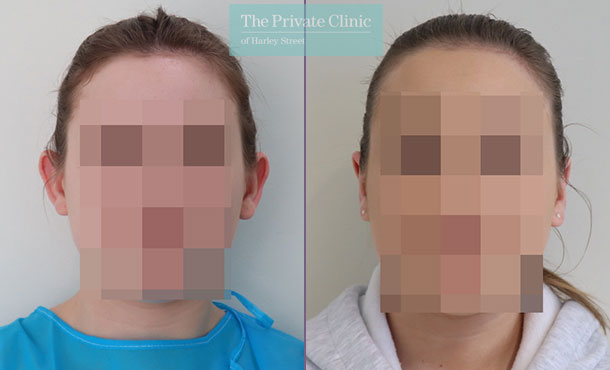 This patient was unhappy with the appearance of her ears. A consultation with Mr Mark Lloyd confirmed that a lack of fold of the ear (anti-helical fold) was the cause of the ear prominence and bilateral otoplasty surgery (surgery on both ears) would help to reduce the prominence of them.  
An otoplasty procedure was performed under local anaesthetic with mild sedation, the ototplasty after photos were taken 4 months later.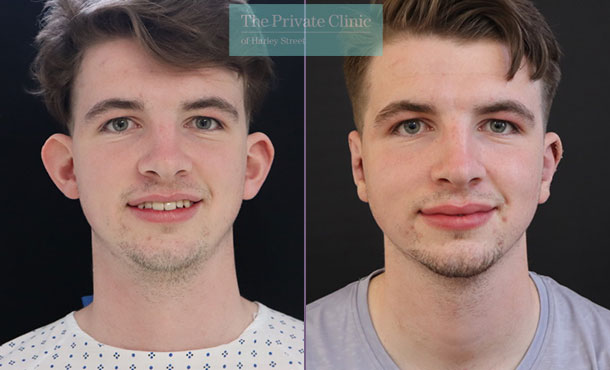 This patient came to see us, not happy with the appearance of his ears. He felt they looked different to each other and were very prominent. He came for a consultation with Mr Mark Lloyd who agreed that there was a difference to both ears, the left ear had hooding at the top which is known as lop ear deformity and there was also a deep bowl on both sides which was causing the ears to protrude and a lack of ante-helical fold. An otoplasty procedure could help to restore some symmetry but it would be impossible to create a 100% symmetric appearance which the patient was happy with.  
An otoplasty procedure was performed with the removal of a thin piece of cartilage in the conchal bowl to help set the ears back and a skin excision and cartilage removal to the upper part of the left ear where there is hooding. After photos were taken 3 weeks after the procedure.  
Otoplasty surgeons 
Our Ear Correction Surgeons are all highly experienced in ear surgery with many practising ear reconstruction procedures within the NHS. 
Otoplasty Reviews
"I couldn't recommend this clinic anymore! I had an otoplasty with Mr Lloyd in March and my whole experience from the consultation to the surgery and follow ups. Mr Lloyd made such an effort to get to know me and ensure that the results were everything I wanted and suitable for me. I couldn't be happier with my results, and I couldn't recommend this clinic and Mr Lloyd anymore." 
Millie, Staffordshire 
"I had otoplasty done with Mr Mark Lloyd! And what an amazing job he done! Couldn't be more happy with it, it's even better than what I thought it would be! Such a talented guy! Thank you so much!" 
Gaby, Richmond upon Thames 
"I visited the Private Clinic in January for my consultation appointment. Dr Mark Lloyd was very professional in listening to my queries and explaining the procedure as well as the expected outcomes. Shortly after meeting with Dr Lloyd it was obvious that I would choose to have my otoplasty at TPC. 
I had my otoplasty procedure in July. Both Dr Lloyd and the assisting nurse, Sahera Begum, had an excellent professional manner and made me feel comfortable throughout the procedure. During the procedure I was given the opportunity to look at my ear and check that I was happy with the changes. After the operation I was provided with detailed after care information to ensure the best results. I am very happy with the outcomes so far. 
I would highly recommend visiting TPC if you are considering having a cosmetic procedure. All the staff have been extremely friendly, welcoming, and reassuring including the clinic manager, Wanda Booth." 
C, Birmingham 
"I had an initial consultation for ear correction at the beginning of 2020 with Dr Mark Lloyd. He went through the options with me (ear fold or otoplasty surgery) and after a detailed discussion I decided that I wanted to go ahead with otoplasty. I walked away from the consultation feeling confident that Dr Lloyd would achieve the results that I was looking for and was sure that I only wanted him to perform the procedure. 
I had the otoplasty surgery in June 2021. During the procedure itself, Dr Lloyd showed me the initial results for each ear and asked me whether I was happy with them. When I asked him to make slight changes he was more than happy to do so, as he wanted to be assured that I was satisfied with the results. 
I am happy with the results from the procedure. Dr Lloyd is a excellent surgeon. He put me at ease during the procedure and has a pleasant demeanour. 
I would not hesitate to recommend him for otoplasty surgery." 
H Patel, London 
Why choose The Private Clinic for ear correction surgery?
The Private Clinic are a multi-award-winning Cosmetic Surgery provider with over 35 years' experience in Medical Cosmetic procedures and advanced non-surgical treatments.

 

We have world class ear specialist surgeons.

 

Consultations available in clinics nationwide in 

London Harley Street

, 

Birmingham

, 

Manchester

, 

Leeds

 and 

Northampton

.

 

We have one of the highest patients' satisfaction rates, Trustpilot 9.4, 5-star rating and 96% of patients would recommend us to their friends and family.

 

Dedicated aftercare including a 24-hour helpline.

See our informative 

Otoplasty FAQs

View our 

Otoplasty before and after photos

 
To find out more about otoplasty ear correction surgery please call 0333 920 2471 or use our online contact form to request a call back.