NICE Recommendations on Varicose Veins: Mr Constantinos Kyriakides Responds
VARICOSE VEINS
Home » NICE Recommendations on Varicose Veins: Mr Constantinos Kyriakides Responds
NICE recently released recommendations for the treatment of Varicose Veins in the NHS, supporting private sector calls for minimally invasive heat and laser treatments to be used over more traditional surgical methods where possible. This is estimated to save the NHS around £400,000 a year so it's an interesting time for varicose vein treatments. Consequentially we asked our Consultant Vascular Surgeon, Mr Constantinos Kyriakides, to respond to these recommendations.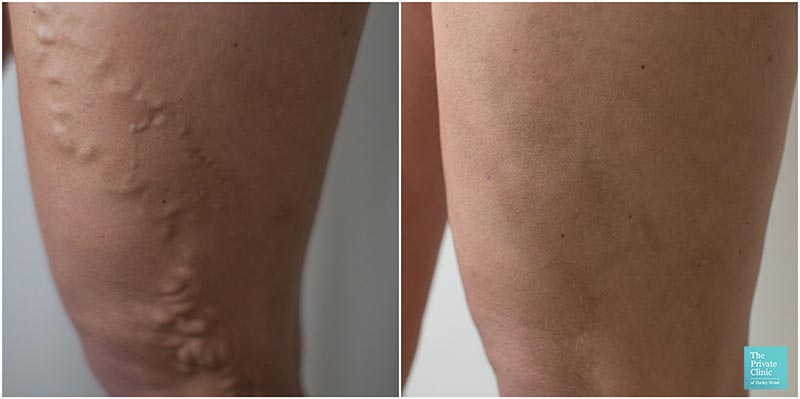 Mr Constantinos Kyriakides, Consultant Vascular Surgeon at The Private Clinic on Harley Street, said:
"It's unsurprising that NICE has approved minimally invasive laser and other heat ablation techniques as the preferred method for the treatment of varicose veins, and stated that surgical techniques should be the last option. For the modern vascular surgeons, heat ablation techniques such as EVLA (Endovenous Laser Ablation) have been the preferred option of treatment for a number of years.
The development and delivery of minimally invasive laser ablation techniques is something that I have played my part in promoting and refining for over 10 years.  I have seen first hand just how patients respond to treatment. Having also performed conventional surgical procedures before this, I am, in contrast, well aware of the pitfalls of the old methods.
Conventional stripping methods have been on the decline certainly over the last 5 years for a variety of reasons. Firstly, laser ablation techniques are far less invasive for the patient and can be delivered under local anaesthetic. This removes the requirement for the patient to undergo a hospital admission or even be treated in a hospital. Also the risks associated with minimally invasive techniques are significantly lower. Conventional stripping methods, on the other hand, have been found to cause bleeding, infections, vascular injuries, deep vein thrombosis and nerve injuries which are significantly higher than with laser ablation techniques.
There is also now a greater volume of evidence to support the longer term benefits of laser ablation techniques and not only the short term benefits and quicker recovery. The risk of recurrent varicose veins is much smaller with EVLA compared to conventional striping of veins.
Through the delivery of techniques such as EVLA we have, essentially, been able to convert what was once a fairly invasive hospital procedure into one which can be carried out in the office. For the patient, this makes the entire treatment process more accessible, less daunting as well as being a more effective treatment.
Some vascular practitioners who continue to offer only conventional surgical techniques for the removal of varicose veins may argue that laser ablation techniques are not suitable for everyone. Of course, there will always be patients who do not respond to a specific treatment, but to put this into context, I have personally treated over 3,500 patients with EVLA in the last 10 or so years and in this time only one patient has not responded to treatment. It is very unusual that patients will be found unsuitable for EVLA treatment, and so there is little weight behind any argument to suggest that surgery is more suitable for any significant number of patients."


Who are NICE?
A quick bit of background for you. The National Institute for Health and Care Excellence is a non-departmental public body of the Department of Health in the UK. It serves the English NHS and the Scottish NHS.
Why choose The Private Clinic for Varicose Vein Removal?
With over 35 years' experience in offering the most advanced, minimally invasive treatments for all types of veins, we are one of the UK's most recognised, specialist varicose vein clinic with nationwide locations. We are able to offer non-surgical varicose vein removal treatments to 99% of patients that come to see us. Our range of non-surgical varicose vein treatments including EVLA (Endovenous Laser Ablation) or Endovenous laser treatment, Sclerotherapy (Foam & Liquid), VenaSeal and Phlebectomy . We also treat smaller Spider or Thread Veins and offer advanced Sclerotherapy, IPL and Cutera CoolGlide thread veins removal treatments.
The least invasive methods for varicose veins and thread veins removal treatment for your legs, body and face.
Our Consultant vascular surgeons are pioneers in EVLA(Endovenous Laser Ablation) and have treated thousands of patients.
No lengthy downtime or recovery required.
The NICE (National Institute for Clinical Excellence) Gold Standard for treatment of Varicose Veins findings show that the success rate after five years for EVLA is 95.4%.
A consultation with one of our Consultant Vascular Surgeons costs £200, including a free ultrasound scan of your legs (usually priced between £350 and £450 at most clinics and private hospitals).
We focus on the underlying cause of your veins and you will only see a Consultant Vascular surgeon for varicose veins.
We have treated thousands of patients who have regained their confidence whilst avoiding health issues.
Treatment takes one hour, you can go home shortly after being treated.
Owing to our success, we have been featured on Channel 4's Embarrassing Bodies , TLC's My Naked Secret and featured in Harper's Bazaar's Cosmetic Tweakment Trends for 2019.
View our varicose vein before and after photos.
Read our extensive varicose vein FAQs.
Take a look at our varicose vein patient stories.
Find out more in our varicose vein blogs.
Download our varicose veins treatment brochure
Consultations available at our clinics nationwide: London Harley Street, Birmingham, Bucks, Manchester, Leeds, Bournemouth, and Northampton with one of our expert vascular surgeons.
Expert Vascular Surgeons
To find out more to book a consultation, please call 0333 920 2471 or use our Varicose Vein online contact form.