Male Chest Reduction Explained
GYNECOMASTIA & MALE CHEST REDUCTION
Home » Male Chest Reduction Explained
Male Chest Reduction is a procedure often used to remove excess glandular and or fatty tissue from the male breast. Mammary glands in men are usually hardly developed. In some individuals, however, the mammary gland and or body fat around it can grow excessively, giving an irregular appearance and sometimes making the patient feel self-conscious. This is a condition called Gynecomastia. Some patients also come to us for male chest reduction after significant weight loss. In this circumstance, a different procedure is required.
What is Gynecomastia and what are the causes?
Gynecomastia, also known as man boobs, occurs when there is excess glandular tissue in the breast, typically a result of puberty, drug use or certain medications, for examples steroids.
Another form of the condition, Pseudogynecomastia, arises when there is instead a build of excess fat. Pseudogynecomastia can be caused by factors such as obesity, drug addiction and high levels of Acidic pH which can be caused by excessive junk food consumption.
In numerous patients, however, both glandular and fatty components can be present in excess.
How to get rid of man boobs (moobs):
In an attempt to avoid large visible scars on the chest wall, the preferred technique for male chest reduction in most Pseudogynecomastia and many pure Gynecomastia cases is a liposuction-assisted mastectomy (suction lipectomy). When the glandular tissue is very thick and difficult to extract with Micro Liposuction alone, Vaser Liposuction can be very useful. In this technique, energy breaks down the tissue that can be removed using Suction lipectomy.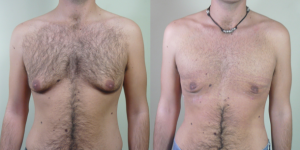 More persistent, pure glandular Gynecomastias, however, may require an open mastectomy. This involves surgical removal of the excess glandular tissue through a skin incision. To treat very bulky Gynecomastia's, a yet more complex procedure may be required, called the Inferior Pedicle Breast Reduction Treatment, where the skin envelope and breast tissue is reduced.
In some patients liposuction can be used first, followed by an excisional procedure 6-9 months later (once maximal skin contraction has occurred) if excess skin or breast tissue persists.
For Gynecomastia and Pseudogynecomastia patients, there tends to be minimal excess skin in the chest area. This is generally not problematic, because the surgical procedure stimulates the skin from inside, allowing it to retract after the operation.
During your consultation, your surgeon will discuss which surgical technique will be the most effective in your case.
What's the difference between Vaser and Micro Liposuction?
Micro and Vaser Liposuction offer natural-looking results and involve minimal downtime, with a walk-in-walk-out procedure. In Vaser Liposuction, the fat is first liquefied with ultrasound energy and then extracted using a gentle suction process. Micro Liposuction is a very similar procedure but instead uses microcannulas, resulting in less disruption to the body.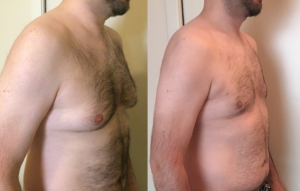 How does Male Chest Reduction differ after weight loss?
A considerable number of our male chest reduction patients are moderately overweight, and some of them come to us after significant weight loss.
After substantial weight loss, the patient's chest fat may have mostly or completely disappeared, leaving behind redundant, sagging, highly stretched skin in the chest area. This requires a yet more complex procedure, involving excess skin removal. This usually means longer skin incisions will be required and an increased amount of contouring. If any excess fat still remains, this may also be removed with additional liposuction.
Scarring will be more visible with weight loss patients, however, it must be understood this is the only way of achieving the optimal breast shape. In more severe cases, the incisions will need to go around the border of the areola, down vertically to the inframammary fold, and also in the breast crease, resulting in a scar which looks like an inverted T-shape. This is known as an anchor reduction technique. This procedure has similarities to female breast reduction, in terms of incisions required and resulting scars.
Why choose The Private Clinic?
Patients with concerns about Gynecomastia or Pseudogynecomastia should seek expert advice from a specialised doctor. Our plastic surgeons for Male Chest Reduction are among the best and most experienced in the UK, working to achieve the best possible results for you, and providing honesty and integrity in information and advice at all times. All of our patients receive the highest level of care before, during and long after each procedure, and will be allocated a Patient Advisor that can be contacted as much as required. We offer to all of our patients' free consultations with highly experienced Patient Advisors who are able to offer you all the information required before a consultation with a specialised surgeon.
Male Chest Reduction consultations are available at; London Harley Street, Birmingham, Manchester, Leeds and Northampton.
Our Male Chest Reduction Surgeons include:
*All photos are courtesy of Mr. Roberto Uccellini, click here to see more before and after images of Gynecomastia patients
To book a consultation at any of our clinics call us on 0333 920 9135 or use our male chest reduction online contact form here.
Vaser Liposuction Treatment for Gynecomastia
All Vaser Liposuction procedures will take place in our boutique hospital in Fiztroy Square, London.
Consultations for Vaser Liposuction take place at London Harley Street with our expert liposuction surgeon.
Consultations with our patient coordinators are also available in Leeds, Bristol, Manchester, Birmingham and Northampton